Your weekly program as from May 24th
All the best films as from May 24th:
CANNES FILM FESTIVAL  2023 : 76th edition
Martin Scorsese 's Killers of the Flower Moon.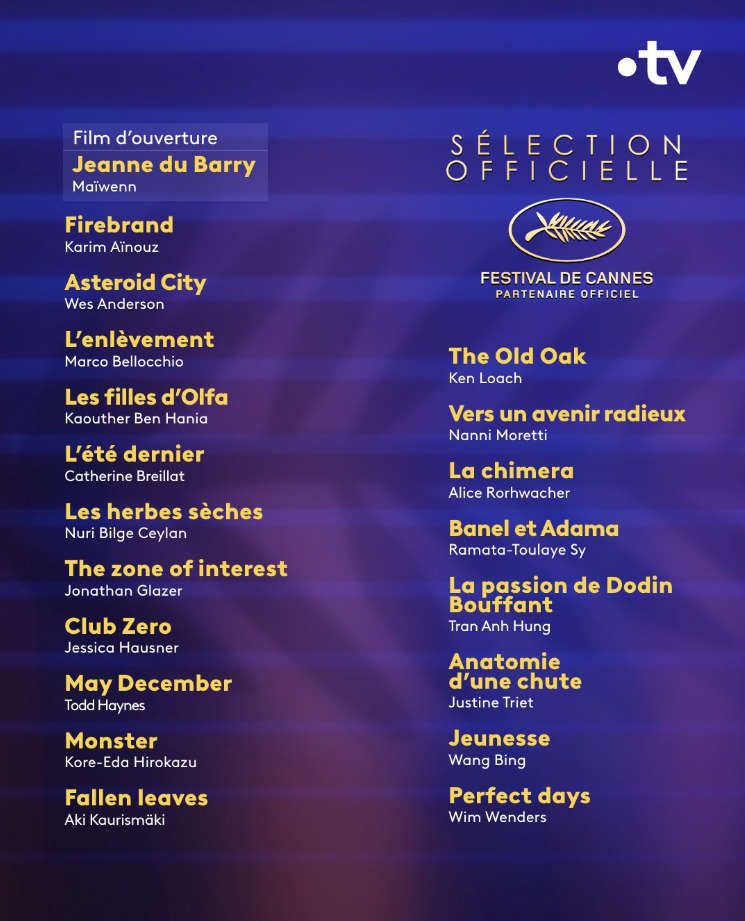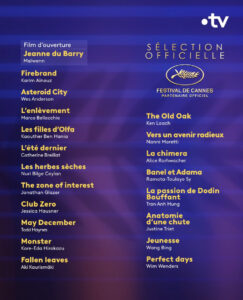 Soon in theaters:
Jodie Foster
She returns in the next season (4) of True Detective, True Detective: Night Country, set in Alaska, alongside Kali Reis. Directed by Issá Lopez. 
Barbie, by Greta Gerwig
Asteroid city, Wes Anderson
ALL YOU WANT TO KNOW ABOUT  FILMS & SERIES 
IN THEATERS & AT HOME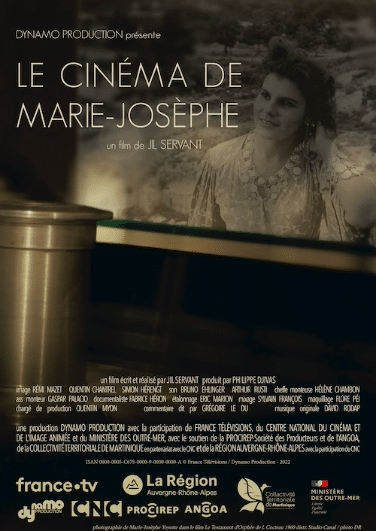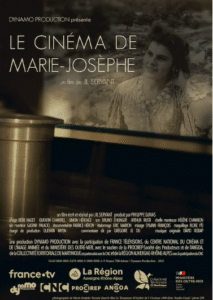 Le cinéma de Marie-Josèphe, Jil Servant
ON FRANCE TELEVISION 
Special programming on the France Télévisions Overseas channels for the 76th edition of the Cannes Film Festival
Le cinéma de Marie-Josèphe – Unpublished – On the channels of the La 1ère Network and La1ere.fr
IN MOVIE THEATERS
L'Amour et les Forêts, Valérie Donzelli
Novel by 'Éric Reinhardt
With Virginie Efira, Melvil Poupaud, Dominique Reymond
When Blanche and Grégoire meet, it's love at first sight, which quickly turns into passion. A move takes Blanche away from her family and friends. But soon, the young woman finds herself in the grip of a possessive and dangerous man.
Omar la fraise, Elias Belkeddar
With Reda Kateb, Benoît Magimel, Meriem Amiar
Omar "la fraise", an old-fashioned bandit, is forced to live on the run in Algeria, where he carries out illegal activities with his faithful sidekick Roger. After decades of dominating the French criminal world, they must adapt to their new life together, having known only depravity and violence.
Litlle mermaid,  Rob Marshall
With Halle Bailey, Jonah Hauer-King, Melissa McCarthy
Ariel, the youngest daughter of King Triton, is a beautiful and feisty young mermaid with an adventurous streak. A rebel at heart, she is constantly drawn to the world beyond the waves. During her escapades on the surface, she falls under the spell of Prince Eric.
La Maleta, Jorge Dorado
With Álvaro Morte, Verónica Echegui, María Eugenia Suárez
Mario works at the Lost and Found office in Madrid. One day, he is given a suitcase found at the bottom of a river. Inside, Mario finds clothes and children's bones. The police are not willing to investigate, so he decides to conduct his own search, risking his life.
Faces cachées, Joe Lawlor, Christine Molloy
With Ann Skelly, Orla Brady, Aidan Gillen
Rose, a veterinary student, decides to contact Ellen, her biological mother whom she never knew. She is a successful actress who does not want to develop a relationship with Rose. Rose is very persistent and Ellen ends up revealing a secret that she has hidden for more than 20 years.
L'Odeur du vent, Hadi Mohaghegh
With Hadi Mohaghegh, Mohammad Eghbali
In an isolated house in the middle of an Iranian plain, a man lives alone with his bedridden son. One day, the house's transformer breaks down. An electrician comes to repair it. A part is missing, he goes in search of it, which will be full of encounters and obstacles…
Movies to come (and we are looking forward to it):
Mission: Impossible Dead Reckoning Part One
Oppenheimer,  Christopher Nolan, next July 19th
Dune 2, Denis Villeneuve, next November 3rd
Hypnotic, Robert Rodriguez
The Color Purple, Blitz Bazawule ("Black Is King," "The Burial of Kojo") and produced by Oprah Winfrey, Steven Spielberg, Scott Sanders and Quincy Jones. Expected December 25th.
 TIPS ON MOVIE WRITING 
Scott Myers : Go into the story
FILMS PROGRAM ON TV AS FROM MAY 24TH
Mercredi- Wednesday 24
Arte : ADN
Jeudi – Thursday 25
Canal + : Yellowjackets S2
Arte : La meute (série)
France 4 : Gagarine
Vendredi – Friday 26
France 5 : Tout sur ma mère
Arte : Un bon flic : les morts ne parlent pas
France 4 : Petite maman
Chérie 25 : Judy
Samedi – Saturday 27
France 2 : Clôture du Festival de Cannes
Dimanche – Sunday 28
TF1 : Black Widow
Arte : Ludwig ou le crépuscule des dieux
Lundi – Monday 29
Canal + : Gangs of London (série)
Arte : Ariane
Mardi – Tuesday 30
Canal + : Annie colère
Mercredi- Wednesday 31
Arte : Médecin de nuit
 FILMS & SERIES ON ARTE AS FROM MAY 24TH
FILMS
Secrets and Lies
After the death of her adoptive mother, Hortense, a young black woman, goes in search of her biological mother. The mother turns out to be Cynthia, a white working-class woman living in a working-class area of London… A Palme d'Or for Mike Leigh, who plays a virtuoso of laughter and emotion.
Monsieur Max
In 1944, the poet Max Jacob is arrested by the Gestapo. Alice, a young orphan whom he had cherished forty years before, will try the impossible to save him… A moving fiction, with Jean-Claude Brialy in his last great role.
Jack
Placed in a foster home, Jack runs away, picks up his little brother and feverishly searches for their mother, who has abandoned them… A poignant child's quest filmed with tremendous vitality by Edward Berger, the director of "Nothing New in the West", which has just won four Oscars
DOC
Billy Wilder – Hollywood perfection
How the genial provocateur Billy Wilder rose to the top of Hollywood without compromising himself. Through excerpts from his transgressive films and irresistibly mischievous interviews, a journey through the work of this film legend.
Series
Back to Life
After eighteen years in prison, Miri tries to pick up her life where she left it, in the stifling town of her adolescence. From and with the amazing Daisy Haggard, the tragicomic chronicle of a thwarted reintegration, quintessential English absurdist humor.
Lost Luggage 
After the 2016 Brussels bombings, a policewoman assigned to airport security is tasked with returning the victims' belongings to the bereaved families. A poignant drama carried by actress and rocker Lara Chedraoui.
All films as from May 24th

on Netflix
Black Knight, Ui-Seok Cho,now.
Fubar,  ARNOLD. IS. BACK. As of May 25
Never Have I ever, final & season 4 as of June 8th.
All films as from 

May 24th

 

on 
Prime Video
The Marvelous Mrs Maisel,  season 5, now!
Salade Grecque, series created by Cédric Klapisch,now.
The Idol, Sam Levinson, on June 5th, with Lili Rose-Depp (Pass Warner)
All films as from May 24th
on Canal+
The English, Hugo Blick
Frédéric Murarotto & Guillaume Simon : "GÉNÉRATION SPIELBERG" : French who have worked with him talk about their great experience with him.
Triangle of sadness, by Ruben Östlund  (now President of The Cannes Film Festival) with Harris Dickinson, Charli Dean & Woody Harrelson, now.
Armaggedon Time , James Gray, NOW !
Yellowjackets, season 2, as of May 25th
Gangs of London, Matt Flannery & Gareth Evans, as of May 29th
All films as from May 24th

 

on Apple TV
Silo, Graham Yost
City on Fire, Josh Schwartz & Stephanie Savage,now.
High Desert, Nancy Fichman, Katie Ford & Jennifer Hoppe-House with Patricia Arquette (Peggy), Matt Dillon (Denny)
The crowded room, Akiva Goldsman, dès le 9 juin, avec Tom Holland.
All films as from May 24h on Disney Plus
The Good Mothers, Stephen Butchard
Peter Pan & Wendy,David Lowery
The Little Mermaid 2, Rob Marshall !
Guardians of the Galaxy 3, now!
Flaming Hot, as of June 9th
Chevalier, Stephen Williams, as of June 16th
Ashoka, in August 2023