Your weekly program as from May 17th
All the best films as from May 17th:
CANNES FILM FESTIVAL  2023 : 76th edition
The Master of Ceremonies is  Chiara Mastroianni during the festival,  that will be held from May 16 to 27.
Six women directors will be in the running for the Palme d'Or.
The Swedish filmmaker Ruben Östlund, two times winner of the Palme d'Or, will be the president of the jury. He was awarded the Palme d'Or in 2017 for "The Square" and in 2022 for "Unfiltered".
The film "Jeanne du Barry", directed by Maïwenn with Johnny Depp, has been presented at the opening of the Festival.
Several stars are expected.
The legendary adventurer, played by Harrison Ford, will make his return with the film "Indiana Jones and the Dial of Destiny" directed by James Mangold. 
Pedro Almodóvar will present his short film "Strange Way of Life" in the presence of Ethan Hawke and Pedro Pascal!
Trailer here:
Finally, Martin Scorsese will present his new feature film Killers of the Flower Moon.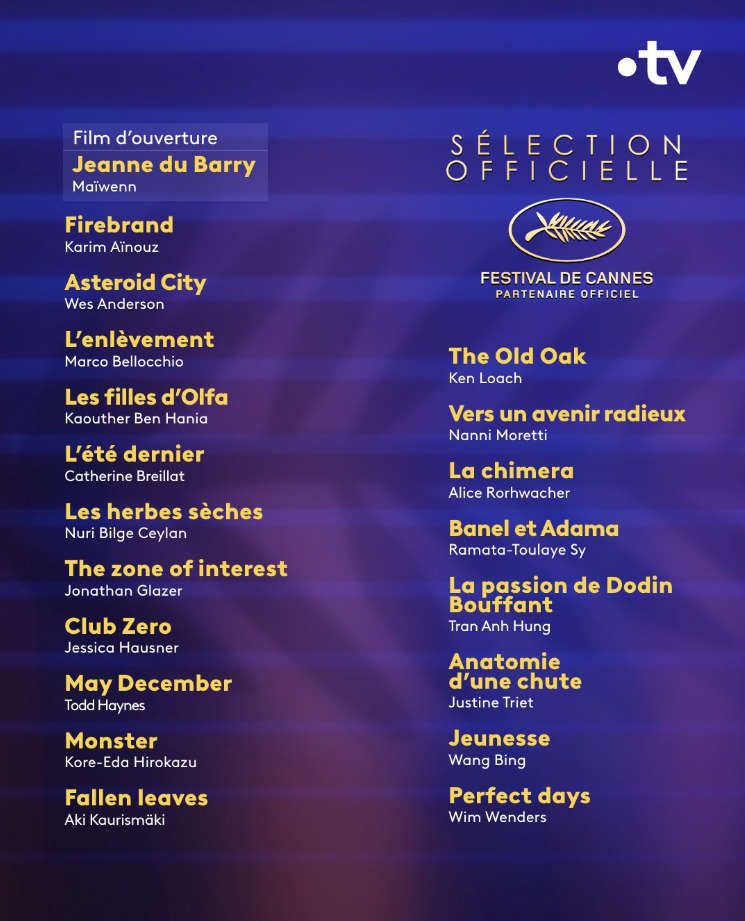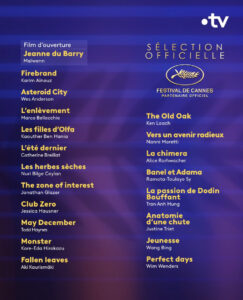 Soon in theaters:
Jodie Foster
She returns in the next season (4) of True Detective, True Detective: Night Country, set in Alaska, alongside Kali Reis. Directed by Issá Lopez. 
Synopsis 
When the long winter night falls in Ennis, Alaska, the eight men who operate the Tsalal Arctic Research Station disappear without a trace. To solve the case, detectives Liz Danvers (Foster) and Evangeline Navarro (Reis) will have to confront the darkness within them and dig into the haunted truths buried beneath the eternal ice.
Barbie, by Greta Gerwig
Asteroid city, Wes Anderson
FESTIVAL
The Forum des images honors one of the most filmed cities in the history of cinema: Los Angeles.
An essential territory of the 7th art, the city of angels feeds multiple imaginations.
A reservoir of dreams and fantasies, between violence and glamour, it is familiar to the moviegoer. But what do we know about the real city?
From April 12 to July 6, 80 films, 9 cinema classes, "pop" screenings and a photo exhibition constitute a temporal and geographical journey to the heart of its myths and the reality of its districts.
Accompanied by numerous guests, including filmmakers David Robert Mitchell and Laura Gabbert (City of Gold), Academy Museum Associate Director K.J. Relth-Miller, storyboarder Sylvain Despretz, and film course instructors, this rich program paints a contrasting and contemporary portrait of Los Angeles, a world city between desert and ocean.
New environmental YouTube channel:
The Living Ocean, by Only One, one episode every Tuesday
ALL YOU WANT TO KNOW ABOUT  FILMS & SERIES 
IN THEATERS & AT HOME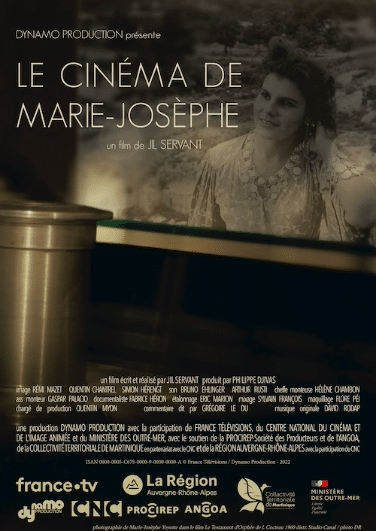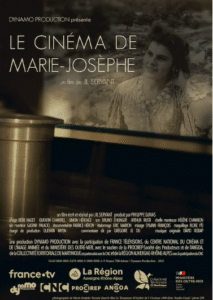 Le cinéma de Marie-Josèphe, Jil Servant
ON FRANCE TELEVISION 
Special programming on the France Télévisions Overseas channels for the 76th edition of the Cannes Film Festival
Le cinéma de Marie-Josèphe – Unpublished – On the channels of the La 1ère Network and La1ere.fr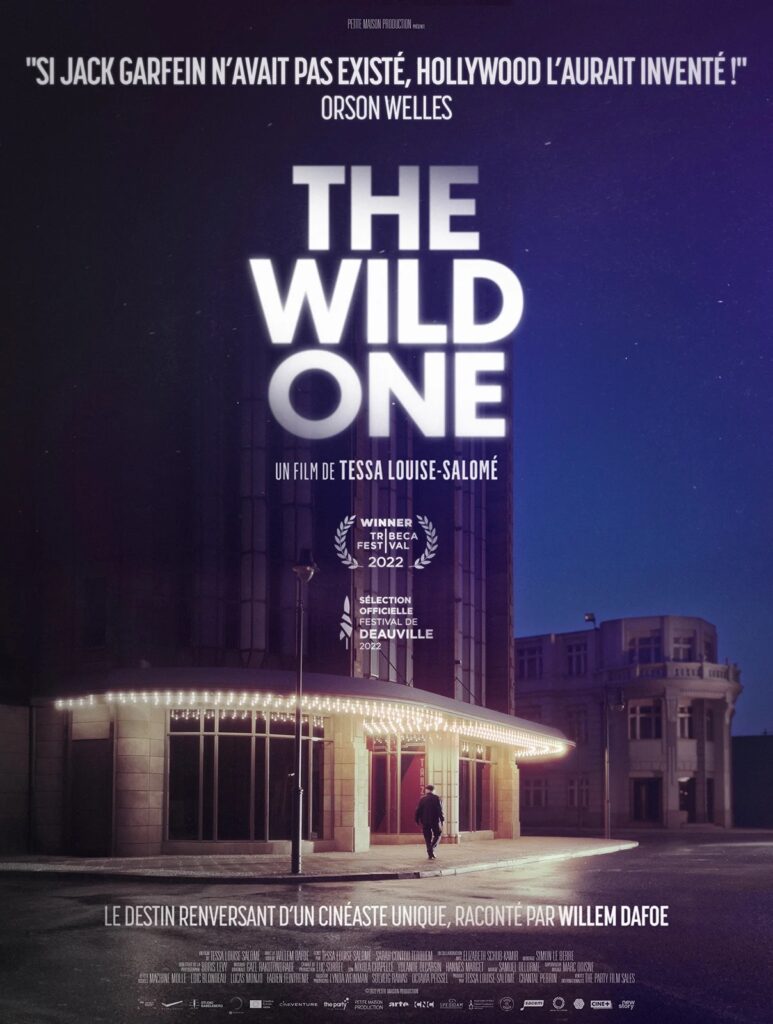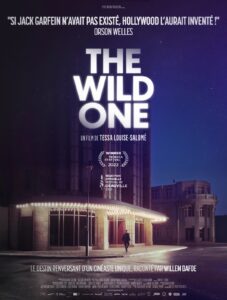 The Wild One, Tessa Louise-Salomé
With Willem Dafoe
Synopsis
From being a little boy from the Carpathians who survived the Holocaust, a successful director, the heart s of the Actors Studio, a protégé of Hollywood, but also an exile, despised  and forgotten, Jack Garfein has lived many lives. The Wild One tells us the story of a man whose entire life has been devoted to the idea that artistic creation is an act of survival.
Review
Tessa Louise Salomé filmed Jack Garfein for several years before his death in 2019. 
Deported to Auschwitz at the age of just 12, he survived the Shoah after having survived several concentration camps.
This extraordinary man tells of his passion for theater and actors, but also his vision of the stories he told in two films, which are back in the spotlight today thanks to the director, The Strange One and Something Wild. He discovered many actors such as Ben Gazzara, James Dean, George Peppard…
He denounces the abuse of power in all its forms, and shocks by the themes they address, rape, homophobia.
The youngest director to join the Actor's Studio alongside Lee Strasberg, his passion for comedy will remain intact until the end of his days. The act of playing is tied to his survival. 
Between interviews, shots of the forests of Europe so evocative, and the beautiful voice-over of Willem Dafoe, we discover his life, his sorrows, his loneliness, all filmed with great poetry and passion. Boris Levy's sublime photography earned him an award at the Tribeca Film Festival.
The title "The Wild One" evokes his spirit of rebellion, and links two of his film titles, "The Strange One" (1957) and "Something Wild" (1961), which were censored, when their distribution was not scuttled. It is also, of course, the title of a film with Marlon Brando, another central figure of the Actors Studio, who described, in a sentence that has become famous, the actor's game as a "survival mechanism". (extract from the press kit).
For lovers of memor, theater  and cinema. A must-see.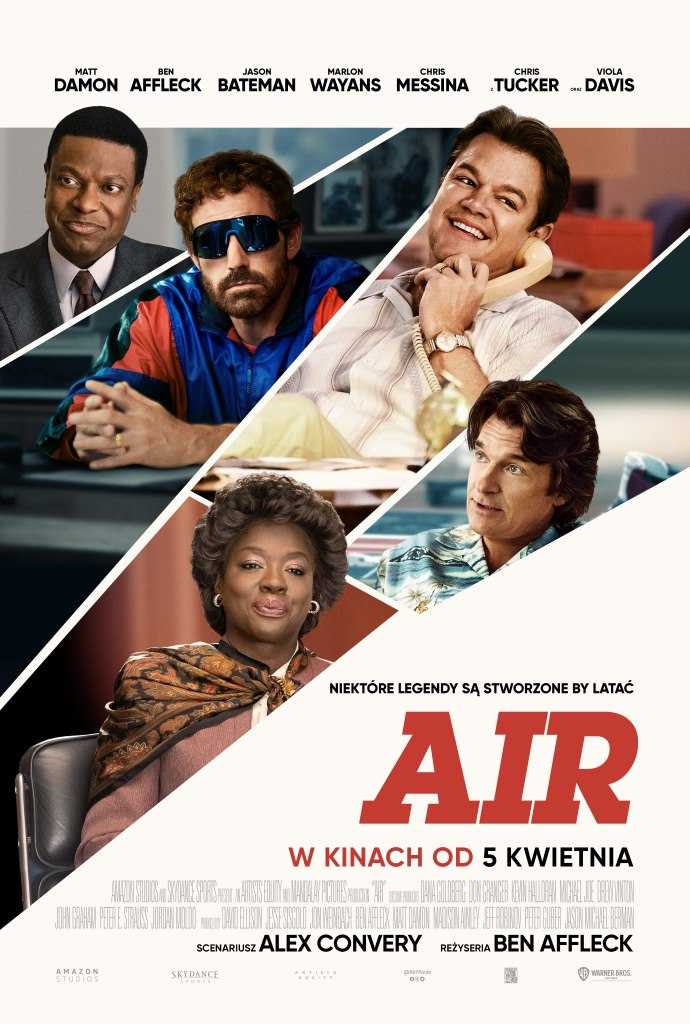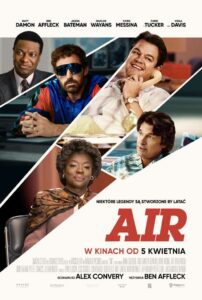 Air, Ben Affleck
Synopsis
Sonny Vaccaro, Nike's director of sports marketing, relentlessly pursues Michael Jordan for a historic partnership with his sidekick, billionaire and Nike co-founder Phil Knight.
Review
Ben Affleck is not only a great actor but he is also a very good director.
After the very good  Argo, The Town, we will remember Air, where he plays the boss of Nike, alongside his best friend and great actor Matt Damon.
A great script by Alex Convery, whose first product, 80's atmosphere (it feels like it), perfect casting, Viola Davis (The Woman King), Jason Bateman (Ozark), and a thunderous bo, the story of this man ready to do anything to steal Michael Jordan from Adidas is exciting, funny and very well written.
Watch it on Prime Video right now!
IN MOVIE THEATERS
All films as from May 17th
L'homme debout, Florence Vignon
Souffle Bleu, Rodrigo Areias
Crushed by a volcano against the ocean, Ribeira Quenteis a fishing village on the island of S. Miguel in the Azores facing the last days of fishing activity as they know it. Everyone struggles through normal days while life must go on even with the scarcity of fish.
Umami, Slony Sow
With Gérard Depardieu, Kyozo Nagatsuka, Pierre Richard
Gabriel Carvin is a star chef of great renown. When his health and his family life deteriorate, he decides to leave for the other side of the world. He heads to Japan in search of a Japanese chef who had beaten him in a cooking competition 40 years earlier. This cultural and culinary journey will lead him to take stock of his life.
Sublime, Mariano Biasin
With Martin Miller, Teo Inama Chiabrando, Azul Mazzeo
Manuel, 16, is a teenager like any other. In his small coastal town in Argentina, he hangs out with his friends and girlfriend, goes to the beach, and plays bass in a rock band. A perfect routine for a boy his age. But his life gets complicated when he starts to feel something special for his best friend Felipe.
Movies to come (and we are looking forward to it):
Oppenheimer,  Christopher Nolan, next July 19th
Dune 2, Denis Villeneuve, next November 3rd
Hypnotic, Robert Rodriguez
 TIPS ON MOVIE WRITING 
Scott Myers : Go into the story
FILMS PROGRAM ON TV AS FROM MAY 17th
Mercredi- Wednesday 17
Arte : Everybody knows:
Around family secrets and a love badly extinguished, Asghar Farhadi orchestrates under the Castilian sun a tortuous psychological thriller, with Penélope Cruz and Javier Bardem, always imperial.
France 4 : Rosetta
Jeudi – Thursday 18
Canal + : The Morning Show (AppleTV series)
Chérie 25 : Double jeu
Vendredi – Friday 19
France 5 : Drunk
Arte : Toubab : pour le meilleur ou pour le pire
Samedi – Saturday 20
France 4 : Broken Flowers de Jim Jarmush
Dimanche – Sunday 21
Arte : Backdraft
France 2 : Antoinette dans les Cévennes
C8 : Le marginal
Lundi – Monday 22
Arte : La femme d'à côté
France 2 : Bardot (série)
W9 : Catch me if you can
Mardi – Tuesday 23
Canal + : Armageddon Time
France 4 : Josep
Mercredi- Wednesday 24
Arte : ADN
 FILMS & SERIES ON ARTE AS FROM MAY 17TH
FILMS
Bergman Island
A couple of filmmakers settle for the summer on the island where Ingmar Bergman lived… By Mia Hansen-Love ("A Beautiful Morning"), a solar escapade between reality and fiction, in the form of a tribute to the master of Swedish cinema.
With Vicky Krieps, Tim Roth, Mia Wasikowska and Anders Danielsen Lie.
Monsieur Max
In 1944, the poet Max Jacob is arrested by the Gestapo. Alice, a young orphan whom he had cherished forty years before, will try the impossible to save him… A moving fiction, with Jean-Claude Brialy in his last great role.
Jack
Placed in a foster home, Jack runs away, picks up his little brother and feverishly searches for their mother, who has abandoned them… A poignant child's quest filmed with tremendous vitality by Edward Berger, the director of "Nothing New in the West", which has just won four Oscars
DOC
Javier Bardem, l'acteur aux mille visages
A huge star, the Spaniard has never ceased to metamorphose over the course of a substantial filmography in which the great names of world cinema rub shoulders. This intimate portrait aims to reveal the man under the actor's masks. 
Al Pacino – Le Bronx et la fureur
Between the South Bronx and (New) Hollywood, a portrait of Al Pacino, passionate about theater and mythical actor of the saga of "The Godfather" and "Scarface", who has never stopped battling with his demons.
Pouvons-nous refroidir la planète ?
Are we condemned to cook slowly? Capturing CO2 to recycle it, lightening the clouds to better intercept sunlight, massive reforestation: here is an overview of scientific solutions to fight against global warming that offers a glimpse of hope.leads a team of young elite policemen and will have to find his place within his group while avoiding a gang war between Eric's family and the El Hassani brothers.
Series
Utopia – Season 1 (1/6)
When fans of a dystopian graphic novel get hold of a second volume that is supposed to have never existed, the Network, a conspiracy organization, comes after them. A horrific cult thriller that borrows from Kubrick and Tarantino. Episode 1: Members of a fan community come together after making a sensational discovery… 
Lost Luggage 
After the 2016 Brussels bombings, a policewoman assigned to airport security is tasked with returning the victims' belongings to the bereaved families. A poignant drama carried by actress and rocker Lara Chedraoui.
All films as from May 17th

on Netflix
Queen Charlotte, Shonda Rhimes
Queen Cleopatra,Jada Pinkett Smith, now.
Black Knight, Ui-Seok Cho,now.
Fubar,  ARNOLD. IS. BACK. As of May 25
Never Have I ever, final & season 4 as of June 8th.
All films as from 

May 17th

 

on 
Prime Video
The Marvelous Mrs Maisel,  season 5, now!
Salade Grecque, series created by Cédric Klapisch,now.
The Idol, Sam Levinson, on June 5th, with Lili Rose-Depp (Pass Warner)
All films as from May 17th
on Canal+
The English, Hugo Blick
B.R.I, by Cédric Jimenez
Saïd leads a team of young elite policemen and will have to find his place within his group while avoiding a gang war between Eric's family and the El Hassani brothers.
Don't worry darling, Olivia Wilde
Frédéric Murarotto & Guillaume Simon : "GÉNÉRATION SPIELBERG" : French who have worked with him talk about their great experience with him.
Triangle of sadness, by Ruben Östlund  (now President of The Cannes Film Festival) with Harris Dickinson, Charli Dean & Woody Harrelson, now.
Armaggedon Time , James Gray, as of May 23rd
All films as from May 16th

 

on Apple TV
Les gouttes de Dieu, Tadashi Agi
Tetris, Jon S. Baird.
Silo, Graham Yost
City on Fire, Josh Schwartz & Stephanie Savage,now.
High Desert, Nancy Fichman, Katie Ford & Jennifer Hoppe-House with Patricia Arquette (Peggy), Matt Dillon (Denny)
The crowded room, Akiva Goldsman, dès le 9 juin, avec Tom Holland.
All films as from May 16th on Disney Plus
The Good Mothers, Stephen Butchard
Peter Pan & Wendy,David Lowery
The Little Mermaid 2, Rob Marshall, forecast on May 26.
Guardians of the Galaxy, now!
Flaming Hot, as of June 9th
Ashoka, in August 2023