Your weekly program as from March 29th
All the best films as from March 29th:
Asteroid city, Wes Anderson
The Marvelous Mrs Maisel,  season 5, as of April 14 on Prime Video
FESTIVAL
Festival International de Films de Femmes de Créteil from March 24th to April 2nd
ALL YOU WANT TO KNOW ABOUT  FILMS & SERIES 
IN THEATERS & AT HOME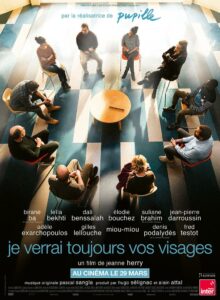 Je verrai toujours vos visages, Jeanne Hery
Synopsis
Since 2014, in France, Restorative Justice offers victims and perpetrators of crime to dialogue in secure devices, supervised by professionals and volunteers like Judith, Fanny or Michel.
Nassim, Issa, and Thomas, convicted of robberies with violence, Grégoire, Nawelle and Sabine, victims of homejacking, robberies and snatching, but also Chloé, victim of incestuous rapes, are all involved in Restorative Justice measures.
On their journey, there is anger and hope, silences and words, alliances and tears, realizations and newfound confiance… And at the end of the road, sometimes, reparation…
The best choice?
Who of us doesn't know a victim of sexual assault or robbery? If you were put in touch with your abuser? Would you accept it?
Prison has little effect and victims of sexual abuse or burglary sometimes never recover from the trauma they have suffered, despite their surroundings and despite therapy.
Restorative Justice measures have been offered since 2014 in France to victims of robbery, rape and perpetrators in order to dialogue in secure settings. These places are supervised by professionals and volunteers. Where so-called traditional methods fail, restorative justice finds its place.
As in Pupille, the director shows us the courageous work of the teams involved in setting up these procedures.
With an almost similar cast, Jeanne Hery reveals to us all that this method covers and its implications on human relations.
Just as she had done previously, the director documented and trained herself before moving on to the process of making the film. 
Communication is at the heart of it.
Just as in adoption, where the mother had to talk to her baby to explain the process, the supervised verbal exchange allows victims and perpetrators to find a path to reconstruction and a new life.
Optimistic, the director believes in the collective and the two films she has made, between fiction and documentary – especially this one, make us want to follow her in this ideal.
The actors play just Élodie Bouchez, Gilles Lellouche, Leila Bekhti, Fred Testot, Adèle Exarchopoulos, and Dali Benssalah. But we also feel that Jeanne Hery, wants to prove to the world what an extraordinary actress her mother, Miou Miou is. And this is the case in this film.
Jeanne Hery said: "….Et I also like to explore the good feelings. It is complex, good feelings. …The objective of restorative justice is the liberation of emotions through speech"… It is this liberation that I wanted to stage. " 
A must-see.
Today in theaters.
IN MOVIE THEATERS
All films as from March 29th
Sept hivers à Téhéran, Steffi Niederzoll
With Zar Amir Ebrahimi, Reyhaneh Jabbari, Shole Pakravan
In 2007 in Tehran, 19-year-old Reyhaneh Jabbari stabs the man who is about to rape her. She is accused of murder and sentenced to death.
Based on footage shot secretly, Seven Winters in Tehran shows the family's struggle to save Reyhaneh, who has become a symbol of the struggle for women's rights in Iran.
Los reyes del mundo, Laura Mora
Young Rá lives with his friends Culebro, Sere, Winny and Nano in the streets of Medellin.
Their hope is rekindled when the government promises Rá the right to buy a piece of land from which his family had been chased away, like thousands of other Colombians, by the paramilitaries. 
Bonne conduite,  Jonathan Barré
With Laure Calamy, Tchéky Karyo, David Marsais
Pauline has her own way of doing road safety: a trainer in a point recovery center by day, she turns into a serial killer of drivers by night.
Le Capitaine Volkonogov s'est échappé, Natalya Merkulova, Aleksey Chupov
With Yuriy Borisov, Aleksandr Yatsenko, Natalya Kudryashova
USSR, 1938. At the peak of the Great Terror, Stalin purges his own ranks.
The men who carry out the repression are themselves arrested and executed. Knowing that he too was condemned, Captain Volkonogov escaped.
In his flight, he is struck by a vision: to save his soul, he must confront the families of his victims and obtain their forgiveness.
The Lost King,  Stephen Frears
Prolific filmmaker, he signed among others Dirty Pretty Things (2001); Mrs. Henderson Presents (2005); The Queen (2006); Chéri (2009); Philomena (2014); The Program (2015); Florence Foster Jenkins (2016); Confident Royal (2017)…
With Sally Hawkins, Steve Coogan, Harry Lloyd
Synopsis
Inspired by an incredible but true story, THE LOST KING traces the extraordinary adventure of Philippa Langley, a passionate history buff with an iron will who, on a simple intuition and despite the incomprehension of her relatives and the defiance of the academic world, wanted to restore the truth about Richard III.
Philippa Langley is bored in her work. An amateur historian, she set out to find the remains of King Richard III, lost for over 500 years, even if it meant defying the British academic establishment.
Voyages en Italie,  Sophie Letourneur
With Philippe Katerine, Sophie Letourneur
Can a romantic getaway rekindle the flame in a couple? She has managed to convince him to go away for a few days without children. It will be wherever he wants, except in Italy. He already went there with all his exes…
Ailleurs si j'y suis,  François Pirot
Avec Jérémie Renier, Suzanne Clément, Jean-Luc Bideau
Alors que sa famille et son métier le mettent sous pression, Mathieu, sur un coup de tête, s'enfonce dans la forêt devant chez lui. Et y reste. Face à cette démonstration de liberté, ses proches s'interrogent… Sur lui, sur eux-mêmes, sur le sens de leur vie… Et s'il avait raison ?
La Roya,  Juan Sebastián Mesa
Avec Juan Daniel Ortiz Hernandez, Paula Andrea Cano, Laura Gutiérrez Ardila
Jorge vit dans une plantation de café au milieu d'une vallée recouverte de forêt. Il est le seul de sa génération à être resté à la campagne. Depuis quelques mois, plus personne ne vient cueillir les fèves et sa récolte est touchée par une grave épidémie de rouille.
Movies to come (and we are looking forward to it):
The Quiet girl, Colm Bairéad
 TIPS ON MOVIES 
The Business of Screenwriting: Celebrate your victories  by Scott Myers
"I got my first TV writing job at 55"  by Scott Myers
FILMS PROGRAM AS FROM MARCH 29th
Mercredi- Wednesday  29
Arte : Les beaux gosses
Jeudi – Thursday 30
Arte : Blackport (série)
Canal + : The English
Vendredi – Friday 31
France 5 : Né un 4 juillet
Arte : L'accident
Dimanche – Sunday 2
France 2 : À couteaux tirés
Arte : Pour qui sonne le glas
C8 : Les choses de la vie
6Ter: Top Gun
Lundi – Monday 3
France 3 : Les veuves
Canal + : Happy Valley (voir bande-annonce plus bas)
Arte : L'homme du Kentucky
Mardi – Tuesday 4
France 2 : Barry Seal : American traffic
Mercredi- Wednesday  5
Arte : L'auberge espagnol
AS FROM MARCH 29th

 FILMS & SERIES ON ARTE
FILMS
My Left Foot
The painful struggle of a man trapped in his body to emancipate himself… Retracing the life of the painter Christy Brown, Jim Sheridan ("In the name of the father") delivers a moving plea in favor of the difference, served by Daniel Day-Lewis, masterly.
Jack
Placed in a foster home, Jack runs away, picks up his little brother and feverishly searches for their mother, who has abandoned them… A poignant child's quest filmed with tremendous vitality by Edward Berger, the director of "Nothing New in the West", which has just won four Oscars
DOC
Marimekko & Maija Isola – Finnish design conquers the world
A look back at the atypical career of Maija Isola, a free spirit of Finnish design, intimately linked to the Marimekko brand.
Series
Manayek, betrayal in the police, by Alon Zingman director of Shtisel (series available on Netflix : listen to the podcast here
Blackport, Gísli Örn Garðarsson et Björn Hlynur Haraldsson
All films as from March 29th

 

on Netflix
Ad Astra, as of March 18, review here 
Faraway, Vanessa Jopp, now.
The elephant whisperers, Kartiki Gonsalves, now
Fubar,  ARNOLD. IS. BACK. As of May 25
All films as from 

March 29th

 

on 
Prime Video
The Power, Naomi Alderman, as of March 31
Citadel, David Weil, as of April 28th
Salade Grecque, series created by Cédric Klapisch, as of April 14.
20 years after l'Auberge Espagnole, the story goes on.
All films as from March 29th 
on Canal+
Revoir Paris, Alice Winocour,  now.
Tulsa King, Taylor Sheridan
Happy Valley, Sally Wainwright
Rogue agent, Declan Lawn & Adam Patterson, as of March 18th
Minx, Ellen Rapoport, as of March 21 (OCS)
The English, Hugo Blick, as of March 31
Yellowjackets season 2, as of March 24
All films as from March 29th

on Apple TV
Ted Lasso, season 3, as of March 15
Tetris, Jon S. Baird, as of March 31.
All films as from March 29th on Disney Plus
The Mandalorian season 3, now.
Unprisoned, Tracy McMillan,
L'étrangleur de Boston, Matt Ruskin,
Prom Pact, Anya Adams, as of March 31
Peter Pan & Wendy, as of April 28th.
The Little Mermaid 2, Rob Marshall, forecast on May 2023.
Guardians of the Galaxy, as of May 3rd