Your weekly program as from February 15th
All the best films as from February 15th:
New trailers:
Perry Mason season 2, as of March 6 on HBO.
A few months after the Dodson case, the district attorney travels to Hoovervilles to identify the most obvious suspects in the murder of the descendant of a powerful oil family. Perry, Della, and Paul find themselves in the middle of an investigation that will uncover large-scale plots.
Air, Ben Affleck, as of April 3rd on Prime Video.
In the 1980s, Sonny Vaccaro  is a sports marketing manager at Nike, the sporting goods brand created by Philip Knight. For years, Sonny has been trying to sign a sponsorship deal with basketball star Michael Jordan. Despite contacts with his agent David Falk, the basketball player is reluctant to the idea.
Guardians of the Galaxy, as of May 3rd on Disney+.
Ted Lasso, season 3, as of March 15 on AppleTV
Indiana Jones and The Dial of Destiny
Valentine day,  Films & series: download the file
Series, films, all the best of 2022 : Click: Best of 2022
Series, films, what to expect in 2023 : Click: 2023 most expected films and series
FESTIVAL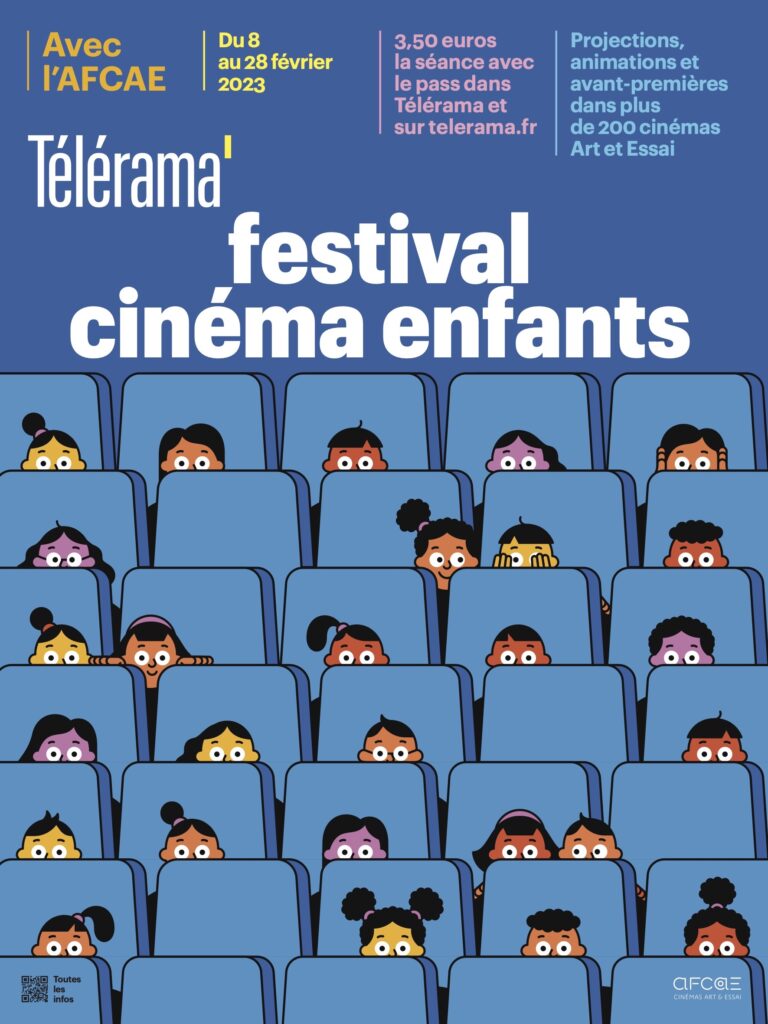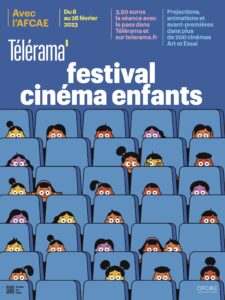 Festival Tout-Petits Cinéma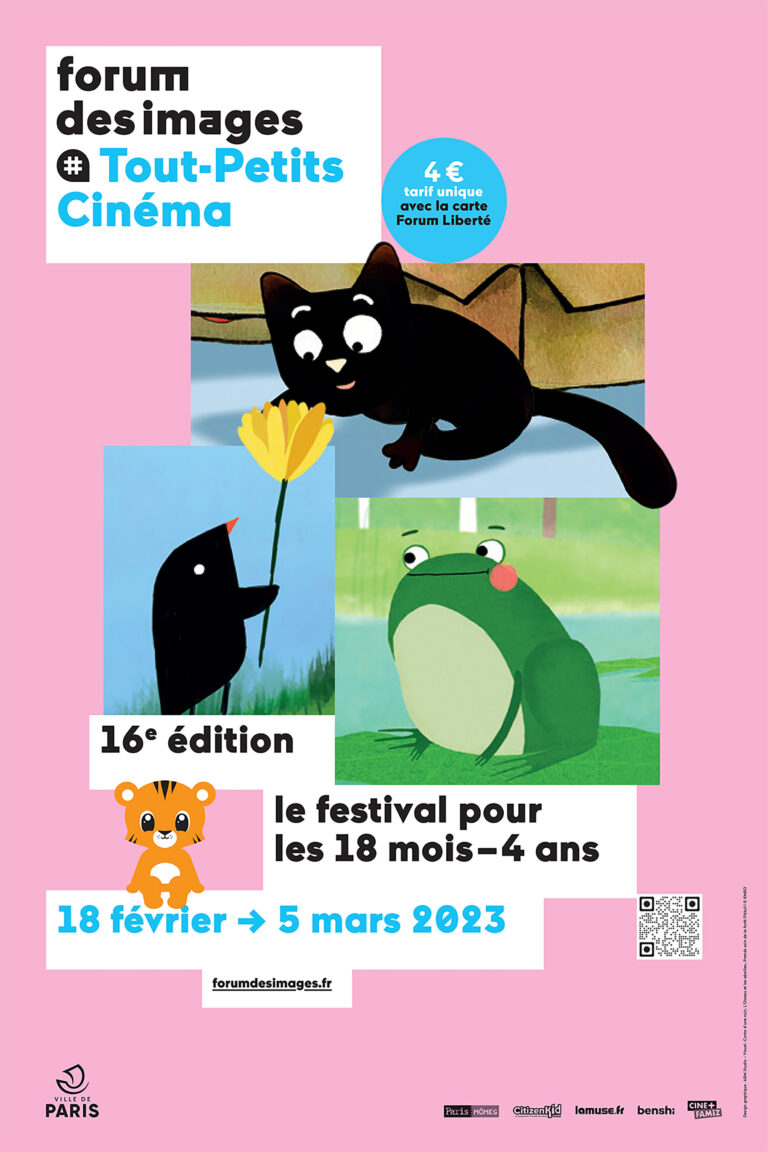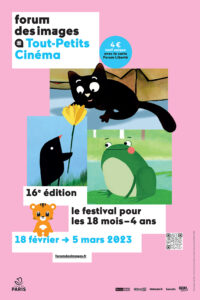 ALL YOU WANT TO KNOW ABOUT  FILMS & SERIES IN THEATERS & AT HOME

À temps plein, Eric Gravel
Synopsis
Julie is struggling alone to raise her two children in the countryside and keep her job in a Parisian palace.
When she finally gets an interview for a job that matches her aspirations, a general strike breaks out, paralyzing transportation. Julie's fragile balance is shaken.
She then goes on a frantic race, at the risk of drowning.
The suffering of single mothers
If you know the series Call my agent created by Fanny Herrero then you must love Laure Calamy.
She stars in this great movie.
From the very first seconds of the film, Éric Gravel brings us into Julie's world, played by Laure Calamy. Until the end, the camera is glued to the character of Julie, a single mother who raises her children alone, and who has accepted an under-qualified and underpaid job.
It's not hard for women to identify with Julie. She embodies the majority of single mothers (although many women in relationships are not much better off) and goes hand in hand with financial insecurity.
Julie spends her time running and one never knows if she will manage to catch her train, her bus, finish in time to pick up her children from the nanny…She has no time for herself. 
And the same goes for all the women around her.
Her superiors, her colleagues, the woman with whom she is interviewed, are not supportive (which is often blamed on women, while men would naturally be supportive of each other, but that's another subject) because quite simply the world is too hard for them, a world ruled by men, let's not forget it.
Julie evolves in the hotel business, a physically exhausting world where the pressure is constant.
Filmed like a thriller, we have, like the heroine, difficulty in catching our breath reinforced by the electronic music of Irene Drésel.
Rarely has the mental burden of women's work been so well filmed and understood.
The director and his actress have thus been justly rewarded.
Laure Calamy had already won the César for best actress for Antoinette in the Cevennes in 2021, then she won the Orizzonti prize for best actress at the Venice Film Festival in 2021.
This year, the film has received 4 nominations for the Cesar 2023, broadcast on February 24 on Canal +:
Best Actress for Laure Calamy
Best Original Screenplay for Éric Gravel
Best original music for Irène Drésel
Best editing for Mathilde Van de Moortel
NOW ON  CANAL + – NOT TO BE MISSED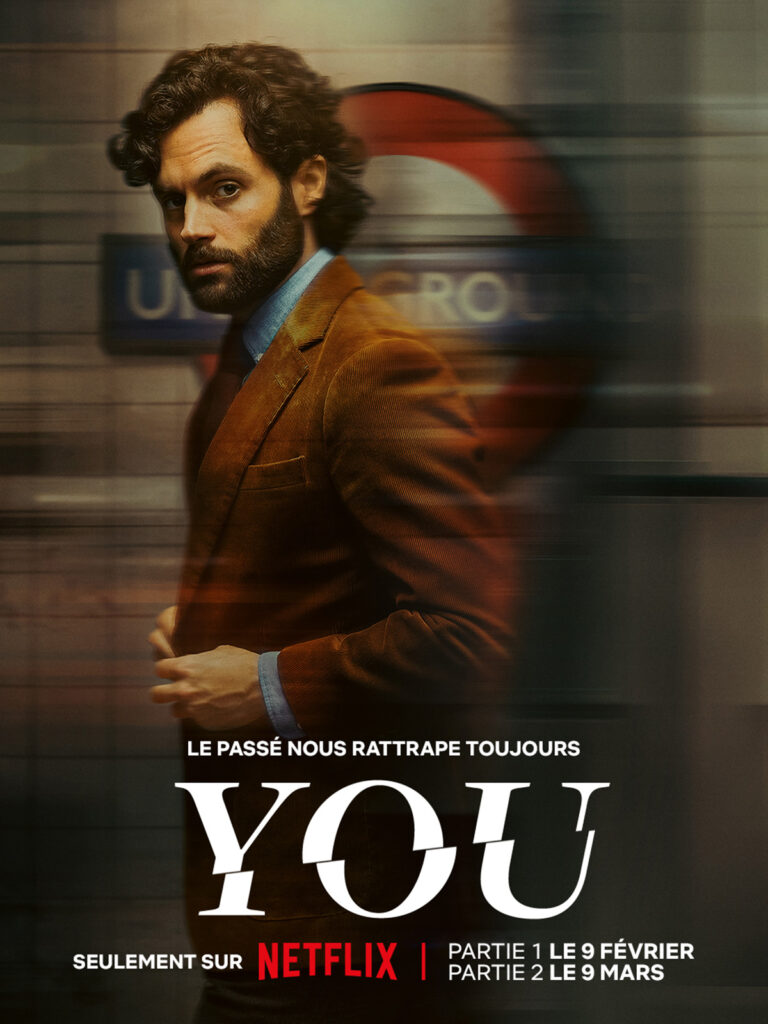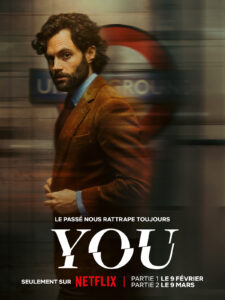 You saison 4, Greg Berlanti & Sera Gamble
Synopsis
After leaving the upscale suburb of Madre Linda, Joe Goldberg changes his identity and now operates under the pseudonym Jonathan Moore, a professor of English literature.
As he states in the official trailer, his goals could not be clearer: "This time, I'm concentrating on studying and teaching, while giving my extracurricular activities a strictly professional framework.
Part One
After exhausting the two novels and the women he was killing, how to keep the You series going?
Taken about ten times per episode, this first part (sequel airs March 9) features Joe Goldberg in London (Penn Badgley), confronted by a circle of very, very rich people who seek to manipulate him. Who threatens to reveal his identity? Who is trying to frame him for a crime he didn't commit.
That's the plot of this new part.
And if we stay until the end of this first part, it is especially for the actress who steals the show, is Charlotte Anne Ritchie, in the role of a closed, aggressive and tormented character.
She is known for playing in the comedy series Fresh Meat, but it is obvious that she is not only funny.
But the show works less when we leave the principal character as it was originally conceived.
To be continued on March 9.
Right now on Netflix.
All films as from February 15th
February 15th best films
L​a femme de Tchaïkovski, Kirill Serebrennikov
With  Odin Lund Biron, Alyona Mikhailova, Filipp Avdeyev
Antonina Miliukova, a wealthy young woman and pianist's apprentice, marries the composer Piotr Tchaikovsky. But her love for him is not reciprocated and the young woman is violently rejected. Consumed by her feelings, Antonina agrees to endure everything to stay with him. 
L'Astronaute Nicolas Giraud
With Nicolas Giraud, Mathieu Kassovitz, Hélène Vincent
Aeronautical engineer at ArianeGroup, Jim has been working for years on a secret project: to build his own rocket and accomplish the first amateur manned space flight. But to realize his dream, he must learn to share it…
Un homme heureux Tristan Séguéla
With Fabrice Luchini, Catherine Frot, Philippe Katerine
While Jean, the very conservative mayor of a small town in the north of France, is campaigning for re-election, Edith, his wife of forty years, tells him the news that she can no longer keep quiet… Deep down, she is – and always has been – a man. 
Juste ciel ! Laurent Tirard
With Valérie Bonneton, Camille Chamoux, Claire Nadeau
To save the local EHPAD, which is falling into ruins, five slightly crazy nuns are ready to do anything. Including participating in a bicycle race to win the prize. The only drawback: they are terrible at cycling. And to make matters worse, they're not the only ones on the case…
Le Marchand de sable Steve Achiepo
With Moussa Mansaly, Aïssa Maïga, Ophélie Bau
Marked by years of prison, Djo, a package delivery man in the Paris suburbs, lives modestly at his mother's with his daughter. One day, an aunt who has just fled the Ivorian conflict arrives at their home with her three children. In a hurry, Djo manages to find them a place to live. 
La Romancière, le film et le heureux hasard, Hong Sang-Soo
With Hye-yeong Lee, Kim Min-Hee, Young-hwa Seo
Suburb of Seoul. Junhee, a famous novelist, visits a long-lost bookstore friend. While walking around the neighborhood, she meets a director and his wife. One meeting leads to another, and Junhee meets Kilsoo, a young actress to whom she proposes to make a film together.
Projet Wolf Hunting Hong-seon Kim
With In-Guk Seo, Jang Dong-yoon, Jung So-min
After an escape attempt, a cargo ship carrying dangerous criminals from Manila to Busan descends into chaos. The crossing turns into a nightmare.
Le Grand cirque , Booder, Gaelle Falzerana
With Booder, Gerard Giroudon, Sarah Jague
While visiting a friend at the Robert Debré pediatric hospital in Paris, Momo, a comedian, meets Michel, the director of a volunteer clown association that visits hospitalized children. Momo is convinced to take up the challenge of making them laugh despite their illness.
Marlowe, Neil Jordan
With Liam Neeson, Diane Kruger, Jessica Lange
In 1939, in Bay City, California, while private investigator Philip Marlowe's career is on the wane, Clare Cavendish comes to him for help in finding her former lover, Nico Peterson, who has mysteriously disappeared.
Marlowe's investigation leads him to the Club Corbata, home to some of the most influential and wealthy residents of Los Angeles. 
Le Nid du Tigre Brando Quilici
With Sunny Pawar, Claudia Gerini, Yoon C. Joyce
Ages 8 and up 
One night, Balmani, a young orphan, rescues a baby tiger from the clutches of a ruthless poacher. To escape him, they undertake a long and perilous journey to the heights of the Himalayas. Together, they will experience the greatest adventure of their lives.
Animals Nabil Ben Yadir
With Soufiane Chilah, Gianni Guettaf, Vincent Overath
Brahim is a young man, his mother's joy of life. One day he will find the love of his life. He will become a father and make them all proud and one day he will be mature and fulfilled.
Domingo et la brume Ariel Escalante Meza
Starring Carlos Ureña, Sylvia Sossa, Esteban Brenes Serrano
In the tropical mountains of Costa Rica, Domingo, who lost his wife, owns a piece of land that is coveted by entrepreneurs.
They are determined to build a new highway and nothing seems to stop them. Multiplying the acts of intimidation, they dislodge the inhabitants one after the other. But Domingo resists.
Sois belle et tais-toi ! Delphine Seyrig
March 4, 1981 / Documentary Re-release date February 15, 2023
With Jane Fonda, Louise Fletcher, Jenny Agutter.
In 1976, Delphine Seyrig talks to 23 actresses about their conditions as women in the film industry, their relationships with producers and directors, the roles they are offered and the relationships they have with other actresses. A cult documentary, which allows us to realize what has changed (or not)
Movies to come (and we are looking forward to it):
The Fabelmans, Steven Spielberg, as of February 22nd
WEEKLY TIPS & OPINIONS ABOUT MOVIES 
BY  MOVIE DIRECTORS,  WRITERS, SCREENWRITERS, DIRECTORS, COMPOSERS…
Character Development for Writing TV by Scott Myers 
On Writing. "I think there is a tremendous amount… by Scott Myers
FILMS PROGRAM AS FROM FEBRUARY 15TH
Mercredi – Wednesday 15
Arte : Les fantômes d'Ismaël
Jeudi – Thursday 16
Arte : La fille de Kiev (série)
The death of several teenage girls plunges a quartet of investigators into a bitter quest for justice between Croatia and Kiev… With Ukrainian star Kseniia Mishina at the helm, this poisonous thriller adapts a novel by investigative journalist Drago Hedl, based on a true story.
Canal + : The Head saison 2
France 3 : Les murs du souvenir,  Sylvie Ayme
While in the middle of a divorce proceeding at the Palais de Justice, police captain Clara Merisi is warned that during a renovation, a mummy – in SS uniform – has been discovered walled up in an old building in Colmar.
With her assistant Guillaume Barot, she immediately contacts François Gilbert, historian and forensic anthropologist, to assist her in her investigation. He is definite: the man was murdered more than 70 years ago.
Friday – Vendredi 17
Arte : Toute la vérité – Un cri sous l'eau
A new investigation of the police chief Judith Mohn, who persists in solving a case that has been closed in order to elucidate the death of one of her colleagues.
Dimanche 19 – Sunday 19
Arte : The ghost writer, Roman Polanski
Lundi  – Monday 20
Arte : Good Bye, Lenin!
A son recreates for his heartbroken mother a GDR that no longer exists… A softly nostalgic comedy, with Katrin Saß and Daniel Brühl, the first big success of the new German cinema.
Canal + : Django
Mardi – Tuesday 21
Canal + : La nuit du 12
Mercredi – Wednesday 22
Arte : La prière:
In a religious community, a young drug addict regains his footing through work, friendship and prayer… By Cédric Kahn, the luminous story of a reconstruction, which revealed the talent of Anthony Bajon.
5. AS FROM FEBRUARY 15TH,

 FILMS & SERIES ON ARTE
FILMS
Ghost Dog, Jim Jarmush
DOCS
Val Kilmer, entre Top Gun et The Doors, as of February 3rd.
As a kamikaze fighter pilot for Tony Scott or a vibrant Jim Morrison for Oliver Stone, Val Kilmer has imposed his intense performance on Hollywood. A very intimate portrait of an actor with a dazzling career and a life full of drama.
Series
Profession : reporter, Michael Lucas
All films as from February 15th

 

on Netflix
You saison 4, as of February 9th
The fourth chapter opens here far from the United States but in Europe, and more particularly in London, where the young man, still played by Penn Badgley ("Gossip Girl"), evolves under a new identity. After having stalked his prey, here he is the target of a mysterious blackmailer.
Reines africaines : Njinga, as of February 15th.
The sinner, season 4 as of March 5
Luther : Soleil déchu, with Idris Elba, as of March 10.
All films as from 

February 15th

 

on 
Prime Video
Coeurs noirs, Ziad Doueiri, now.
Salade Grecque, series created by Cédric Klapisch, as of April 14.
20 years after l'Auberge Espagnole, the story goes on.
All films as from 

February

 15th on Canal+
The Head season 2, now.
Django, Leonardo Fasoli et Maddalena Ravagli,  as from February 13th
Far West, 1860-1870. Haunted by the murder of his family eight years earlier, Django continues to search for his daughter Sarah, clinging to the hope that she might have survived. He finds her in New Babylon, a city made up of men and women of all origins, races and beliefs. 
Now an adult, Sarah asks Django to leave, fearing that her presence will endanger the city that adopted her. Django is adamant that he will not risk losing his daughter again…
Two episodes seen at a premiere : we are looking forward to watching the next ones.
The actors are all pretty good in this great production. I particularly liked Benny O Arthur, Jyuddah Jaymes, as well as Eric Kole, actors we would like to see more often on screens.
With Matthias Schoenaerts, Noomi Rapace, Lisa Vicari and Nicholas Pinnock.
La nuit du 12,  as of February 21st.
Your honor season 2, as of February 23rd
Since his confession, Judge Desiato is wasting away in prison, devastated by the death of his son Adam, killed by Eugene, Kofi's younger brother, who was actually targeting Carlo. Jimmy Baxter pressures Big Mo, his business rival, to bring back the murderer, a member of his clan.
Entre la vie et la mort , as of March 1st, Giordano Gederlini
With Antonio de la Torre, Marine Vacth, Olivier Gourmet
All films as from February 15th

on Apple TV
Shrinking, Jason Segel and Bill Lawrence & Brett Goldstein, now.
Hello tomorrow, on February 17: "Hello Tomorrow!" is set in a retro-futuristic world where a group of traveling salesmen are tasked with selling shared properties on the moon.
Billy Crudup stars as Jack, a highly talented and ambitious salesman whose unwavering faith in a better future motivates his colleagues, invigorates his desperate customers, but threatens to leave him dangerously lost in the dream that keeps him going.
Sharper, on February 18th, by Benjamin Caron and starring Julianne Moore, Sebastian Stan, Justice Smith, Briana Middleton, and John Lithgow
Liaison, on February 24. Screenplay by Virginie Brac. Director: Stephen Hopkins
Contemporary thriller that shows how the mistakes of the past can destroy the future. It mixes action with a captivating plot in which espionage and political machinations clash with a passionate and tenacious love story.
The reluctant traveler, on February 24
This eight-part series follows Eugene Levy as he visits some of the world's most beautiful and intriguing destinations in Costa Rica, Finland, Italy, Japan, the Maldives, Portugal, South Africa and the United States, exploring remarkable hotels and the places and cultures that surround them.
All films as from February 15th on Disney Plus
Anatomie d'un divorce by  Taffy Brodesser-Akner, as of February 22nd
The Mandalorian season 3, as of March 1st.
The Little Mermaid 2, Rob Marshall, forecast on May 2023.
Films as of February 15th on Lionsgate
Party Down