Your new films, series in theaters & on your platforms
What are the best movies as from February 16th?
Answer in this article ;).
New trailer: Fresh, by Mimi Cave, with Daisy Edgar-Jones (Normal People) & Sebastian Stan
NEWS
On March 27, actresses Regina Hall, Amy Schumer and Wanda Sykes will present this year's Academy Award. 
In addition, the Academy Awards have announced the creation of a People's Choice Award that will celebrate the most popular film of the season next month, as determined by a Twitter vote.
Paramount's upcoming Bob Marley biopic has found its leading man.
After an extensive, yearlong and globe-spanning search, Kingsley Ben-Adir, fresh off of playing Malcolm X in "One Night in Miami," has been tapped to portray a different icon, the music legend credited with popularizing reggae music.
Reinaldo Marcus Green, who recently steered the sports drama "King Richard" to six Oscar nominations, is directing the still-untitled film. Screenwriter Zach Baylin, who worked with Green on "King Richard," is penning the script.
The best-selling novel Dear Edward will become a series for Apple TV+, as just announced by the company.
Connie Britton, Taylor Schilling, Colin O'Brien and other actors will star in the series. "Dear Edward" tells the story of Edward Adler (played by O'Brien), a 12-year-old boy who survives a tragic plane crash in which all the other passengers, including his family, die.
The series will be written by Jason Katims, who will also serve as executive producer with his True Jack Productions alongside Jeni Mullein. There are currently no details on when the series will launch on Apple TV+.
Has the Netflix platform already won the Oscar ?
The Power of the Dog by Jane Campion, broadcast on the platform (review here) is nominated 12 times for the Oscars this year including: best film, best director, best actor, best supporting actress (Kirsten Dunst) and best actor.
Incredible for a film that very few lucky people have seen in theaters!
What about the other nominations?
– 10 nominations for "Dune" by Denis Villeneuve, but not for the direction
– 7 nominations for "Belfast" by Kenneth Brannagh and "West Side Story" by Steven Spielberg.
The nominations (in bold, my predictions/wishes!)
Oscar for best film 
"Belfast"
"CODA"
"Don't Look Up: Cosmic Denial"
"Drive My Car"
"Dune"
"The Williams Method"
"Licorice Pizza"
"Nightmare Alley"
"The Power of the Dog"
"West Side Story"
Best Director:
Kenneth Branagh, "Belfast"
Ryusuke Hamaguchi, "Drive My Car"
Paul Thomas Anderson, "Licorice Pizza"
Jane Campion, "The Power of the Dog"
Steven Spielberg, "West Side Story"
Best Actress Oscar:
Jessica Chastain, "In the Eyes of Tammy Faye"
Olivia Colman, "The Lost Daughter"
Penelope Cruz, "Madres Paralelas"
Nicole Kidman, "Being the Ricardos"
Kristen Stewart, "Spencer"
Best Actor Oscar: 
Javier Bardem, "Being the Ricardos"
Benedict Cumberbatch, "The Power of the Dog"
Andrew Garfield, "tick, tick…BOOM!"
Will Smith, "The Williams Method"
Denzel Washington, "The Tragedy of Macbeth
Best International Film  : 
"Drive My Car" (Japan)
"Flee" (Denmark)
"The Hand of God" (Italy)
"School at the End of the World (Bhutan)
"Julie (in 12 chapters)" (Norway)
FESTIVAL AS FROM FEBRUARY 9TH
For the 2022 edition, La Fête du court métrage has proposed – with the support of L'Agence du court métrage – a catalog of short films available throughout the event.
Queer festival program – Les Inrocks
Through 126 films, 40 countries and 66 years of cinema history, Tigritudes draws a subjective and chronological pan-African anthology. 
Conceived by directors Dyana Gaye and Valérie Osouf, in collaboration with the Forum des images, this cycle explores the issues and forms of a cinematography that is still largely unknown.
Tigritudes explores the postcolonial circulation of forms, struggles and ideas across the continent and its diaspora.
The Créteil Women's Film Festival : The 44th edition will take place from March 11 to 20, 2022
ALL YOU WANT TO KNOW ABOUT CURRENT FILMS & SERIES IN THEATERS AND AT HOME
REVIEWS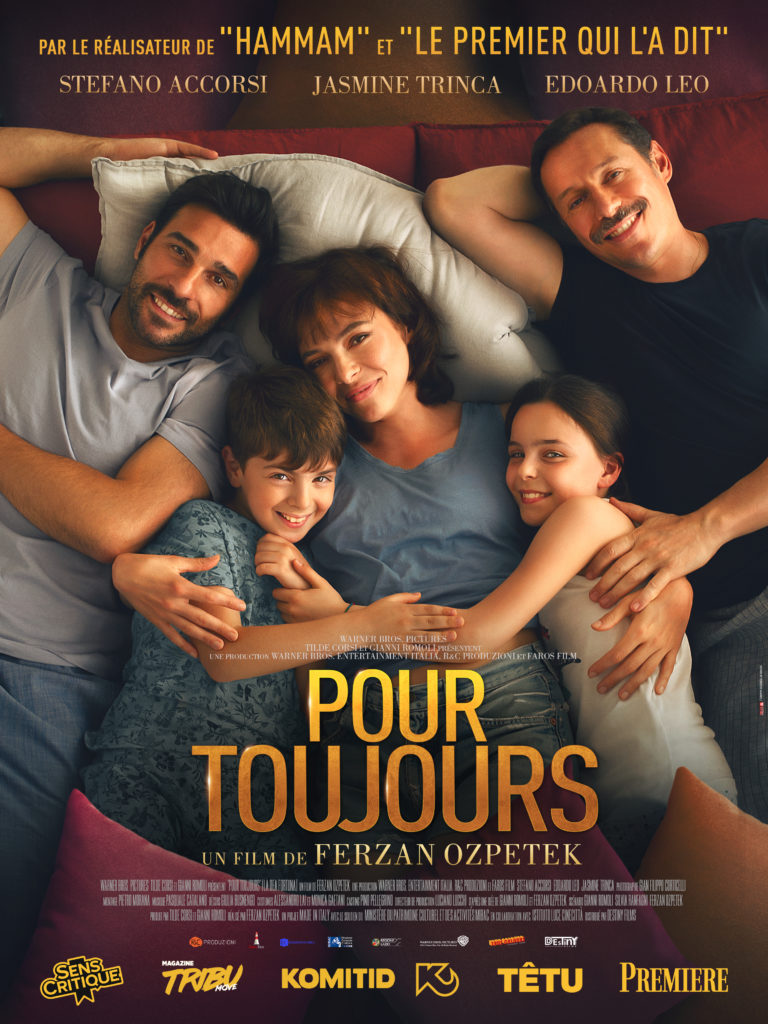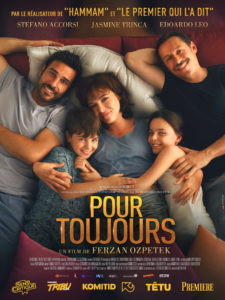 Pour Toujours, Ferzan OZPETEK
Synopsis
Arturo and Alessandro are going through a period of crisis. Fifteen years of living together have eroded the passion and love that they have for each other.
Anna Maria , Alessandro 's mother and mother-in-law, the one who entrusted her two children, had to be hospitalized for examens.
Between misadventures and moments of emotion, Arturo and Alessandro take risks to protect the new love that grows on one side and blossoms on the other.
About the movie
It begins with a wedding in their beautiful apartment in Rome. A beautiful party on the terrace, laughter and music but between Arturo and Alessandro, the situation is stressed. 
At that moment, Annamaria arrives, alone with her children and asks them to keep them for a short time. She has a severe headache and has to have medical examinations.
The arrival of Martina and Sandro, the two children, will change the daily life but especially reveal the flaws of the couple Arturo and Alessandro.
Will they be able to get out of it? How to bounce back once the desire and the years of life spent together lead to a dangerous routine ?
Director Ferzan Özpetek (Hammam, Tableau de Famille, The Window Across the Street, The First One Who Said It), tackles the difficulties that almost all couples face in the long run. The love is still there but the arguments are made with cruel words that hurt because we know the other by heart.
He also comes back to childhood and its traumas on our adult life. 
What do they imply? Do we overcome them?
Between drama and comedy, Forever is a very successful and well acted film, which feels good. 
Its Italian title La Dea Fortuna is a reference to a sacred place named after the Goddess Fortuna in the city of Preneste (now called Palestrina, it is located in the province of Rome).
 "The Goddess Fortuna has a secret, a magic trick. How to make your loved one stay by your side? 
You have to stare at her, steal her image, blink your eyes and keep them closed.
The loved one then plunges straight into your heart, and from that moment on, she stays with you forever."
La Dea Fortuna has won numerous awards.
Awards:
David di Donatello for Best Actress for Jasmine TRINCA
Silver Ribbons for Best Actress and Best Film Score
3 Golden Ciak :
Best Film
And Best Actors for Stefano ACCORSI and Edoardo LEO
Best Original Song "Che Vita Meravigliosa" performed by Diodato
In all good theaters.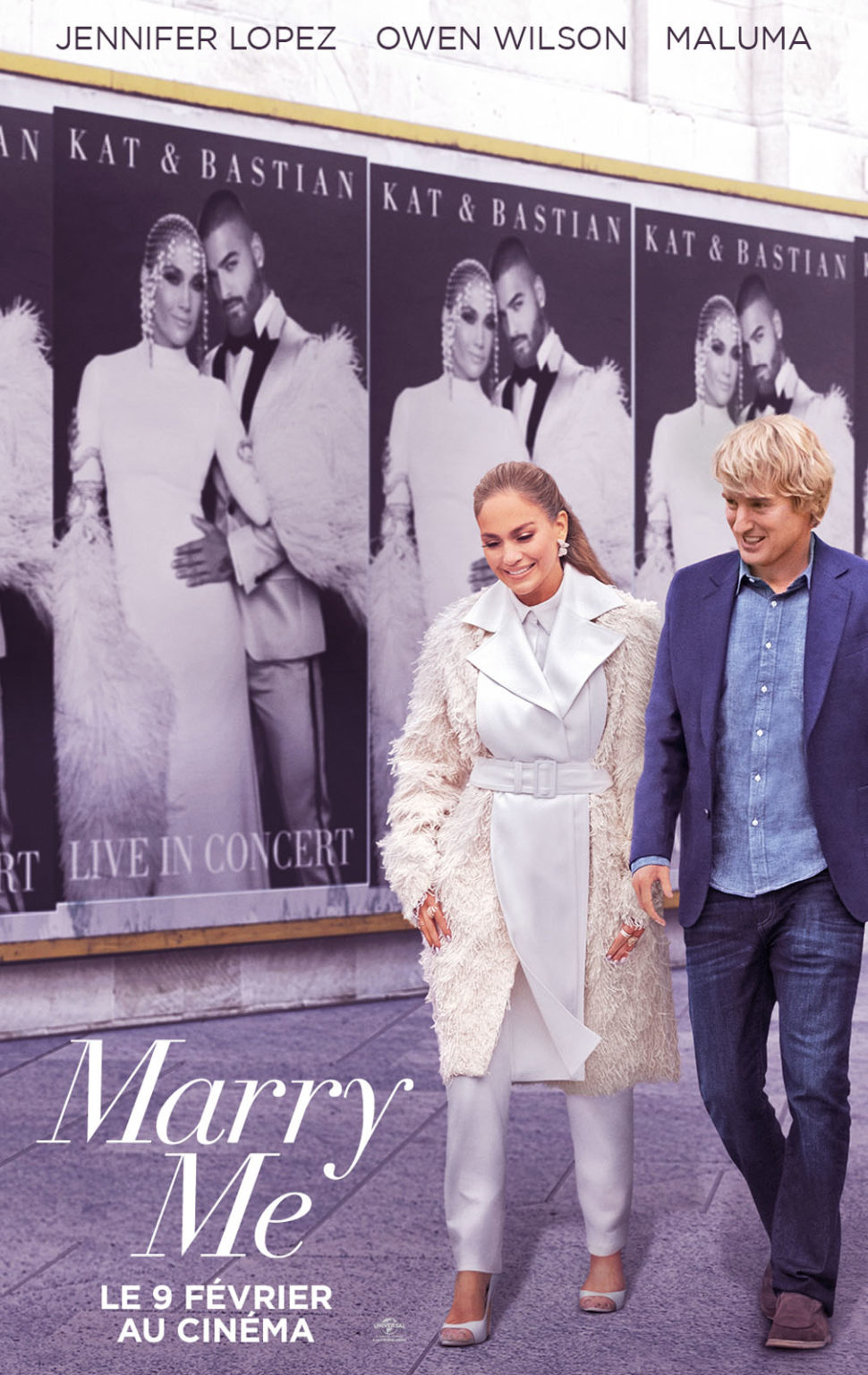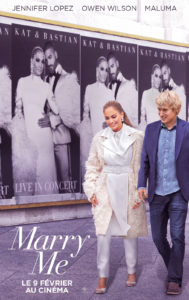 Marry Me, Kat Coiro
Synopsis
Kat Valdez (Jennifer Lopez) is half of the sexiest celebrity power couple on Earth with hot new music supernova Bastian (Maluma, making his feature-film debut).
As Kat and Bastian's inescapable hit single, "Marry Me," climbs the charts, they are about to be wed before an audience of their fans in a ceremony that will streamed across multiple platforms.
Divorced high-school math teacher Charlie Gilbert (Owen Wilson) has been dragged to the concert by his daughter Lou (Chloe Coleman, HBO's Big Little Lies) and his best friend (Sarah Silverman).
When Kat learns, seconds before the ceremony, that Bastian has cheated on her with her assistant, her life turns left as she has a meltdown on stage, questioning love, truth and loyalty.
As her gossamer world falls away, she locks eyes with a stranger—a face in the crowd and so, in a moment of inspired insanity, Kat chooses to marry Charlie. 
The romance
Directed by a woman, Kat Coiro, this romantic comedy goes beyond the usual clichés and tells us about two people in search of a true story.
Can we still believe in the couple today?
Like "Pour Toujours", "Marry Me" asks the question Marry Me" also asks us this question.
While Kat, a famous singer, spends her life filming herself on social networks, Charlie teaches mathematics to passionate students and only believes in the concrete.
Social networks and celebrity today are also what "Marry Me" is about, with the songs of Jennifer Lopez.
The meeting of Charlie and Kat allows us to spend some nice moments.
Owen Wilson is particularly touching in this role of Charlie, as a divorced father a little disillusioned.
A nice surprise.
Now in theaters.
TO WATCH IN YOUR MOVIE THEATERS AS FROM FEBRUARY 16th
Piccolo Corpo, Laura Samani
Italy, 1900. Agata loses her daughter at birth and cannot bring herself to believe that her soul is condemned to wander in limbo.
There is a place in the mountains where her child can be brought back to life, for a breath, to be baptized.
With the help of Lynx, Agata embarks on a journey to find the miracle.
Un autre monde,  Stéphane Brizé. Avec Vincent Lindon, Sandrine Kiberlain, Anthony Bajon
Interview
Les affluents, Jessé Miceli
The Power, Corinna Faith
Uncharted, Ruben Fleischer
Later (and we are looking forward to it): 
Belfast, Kenneth Brannagh. On March 2nd.
Just like Roma by Alfonso Cuarón (2018): Kenneth Branagh was freely inspired by his own childhood to write the film.
Under the rule of Margaret Thatcher, the story of Buddy a little boy and his family in the Belfast of the late 1960s.
Aristocrats, Yukiko Sode, March 30th
After Yang, produced and directed by Kogonada, is an adaptation of the American short story Saying Goodbye to Yang by Alexander Weinstein.
In the near future, where the fashion is marked by domestic androids in human form that are considered nannies, Jake (Colin Farrell) and his daughter try to save Yang (Justin H. Min), their robot that has become inert.
Release date: June 22, 2022.
Jurassic World Dominion, Colin Trevorrow, June 8th
Nope,  Jordan Peele, on July 22nd
With: Daniel Kaluuya , Barbie Ferreira , Michael Wincott , Steven Yeun , Keke Palmer , Brandon Perea , Terry Notary , Andrew Patrick Ralston , Donna Mills , Jennifer Lafleur
Downton Abbey a new era, Julian Fellowes , May 20th
WEEKLY TIPS & OPINIONS ABOUT MOVIES 
BY  MOVIE DIRECTORS,  WRITERS, SCREENWRITERS, DIRECTORS, COMPOSERS…
Interview (Video): Tom McCarthy. A hour-long conversation with fellow… | by Scott Myers | Jan, 2022
Reader Question: Are there any script rules that really shouldn't be broken? | by Scott Myers | Feb,
Top 10 single mothers in fiction | Books | The Guardian
4. 

BEST SERIES & MOVIES ON TV, AS FROM FEBRUARY 16TH
Mercredi- Wednesday
Arte : Adieu à la nuit
Canal Plus : Le Discours
6Ter : Paddington
Jeudi – Thursday
Arte : Alger confidentiel (série)
Around an arms deal between Algeria and Germany, spies, government officials, lobbyists and activists intrigue and tear each other apart… Frédéric Jardin ("Braquo", "Engrenages") orchestrates a breathless thriller, knotted in the shadow of law and morality.
TF1 Series : Retour vers le futur 2
Chérie 25 : Le majordome
Vendredi – Friday
Canal Plus : Bac Nord
Arte : Toute la vérité, un cri sous l'eau (série)
Samedi – Saturday
Arte : Florence Nightingale : la première des infirmières
A true icon of British history, Florence Nightingale (1820-1910) laid the foundations of modern nursing. A beautiful tribute to a pioneer whose integrity, selflessness and zeal are to be admired. 
Dimanche – Sunday
Arte : La nuit des généraux, Anatole Litvak
Lundi – Monday
France 5 : Normal People
Arte : Fin août début septembre
Olivier Assayas subtly portrays the chronicle of a small group of friends confronted with the loss of youth and the mourning of one of their own. With Jeanne Balibar, Mathieu Amalric, Virginie Ledoyen, François Cluzet, Mia Hansen-Love, Nathalie Richard and Éric Elmosnino.
Mardi – Tuesday
M6 : Nanny McPhee
Arte : Angela Merkel,  Torsten Körner
Mercredi- Wednesday
France 2 : Au nom de la terre, Edouard Bergeon
Arte : Victoria, Justine Triet
5. 

BEST MOVIES AS FROM FEBRUARY 16TH  ON ARTE
ARTE FILM
La vie invisible d'Euridice Gusmao, by Karim Aïnouz
In Brazil in the 1950s, a macho father stands between his two daughters. Spanning several decades, a feminist melo as sensitive as it is technically masterful. "Un certain regard" prize at the 2019 Cannes Film Festival.
Senses, by Ryūsuke Hamaguchi – known for his screenplays for "Drive my car" and "The Sacrificial Lovers" – signs a modern fresco of contemporary Japanese society through the daily lives of four women in search of meaning.
An ode to sensitivity sublimated by the performance of its quartet of interpreters. The "first cinema series" in five parts (in homage to the five senses) to be discovered in its entirety.
Winter Sleep, Nuri Bilge Ceylan
ARTE SERIES
Sacha, Léa Fazer
Felix Moeller : la-propagande-antisemite
Scenes-de-la-vie-conjugale, by Ingmar Bergman
Les rêves brisés de l'entre deux guerres
ARTE DOCUMENTARY
Lee Miller, Teresa Griffiths
Le Drame Ouïghour, François Reinhardt
Exterminate all the brutes, by Raoul Peck.
BOXING LIBREVILLE : Amédée Pacôme Nkoulou
Felix Moeller : la-propagande-antisemite
Best movies as from February 16th on 

Netflix
2022 :
Brokeback Mountain, And Lee, on February 16th
Young Wallander, season 2, on February 17th
Pieces of her, Charlotte Stoudt, adapted from the eponymous novel by  Karin Slaughter, on March 4th.
Drôle, Fanny Herrero, on March 18th
Bridgerton saison 2, by Shonda Rhimes, on March 25.
December 2022, Pinocchio by Guillermo Del Toro.
Best movies as from 

February 16th 

on 

Prime Video
I want you back, by Jason Orley, now.
Totems, a French television series in 8 episodes created by Olivier Dujols and Juliette Soubrier.
In the heart of the 1960s, a young French spy, Francis Mareuil, meets Lyudmila, a Russian pianist, and falls in love with her.
On February 18th.
Mrs Maisel season 4, Amy Sherman-Palladino, on February 18th.
The Lord of the rings, Juan Antonio Bayona, September 2nd.
Deep Water, Adrian Lyne, Ana de Armas & Ben Affleck. On March 18th
Best movies as from 

February 16th 

on Canal+
Bac Nord, Cédric Jimenez, February 18th.
Ovni, saison 2, Antony Cordier, on February 21st.
Killing Eve, season 4, on February 27th
Season 4 is helmed by head writer and executive producer Laura Neal, who replaces Suzanne Heathcote. Phoebe Waller-Bridge served as head writer for Season 1, with Promising Young Woman's Emerald Fennell helming Season 2. In addition to Neal, Waller-Bridge, Oh, Sally Woodward Gentle, Lee Morris, Gina Mingacci, and Damon Thomas also executive produce.
Kamikaze, Johanne Algren
Best movies as from 

February 16th on Apple TV
The Sky is Everywhere, by Josephine Decker, written by Jandy Nelson, inspired by the eponymous novel. On February 11th.
Severance, by Ben Stiller & Dan Erickson, on February 18th.
WeCrashed, series created by Lee Eisenberg & Drew Crevello inspired by the podcast WeCrashed : The Rise and Fall of WeWork de Wondery. 
With Jared Leto (Adam Neumann), Anne Hathaway (Rebekah Neumann). On March 18th.
The Last Days of Ptolemy Grey, by Ramin Bahrani,  with  Samuel L. Jackson, as from March 11th.
The Shining Girls, series by Silka Luisa with Elisabeth Moss (Kirby), Phillipa Soo (Jin-Sook), as from April 29th.
Best movies as from 

February 16th 

on Disney Plus
Moon Knight, de Jeremy Slater avec Oscar Isaac (Marc Spector / Moon Knight), May El Calamawy, on March 30th.
How I met your father, series by Isaac Aptaker & Elizabeth Berger, on March 9th
Para/llèles, on March 23rd
Parallèles tells the story of four friends – Bilal, Romane, Samuel and Victor, whose lives are turned upside down when a mysterious event separates them and propels them into parallel dimensions. They will do everything in their power to understand what happened. And try to go back to their world "before".
Created by Quoc Dang Tran (Dix pour cent, Marianne), co-written by Anastasia Heinzl (Au-delà des apparences) and directed by Benjamin Rocher and Jean-Baptiste Saurel with Thomas Chomel.
Best movies as from 

February 16th 

on Starzplay
Gaslit, TV series by Robbie Pickering with Julia Roberts (Martha Mitchell), Sean Penn (John Mitchell).
On April 24th