We by Alice Diop, screened during the Champs Elysées Film Festival..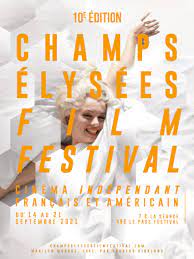 We: Synopsis
A line, the RER B, crossed from north to south. A journey inside these indistinct places that we call the suburbs. And a mechanic in La Courneuve, the faithful commemorating the death of Louis XVI at the Saint-Denis basilica, a nurse visiting her patients, the memory of young deportees in Drancy, children, young people enjoying the quietness of summer, a writer in Gif- sur-Yvette, the follower of a hunting team and the filmmaker who revisits the place of her childhood. Each one is a piece of a whole that composes a whole. A possible "Us".
The documentary
We is both a response from the director to those who accused the suburbs of being the cause of the Bataclan attacks, and a desire to adapt François Maspero's 1990 novel Les Passagers du Roissy-Express to the geographical area she knows best.
Her approach is part of a desire to make visible those who are never seen in French society, along this RER line.
Thus, we discover the life of an undocumented Malian garage owner who lives in his truck, men and women who give a mass in homage to King Louis XVI, the director's archives on her mother and father with her voice in the background, the life of her sister, a home care worker for the elderly, hunters, teenagers in the suburbs, children playing on cardboard boxes, people watching a fireworks display…
Alas, it all mixes badly. The mix of personal archives takes badly with the rest. The "Whites" as the director calls them are only represented as hunters, old people or hunters and finally the film goes against what she wanted to show: an image of a tolerant France.
If her purpose is to show that all stories count, that of a king as well as that of her father or of immigrants who arrived in France fifty years ago, how can they be linked? The choice of populations is biased and does not correspond to reality. What percentage do hunters and royalists represent in French society?
Some very touching stories would certainly have deserved to be developed. But the film is too long and the subject is too explicit at times.
But the audience liked it, so the director certainly knew how to capture something of her time.
We by Alice Diop won the Best Film Award in the Encounters section at Berlinale 2021.