Topside, by Celine Held & Logan George, screened during the Champs Elysées Film Festival.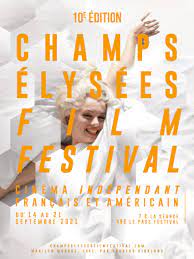 Synopsis
In the bowels of New York City, a five-year-old girl and her mother have taken up residence in the abandoned tunnels. After a sudden police-mandated eviction, they have no choice but to flee to the surface.
Topside is the result of years of research on tunnels inhabited by homeless people. They end up being evicted because the places where they live are dangerous and above all unnatural. There is almost no light, and especially no water. They are called the Mole People. 30,000 souls live in New York, under the city, on the fringe of life and light.
The first ones were Vietnam veterans, who came back home without any job and without shelter at a time when even the city benches were already squatted at night. They took over the Riverside Tunnel along the Hudson River Park. They were soon joined by other people excluded from the American dream. (source : Le Monde). The book The Mole People by Jennifer Toth is one of the first to talk about it.
Nikki (Celine Held) prostitutes herself during the day to buy drugs and leaves her daughter, Little (Zhaila Farmer), to live and wander the tunnels waiting for her to return at night. She promises her that as soon as she grows angel wings on her back, they will go upstairs to live. This leads to some beautiful scenes where the light is shot in close-up and Little looks for places to play, dreaming of stars and angels.
One night, detectives arrive and Nikki and her daughter are forced to flee.
The nightmare begins when they find themselves out in the open. Nikki takes refuge in a drug dealer's house and then it's a race to find a place to sleep…
The music, the cinematography and especially the fusional relationship between the mother and her daughter rendered so well on the screen make this film a real success and therefore one of the favorites for the Jury Prize of the Champs Elysées Film Festival awarded this Tuesday.
Topside is a love story between a mother and daughter, filmed in the dark world of a hellish tale.
The directors
Celine Held and Logan George work together. At the time of the festival, they are working on their second feature film produced by the great Night Shyamalan. They have, in fact, already directed two episodes of the series The Servant, available on AppleTV.
Topside, had its world premiere at the 77th Venice International Film Festival, as part of the Critics' Week competition. Their work in short film was recognized with a nomination for the Palme d'Or for Short Film at the 2018 Cannes Film Festival.
With Zhaila Farmer, Celine Held, Jared Abrahamson, & Fatlip.