At the Champs Élysées Film Festival, tonight, screening of Queen of Glory by Nana Mensah.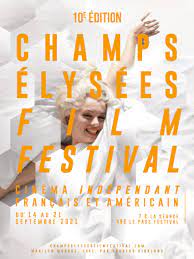 Synopsis
Sarah, a Ghanaian-American, is about to drop out of her PhD program to follow the man she loves. But her plans are disrupted when her mother suddenly disappears, leaving her the owner of a Christian bookstore in the Bronx.
The film
First feature film of director Nana Bensah, presented at the Champs Élysées Film Festival, this comedy is my first favorite of the festival.
Of Ghanaian and Ashanti origin, whose family owned a Christian bookstore in the Bronx until the end of the filming, Nana Bensah tells us a story of identity.
Sarah, (played by Nana Bensah) a scientist in love with a married man, must return to the traditions of Ghana when her mother dies.
She finds herself running a bookstore, whose only employee, Pitt (played by Meeko Gattuso) is a former convict hired by her kind-hearted mother.
But Sarah doesn't really know who she is. She finds herself living in her mother's house with her father, whom she hasn't seen for a long time since he lives in Ghana. Their relationship is tense. She finds refuge with her neighbors, or rather her neighbors, where an old friend from college lives in a family of Russian origin. This family symbolizes the joy and love that she did not receive, raised alone, uprooted. To make up for this lack, Sarah takes her anger out on food.
Her hairstyle symbolizes the link with her roots.
A story of identity
The alternation of black and white archival images from the 60's, the magnificent music and the photography take us into this original, gentle story where nothing is forced.
It was not the director's intention to bring a story of oppression to the screen, but rather to tell a story of identity, a story of women, tradition and modernity in New York.
Her cousin, the film's producer, liked this vision of Nana. The director reinvents independent cinema in New York where there are no scenes of violence.
Nana Mensah has a theatrical background which she used to direct. She also starred in the series   The Chair , alongside Sandra Oh, Bonding on Netflix, New Amsterdam on NBC.
I hope this film will find a distributor in France.
With Nana Mensah, Meeko Gattuso, Oberon K. A. Adjepong, Adam Leon.