News about movies, series to watch now.
For this first article on my new blog, I have chosen for you the best of series, streaming movies and tv program to entertain you.
Movies, series to watch now
What's new?
In May, Arte will broadcast a special program dedicated to the Cannes Festival: program here (in French only)
MK2 signed a partnership with Netflix.  We have already the chance to watch the masterpieces of François Truffaut, and by the end of the year, we will be able to watch Claude Chabrol, Jacques Demy, David Lynch, Xavier Dolan, Krzysztof Kieslowski and  Charlie Chaplin !
I have chosen three movies directed by François Truffaut, already one line: Jules et Jim, Fahrenheit 451 and Le dernier Métro.
Netflix  broadcasts some podcasts on the storytelling (to listen on Spotify) and is about to produce a story of the musical platform.
The Forum des Images  broadcast some movie lessons, one is particularly great with the writer and creator of True Détective, Nic Pizzolatto.
Allociné and the FNCF launched an event on line to promote the love of movie theaters  #Oniratousaucinéma. The idea is to shoot some short videos (two minutes) of famous personalities from the movie industry who are now at home and talk about their love of movie theaters.  The first are the two directors Olivier Nakache et Éric Tolédano. First episode here.
The second one is Alain Chabat.
The Huffington Post suggests the idea of going back to movies using Drive-in..
And the movie festivals all over the world, including Annecy and Cannes, are gathering on Youtube from May 29th till June 7th  ( Le Film Français): We are One: A Global Film Festival
An interview of Noah Baumbach (director of Marriage Story) here
And  the best movies about London to stream right now
Meanwhile….


Your TV programs
Wednesday
Arte : L'Appât
France 4 : Madagascar
Thursday
M6 : Why women kill – And after, the series : This is us: a series on family: how a simple life can turn into an extraordinary series
CStar : Ma part du gâteau : de Cédric Klapisch, with Karin Viard, Gilles Lelouch and Audrey Lamy.
Friday
Elton John evening with  Rocketman on Canal+
Arte : Jonas
Sunday
TF1: Sing : a musical cartoon that I recommend 🙂
Arte : From here to Eternity
C8: Touchez pas au Grisbi, with Jean Gabin
LCP : Rembob'Ina
Monday
France 5 : Christine
Arte : Un mauvais fils
M6 : Meet the parents: Comedy by Jay Roach, with Ben Stiller, Robert de Niro and Dustin Hoffman
C8: Le petit baigneur: by Robert Dhéry with Louis de Funès
TMC: The great wall : by Zhang Yimou, with Matt Damon, Willem Dafoe
Tuesday
TF1: Harry Potter  and the Goblet of Fire
Two 

trailers on

what you are expected to come out
in 

your

 movie theaters in the next months
A new adaptation from the novel Dune, directe by Denis Villeneuve with Thimothée Chalamet (the first one was directed by David Lynch with Kyle MacLachlan !! ).
A biopic on Al Capone:
On your platforms
news about series and movies
Arte.tv
A tribute to the singer,Christophe,with the broadcast of his concert in Rome in 2014
A documentary on Françoise hardy
Writers portrait : Luis Sepulveda, Margaret Atwood, Hölderlin, Joseph Roth
A documentary on Douglas Fairbanks, a portrait of Tony Curtis
Films : a tribute to Éric Rohmer and Jacques Rivette. And to wach:  L'Intrusa, directed by Leonardo Di Costanzo and L'Heure d'Eté by Olivier Assayas, one of the 25 movies selected by The New York Times in 2017 to become a classic movie.
NETFLIX
Kogustaki Mucize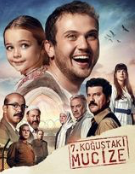 This is the second version of a Korean movie, Miracle in Cell No. 7 directe by Lee Hwan-Gyeong out in 2013. The  director, Mehmet Ada Öztekin set up the same story about a little girl and her father, mentally handicapped unfairly accused of murder.
The Pitch: 2004 , a young woman watches herself in the mirror with a wedding dress. The radio plays then she remembers. Flash back to Turkey, 1983.
Her father, Nemo, is a sheep shepherd who is mentally handicapped . Ova lives with his father and Fatma, her grandmother. An accident happens and Memo is unjustly accused of murdering a general's granddaughter. Incarcerated in a cell with eight other prisoners, Memo discovers violence and brotherhood.
Injustice, friendship and filial love contribute to the success of this phenomenally successful film. The extraordinary performance of the lead actor, Aras Bulut İynemli reminds me of Nevo Kimchi's performance in the Israeli film Laces. You should see the Turkish film and the multi-award winning Korean film.
Tiger King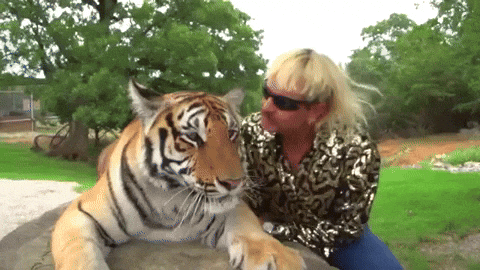 This incredible mini-series  documentary on the owners of wild animals is making the buzz now !
In the United States of America, some individuals passionate by wild animals, own felines, build their own zoos. The caregivers are completely devoted to the owners and devote themselves to them so strongly that it looks like a cult.  These men and women who owns these tigers and lions love them more than anything and think they are preserving nature by showing the audience and the public how beautiful they are…This is just incredible !
Canal+ 
Succession: a great series on power and family rivalry
Once Upon a time in Hollywood, which I loved !
Tel Aviv on Fire, a great comedy, which did the opening of the last Festival du Cinéma Israélien de Paris.
And still amazing series : Zero Zero Zero, Our boys, The loudest voice, Nehama, Mrs America.
Disney
The Mandalorian, great series, spinoff of Star Wars…
I wonder what he looks like, don't you ?
Togo with  Willem Dafoe : directed by Ericson Core: in Alaska, the story of a man and his dog Togo, a Husky,  in a run for medicine (does it recall you something ?) to save their village from the diphtheria.
AMAZON PRIME
The Handmaid's Tale : may be, my favorite series. Watch it for the photography, the story, the great performance of Elisabeth Moss and this incredible adaptation of the novel written by Margaret Atwood, which goes beyond the story she wrote.
²
 Richard Brody tells us in the The New Yorker  what he misses most about movie theaters, and suggests us to watch The clock.
Also 22 best movies on Hulu chosen by Richard Brody
And a first trailer (already !) of a movie on Coronavirus : here
Good  films & take care !