Hunters, Amazon and the Nazis….
While Amazon is regularly warned to withdraw Nazi propaganda books from sale (and doesn't do it) and has gone so far as to sell Christmas decorations depicting Auschwitz, the platform produced Hunters, a series about Nazi hunters. If you live in Paris, you can't miss it, it is everywhere in 4×3. 
Ignoring memory
If Al Pacino hadn't shown up ?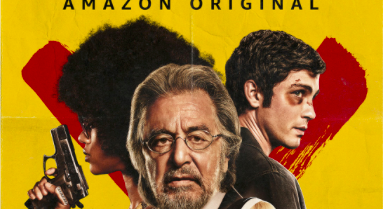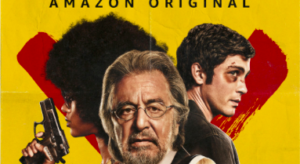 Hunters, played by Al Pacino and Logan Lerman (Percy Jackson, Fury) and a host of actors, misses everything. 
The story begins in 1977, just after the screening of the first Star Wars. A young man, Jonah Eidelbaulm played by Logan Lerman, witnesses the murder of his grandmother, Ruth, a survivor of the extermination camps.  He then meets Meyer Hofferman, played by Al Pacino, a friend of his grandmother's and leader of a gang of men and women determined to revenge their murdered ancestors by hunting down Nazis hiding on American territory. 
Violence and truth
The violence of the scenes is very much alike of Tarantino's films but without his talent of writing. This way of distilling gratuitous violence which reminds me of Funny games is almost unbearable. The worst is in the reconstitution of scenes in the concentration camps, Auschwitz, where voyeurism is at its peak. Scenes of fiction denounced by the Auschwitz Museum have even been incorporated into the script. 
At a time when revisionism is increasing, the positioning of the platform is both very serious and very light. The fact that it is inspired by the memories of David Weil's grandmother, according to the founder of the series, does not give him credit. Absurd, long, this series is simply not a good one.
Not everyone can claim to be Dan Simmons, who wrote Carrion Comfort, a novel on revenge against the Nazis I strongly recommend. 
If Al Pacino hadn't had the lead part, no one would have watched Hunters. The Nazi hunters seem to be having fun, and when you 've heard of the Klarsfeld couple or Simon Wiesenthal chasing them, you know it was anything but fun.
This series makes people talk about Amazon, in a bad way, but it makes people talk. Maybe that's only what Amazon is looking for, to make people talk, for good or bad reason, it doesn't matter. It's the art of communication.
Production : Amazon Studios, Monkeypaw Productions (Jordan Peele ,director of Get Out),Sonar Entertainment, Big Indie, Black Mass Productions, Governor's Court
With:
Logan Lerman
Jerrika Hinton
Lena Olin
Saul Rubinek
Carol Kane
Josh Radnor
Greg Austin
Tiffany Boone
Louis Ozawa
Kate Mulvany
Dylan Baker
Al Pacino
Directors :
Alfonso Gomez-Rejon
Wayne Yip
Nelson McCormick
Dennie Gordon
Millicent Shelton
Michael Uppendah