The Testament. Yoël, a very religious historian, played masterfully by Ori Pfeffer, struggles for the preservation of the remembrance of The Shoah.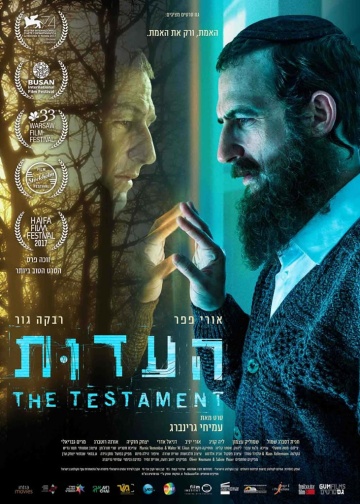 The Testament
Director Amichai Greenberg
With Daniel Adari, Hagit Dasberg, Ori Pfeffer, Ori Yaniv, Orna Rothberg, Rivka Gur
PRESERVING MEMORY
Yoël works at Yad Vashem in Jerusalem and leads a legal fight against the Austrian authorities who wants to build a road where, according to survivors testimonies, a mass murder of two hundred Jews has been perpetrated at the end of World War II.
He 's fighting to keep continuing the excavations of the place. His credo is the truth. The historical truth denied by the revisionists.
In his private life, Yoël lives withdrawn with his mother. He 's divorced and very severe to his son who prepares his Bar Mitzvah. He doesn't share the information with his colleage and wants to control everything. But he can't. At home, he takes care of his very old mother, who is a survivor of the Shoah and refuses to talk about his past.
But he will change. His family story is mixed with the history of his people when he discovers who he really is.
Amichaï Greenberg has an extraordinary way of filming the development of the character. We attend, overwhelmed by emotion, the change of man who opens himself to the world and reconcile himself with the past.
This movie places upon us the very expression of what we are. How can we pass on the memory of the Shoah ? Who should be considered as a Jew ? Do we have to make some compromise with the facts when time is lacking. ? What really matters in a religion ? The religious observance or an overall vision and acting good ?
Amishai Greenberg, son of a survivor of the Shoah used his painful personal to put words where there was only silent in his childhood.
The Testament  is an essential movie which has to be seen. The film received the public price of the Festival of Israelian Movie of Paris.