Your weekly program as from July 12th
All the best films as from July 12th
DUNE 2, DENIS VILLENEUVE
ALL YOU WANT TO KNOW ABOUT  FILMS & SERIES 
IN THEATERS & AT HOME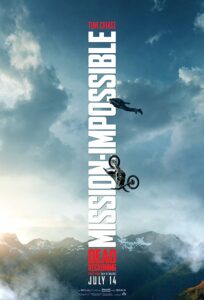 Mission: Impossible Dead Reckoning Part One, Christopher McQuarrie 
Synopsis
Ethan Hunt and the IMF team must track down a terrifying new weapon that threatens all humanity if it falls into the wrong hands. With control of the future and the fate of the world at stake, a deadly race around the globe begins.
Review
Let's face it, every Tom Cruise movie is eagerly awaited.
Why is that? Because, at over 60, the actor is a staunch defender of cinema in theaters (Spielberg even thanked him when Top Gun 2 was released) and of stunts in natural settings. He wants to give spectators everything they've got, and he says so loud and clear.
This installment, in cinemas from July 12, is no exception to the Cruisian rule.
The stunts are spectacular (six months of preparation for a motorcycle jump that ends in a parachute), with chases through Rome, Venice and an airport, and above all a sequence that would make Chaplin swoon from the top of his Gold Rush mountain, with carriages falling one after the other into a river.
The female characters (played by Rebecca Ferguson, brilliant in The Silo, a series available on Canal+ and AppleTV, Hayley Atwell, Vanessa Kirby, Pom Klementieff), and the male characters (actors Ving Rhames, Esai Morales, Simon Pegg) are all part of the same group, the members of F.M.I. (Force Mission Impossible), and what counts above all is not love, but friendship.
As Ethan (Tom Cruise) says to Grace, "From the moment you join us, your life matters more than mine".
This mutual support strengthens the film, despite some weaknesses in the dialogue.
In keeping with current events, this time the enemy is everywhere and nowhere, an A.I. that everyone wants to get their hands on, and which anticipates its opponents' every move. 
We're eagerly awaiting the sequel, which will be delayed due to the writers' strike still underway in Hollywood. 
Now in theaters!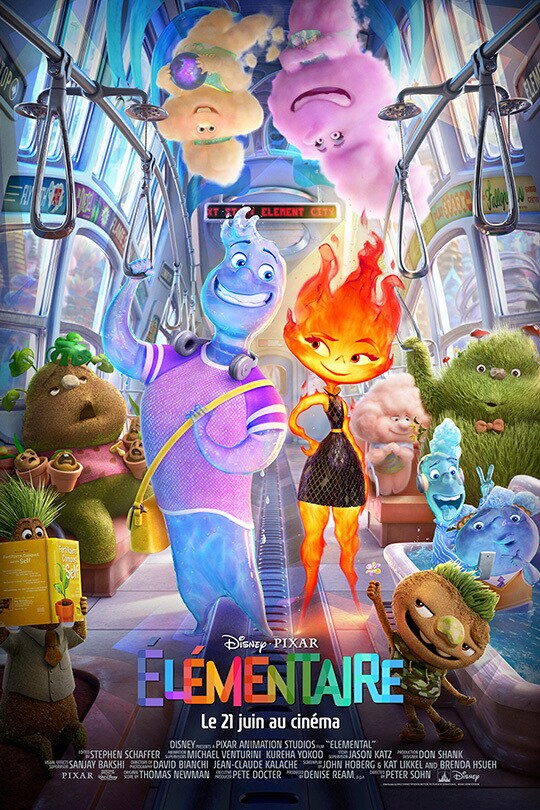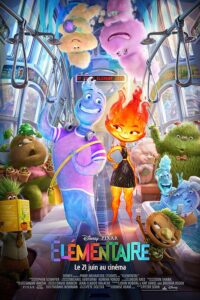 Elementals, Peter Sohn
Synopsis
In Element City, fire, water, earth and air live in perfect harmony.
This is the home of Flam, an intrepid, quick-witted young woman with a strong character, and Flack, a sentimental, fun-loving boy who's more of a follower at heart.
Their friendship challenges Flam's beliefs about the world they live in.
Review
Never a dull moment! Pixar Studios, known for their many successes – Nemo, Monsters & Co., Là-Haut, Vice-Versa, Soul… – have done it again.
Inspired by the life of director Peter Sohn, a Korean immigrant who married an American, the film speaks of racism, integration and is the Studios' first romantic comedy. 
Funny and tender, the success is also that of the thousands of artists who worked on this film, because in their trademark, everything is taken care of down to the smallest details and the most anodyne scenes. 
It's all about finding your voice. Will Flam and Flack prove to the world that opposites can get along and even mix? 
The answer is in cinemas now!
IN MOVIE THEATERS
Le Retour,  Catherine Corsini
With Aïssatou Diallo Sagna, Suzy Bemba, Esther Gohourou
Khédidja works for a wealthy Parisian family, who offer her the chance to look after their children for a summer in Corsica. It's an opportunity for her to return with her daughters to the island they left fifteen years earlier in tragic circumstances.
Limbo, Soi Cheang
With Ka Tung Lam, Yase Liu, Mason Lee
In the underworld of Hong Kong, a veteran cop and his young superior must team up to stop a killer who preys on women, leaving their severed hands as his only signature. When all their leads run out of steam, they decide to use a young delinquent as bait.
Les Herbes sèches, Nuri Bilge Ceylan
With Deniz Celiloğlu, Merve Dizdar, Musab Ekici
Samet is a young teacher in a remote Anatolian village.
He has been waiting several years for a transfer to Istanbul, but a series of events makes him lose all hope. Until the day he meets Nuray, a young teacher like himself…
Les Algues vertes,  Pierre Jolivet
With Céline Sallette, Nina Meurisse, Julie Ferrier
Following a series of suspicious deaths, Inès Léraud, a young journalist, decides to move to Brittany to investigate the phenomenon of green algae. Through her encounters, she discovers the factory of silence that surrounds this ecological and social disaster. In the face of pressure, will she succeed in getting the truth out?
Entre nous,  Jude Bauman
With Amandine Noworyta, Iris Jodorowsky, Jean-François Stévenin
Elodie and Laetitia are in love with each other and dream of having a child through PMA (medically assisted procreation). But Elodie discovers that she can't get pregnant because of a health problem. And with financial problems thwarting their plans, they decide to take on a roommate.
Assaut,  Adilkhan Yerzhanov
High school students are taken hostage by masked gunmen. Learning that the army won't arrive for two days because of a raging snowstorm, Tazshi, the math teacher, decides to go on the attack with his ex-wife, a village policeman, an Afghanistan veteran, an alcoholic, …
Movies to come (and we are looking forward to it):
Les ombres persanes, Mani Haghighi
Barbie, Greta Gerwig
Oppenheimer,  Christopher Nolan, next July 19th
Hypnotic, Robert Rodriguez
The Color Purple, Blitz Bazawule ("Black Is King," "The Burial of Kojo") and produced by Oprah Winfrey, Steven Spielberg, Scott Sanders and Quincy Jones. Expected December 25th.
Bottoms, Emma Seligman
Wonka, Paul King, in December.
 TIPS ON MOVIE WRITING 
Scott Myers : Go into the story
FILMS PROGRAM ON TV AS FROM JULY 12TH
Mercredi- Wednesday 12
Arte : L'Odyssée de Pi
TF1 : Les bronzés
Canal + : The Resort
Jeudi – Thursday 13
Canal + : Foundation
Arte : Orgueil et préjugés (series)
TF1 Series : Agents très spéciaux : code U.N.C.L.E
Vendredi – Friday 14
Arte : Compromissions
France 5 : L'effrontée
Canal + : Un talent en or massif
Samedi – Saturday 15
Canal + : Maestro
Dimanche – Sunday 16
France 2 : Demain ne meurt jamais
Arte : Rain Man
TF1 Series : Le grand blond avec une chaussure noire

Lundi – Monday 17
Canal + : 1985
Arte :  L'homme de l'Ouest
France 2 : Black Mirror (série)
Mardi – Tuesday 18
Canal + : Tout le monde aime Jeanne
Mercredi- Wednesday 19
TF1 : Les visiteurs
Canal + : The resort
Arte : Une histoire d'amour et de désir
 FILMS & SERIES ON ARTE AS FROM JULY 12TH
FILMS
Moka, Frédéric Mermoud
Shattered by the death of her son, a woman sets out to track down the hit-and-run driver… How far will she go to get justice? A troubling face-off between two great actresses, Emmanuelle Devos and Nathalie Baye.
Charlie & Louise
Two twins separated as babies are reunited… Joseph Vilsmaier, director of "Stalingrad" and "Comedian Harmonists", successfully adapts a great German classic of children's literature.
Docs
Toutes musclées, Camille Juza
For women, long forbidden to take part in sport, or to do so only under certain conditions, it's an undeniable conquest, wrested by hard struggle from a world jealously defended by men. But the armies of women devoted to abs and glutes, and the countless restrictions that still govern women's top-level sport, cast a harsh light on a complex reality.
Séries
Pour l'or de Tsilanga (Country queen)
In Kenya, a young founder of an events agency must save her family's land from predation by a mining company. Captivating and moving, the series "Pour l'or de Tsilanga" paints a sensitive picture of Kenya, violently contrasted between rich and poor, towns and villages.
All films as from July 12th

on Netflix
Black Mirror, S6 , now
Nimona, Nick Bruno & Troy Quane
Wham!, George Michael & Andrew Ridgeley, as of July 5th
The deepest breath, Laura McGann, as of July 19th
Love at first sight, on Sept 15th
Tapie (Laurent Lafitte), Tristan Séguela & Olivier Demangel
All films as from 

July 12th

on 
Prime Video
Good Omens S 2, Neil Gaiman, as of July 28th.
The Lost flowers of Alice Hart, Sarah Lambert, as of August 4th.
All films as from July 12th
on Canal+
1985, by Wouter Bouvijn, now.
The Resort, Andy Siara, as of July 12th
All films as from July 12th

on Apple TV & Canal+
Silo, Graham Yost: go for it!
The crowded room, Akiva Goldsman,  with Tom Holland.
Physical, saison 3, Annie Weisman, the finale, as of August 2nd.
Killers of the flower moon, Martin Scorsese, on October 18th.
All films as from July 12th on Disney Plus
Chevalier, Stephen Williams, now
Secret Invasion, Kyle Bradstreet
Great expectations,Brady Hood.
The Bear, season 2, Christopher Storer, as of July 21st.
Ahsoka, Jon Favreau & Dave Filoni, as of August 23rd