Your weekly program as from March 22nd
All the best films as from March 22nd:
FESTIVAL
Festival International de Films de Femmes de Créteil from March 24th to April 2nd
ALL YOU WANT TO KNOW ABOUT  FILMS & SERIES 
IN THEATERS & AT HOME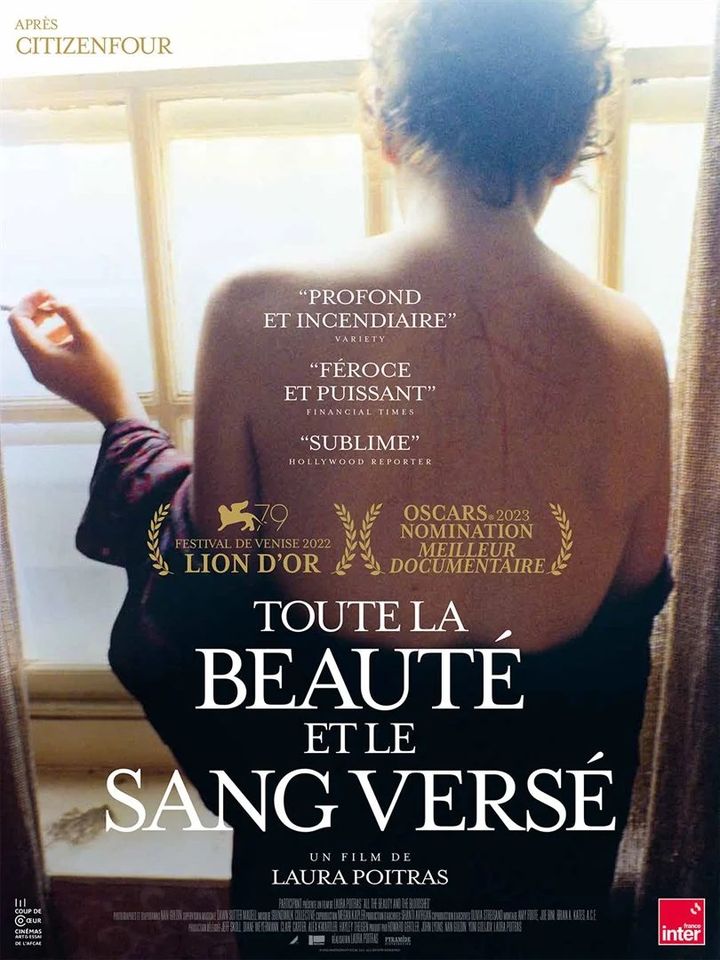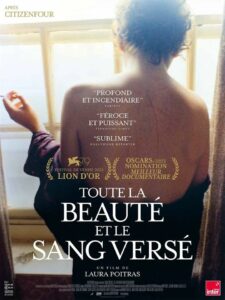 Toute la beauté et le sang versé, Laura Poitras
Synopsis
Nan Goldin has revolutionized the art of photography and reinvented the notion of gender and definitions of normalcy.
This artist and activist fights against the Sackler family, responsible for the opiate crisis in the United States and around the world.
Always fight
Her name makes the Sacklers cringe.
Nan Goldin, one of the world's greatest living photographers, has been the subject of a documentary, which focuses on both her work and her commitment, inseparable from her images.
"All the beauty and bloodshed" is an excerpt from the diary of Nan Goldin's sister, Barbara, who committed suicide at the age of 15. This tragedy will forever mark the little sister that Nan was. 
Barbara, a bit of a rebel, was placed in a psychiatric hospital at the age of seven and spent her years running away.
Her parents placed Nan Goldin in a foster home at the age of twelve. She will not stop running away, until she finds a refuge among the hippies.
For a long time she lived on the streets, alongside prostitutes and drug addicts, photographing every minute of her life, her loved ones, and the marginalized people that we don't see or don't want to see.
She completely reveals herself on all subjects: photography, sex, friends, AIDS and the fight of her life, the one against the Sackler family, responsible for 500,000 deaths through the creation and commercial distribution of its opioid painkiller, oxycontin. 
Prescribed to millions of Americans with the approval of corrupt officials of the Food and Drug Administration (FDA), Oxcyontin was the subject of a mini-series on Disney +, Dopesick, with Michael Keaton. He plays a doctor who prescribes OxyContin, a painkiller marketed by the private laboratory Purdue Pharma of the Sackler family. 
This drug, which also made Nan Goldin addicted, almost caused her death and led to the death of 50,000 people per year by overdose during ten years. In the United States the drug was massively prescribed, creating an epidemic of addiction and overdose deaths that devastated parts of the country.
Laura Poitras films the determination of the photographer in her fight against the Sackler family, the originators of these drugs via their laboratory Purdue pharma (also a trader of Valium) and patrons of the largest museums in the world such as the Met, the Guggenheim, the National Portrait Gallery, The Tate, The Guggenheim, the Louvre …
One of her slogans is "Sackler lies people die".
Her voice and fame are at the service of the bereaved parents and former addicts of this drug against this family, and despite threats, (she and her team were subject to surveillance by detectives employed by the family). 
Nan Goldin is also the first artist who curated an exhibition on AIDS victims that revolutionized the country.
The P.A.I.N. association that she created to fight against the Sackler family also raises funds to allow the analysis of drugs before they are consumed. 
Today it's Fentanyl that's killing.
The words and evils that Nan Goldin fights are: conformism, denial, stigmatization, secrets.
This moving documentary is the story of a woman, of a broken family, but also of a time when the fight must never cease to bring out the truth.
After the documentary on Edward Snowden (Citizenfour) who revealed information about the American government's surveillance programs, Laura Poitras continues her journey towards the truth, and dives into Nan Goldin's torments, but also reveals her victories.
A must-see.
In theaters now.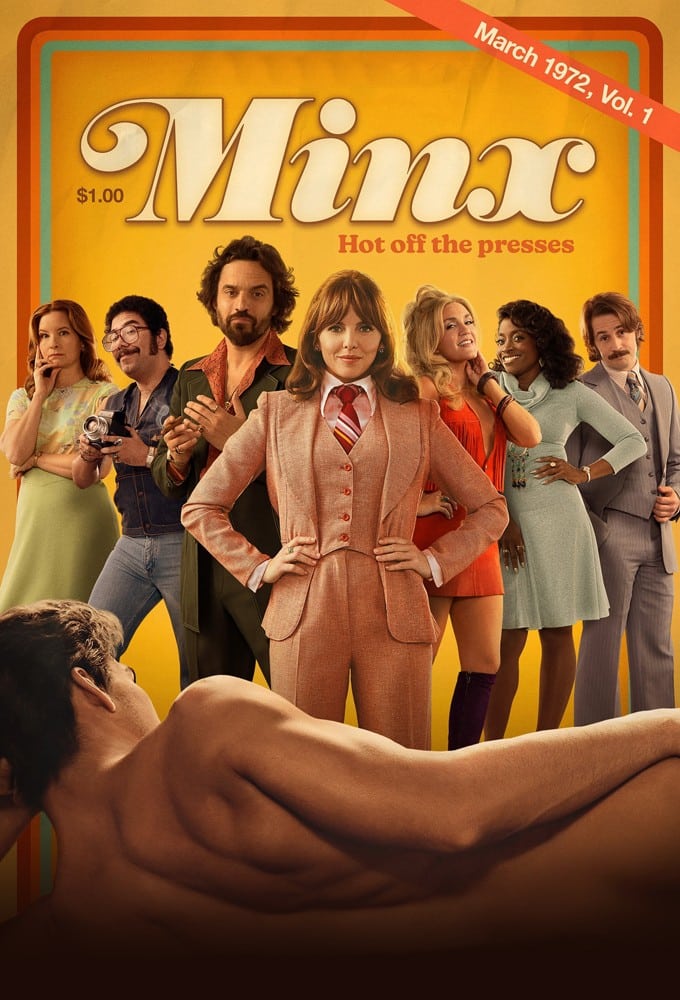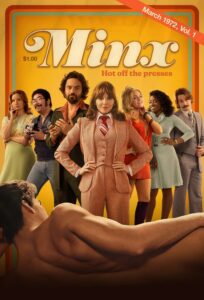 Minx, Ellen Rapoport
Synopsis
Los Angeles, 1970s. A young feminist activist joins forces with a shady publisher to create the first erotic magazine for women.
Is there an erotic magazine for women today?
She looks like Chantal Goya and has the determination of Gloria Steinem.
Her dream? To create a feminist magazine that will overthrow the patriarchy.
But it's the 70's and if it's still not easy today, it was even less so back then.
Except that…Except that a publisher of women's erotic magazines will love her idea and help her to create a revolutionary magazine.
Ophelia Lucy Lovibond plays Joyce, an intellectual and sure of her idea who struggles throughout the episodes between her dreams of encyclopedic articles vs. a magazine.
She faces the contradiction of being published by Doug, played by Jake Johnson, also a pornographic magazine editor. In this world of uneducated outsiders, will she be able to communicate her desire to help women?
Both very funny and very fine, Minx takes us to the heart of a magazine where in a joyful mess respect, tolerance and open-mindedness reign.
Some episodes are directed by Rachel Lee Goldenberg who directed Unpregnant, a film on abortion and worked under the Obama administration.
Currently on Canal +
IN MOVIE THEATERS
All films as from March 22nd
De Grandes espérances, Sylvain Desclous
With Rebecca Marder, Benjamin Lavernhe, Emmanuelle Bercot
Madeleine, a brilliant and idealistic young woman from a modest background, is preparing for the ENA oral exam at Antoine's vacation home in Corsica. One morning, on a small deserted road, the couple is involved in an altercation that turns into a drama.
Sur les chemins noirs, Denis Imbert
With Jean Dujardin, Izïa Higelin, Anny Duperey
Pierre, a famous explorer and writer, travels regularly around the world in search of adventure. One evening, he climbs the facade of a hotel, drunk, and falls from several floors. The shock plunges him into a deep coma. When he wakes up, he can barely stand upright and against everyone's advice, he decides to travel across France on foot along forgotten paths. A unique and timeless journey in which the actor follows in the footsteps of Sylvain Tesson to meet the hyper-rurality.
John Wick : Chapitre 4,  Chad Stahelski
With Keanu Reeves, Donnie Yen, Bill Skarsgård
John Wick discovers a way to defeat the criminal organization known as the Big Table. But before he can win his freedom, he must confront a new enemy who has forged powerful alliances around the world and is turning John's old friends into enemies.
Eternal Daughter, Joanna Hogg
With Tilda Swinton, Joseph Mydell, Carly-Sophia Davies
Returning to a hotel now haunted by its mysterious past, an artist and her elderly mother confront long-buried secrets in their former family home.
L'Eden,  Andrés Ramirez Pulido
With Maicol Andrés Jimenez Zarabanda, Miguel Viera, Diego Rincon
Eliú is incarcerated́ in an experimental center for minors in the heart of the Colombian rainforest, for a crime he committed with his friend El Mono. One day, El Mono is transferred to the same center.
Dalva, Emmanuelle Nicot
With Zelda Samson, Alexis Manenti, Fanta Guirassy
Dalva is 12 years old but she dresses, wears makeup and lives as a woman. One evening, she is abruptly removed from her father's home. At first revolted and in total incomprehension, she will meet Jayden, an educator, and Samia, a teenager with a strong nature.
Chili 1976, Manuela Martelli
With Aline Küppenheim, Nicolás Sepúlveda, Hugo Medina
Chile, 1976. Three years after Pinochet's coup d'état, Carmen leaves to supervise the renovation of her family's seaside home. Her husband, children and grandchildren come and go during the winter vacations. When the priest asks her to take care of a young man he is secretly harboring, Carmen finds herself on the ground . 
Le Bleu du Caftan, Maryam Touzani
With Lubna Azabal, Saleh Bakri, Ayoub Missioui
Halim has been married for a long time to Mina, with whom he runs a traditional caftan store in the medina of Salé, Morocco. The couple has always lived with Halim's secret, his homosexuality, which he has learned to keep quiet.
Saules aveugles, femme endormie, Pierre Foldes
A lost cat, a giant frog and a tsunami help an unambitious salesman, his frustrated wife and a schizophrenic accountant save Tokyo from an earthquake and give meaning to their lives.
We are coming, Nina Faure
A new generation is politicizing issues around the body, sexuality and gender relations. For two friends, Nina and Yéléna, it starts with an awareness. With a few others, they ask themselves why, in a society that claims that gender equality is already here, access to pleasure is so difficult.
Louis Tomlinson: All Of Those Voices , Charlie Lightening
With Louis Tomlinson
All Of Those Voices is an unvarnished description of Louis Tomlinson's musical journey. Refusing the glamour typical of celebrity documentaries, this film offers the audience an intimate and raw view of Louis' life and career. Through never-before-seen footage shot in private and behind-the-scenes access.
Neptune Frost, Saul Williams
A group of escaped coltan miners form an anti-colonial hacker collective. From their camp in an otherworldly electronic dump, they attempt to take control of the authoritarian regime that exploits the region's natural resources – and its people. When an intersexed runaway and an escaped coltan miner meet through cosmic forces, their connection triggers malfunctions in the great divine circuit.
Movies to come (and we are looking forward to it):
Je serai toujours vos visages, Jeanne Hery, as of March 29th
 TIPS ON MOVIES 
Interview (Written): Scott Beck and Bryan Woods  by Scott Myers 
FILMS PROGRAM AS FROM MARCH 22nd
Mercredi- Wednesday  22
Arte : Trois jours et une vie : Involved in the disappearance of a child, Antoine, 12 years old, chooses to remain silent… A dark and cruel psychological thriller about the weight of secrecy, adapted from the novel by Pierre Lemaitre. Sandrine Bonnaire, Charles Berling and Philippe Torreton surround the young Pablo Pauly.
Jeudi – Thursday 23
Arte : Blackport (série)
Canal + : Your Honor
Vendredi – Friday 24
Arte : Je suis Karl
Samedi – Saturday 25
Arte : Le cavalier mongol
Dimanche – Sunday 26
Arte : La ligne rouge
Lundi – Monday 27
Arte : Les ripoux
Canal + : Happy Valley (voir bande-annonce plus bas)
Mardi – Tuesday 28
NRJ12 : Gravity
Canal + : Maria rêve
Mercredi- Wednesday  29
Arte : Les beaux gosses
AS FROM MARCH 22nd

 FILMS & SERIES ON ARTE
FILMS
My Left Foot
The painful struggle of a man trapped in his body to emancipate himself… Retracing the life of the painter Christy Brown, Jim Sheridan ("In the name of the father") delivers a moving plea in favor of the difference, served by Daniel Day-Lewis, masterly.
Jack
Placed in a foster home, Jack runs away, picks up his little brother and feverishly searches for their mother, who has abandoned them… A poignant child's quest filmed with tremendous vitality by Edward Berger, the director of "Nothing New in the West", which has just won four Oscars
DOC
Marimekko & Maija Isola – Finnish design conquers the world
A look back at the atypical career of Maija Isola, a free spirit of Finnish design, intimately linked to the Marimekko brand.
Series
Manayek, betrayal in the police, by Alon Zingman director of Shtisel (series available on Netflix : listen to the podcast here
Blackport, Gísli Örn Garðarsson et Björn Hlynur Haraldsson
All films as from March 22nd

 

on Netflix
Ad Astra, as of March 18, review here 
Faraway, Vanessa Jopp, now.
The elephant whisperers, Kartiki Gonsalves, now
Fubar,  ARNOLD. IS. BACK. As of May 25
All films as from 

March 22nd

 

on 
Prime Video
The Power, Naomi Alderman, as of March 31
Citadel, David Weil, as of April 28th
Salade Grecque, series created by Cédric Klapisch, as of April 14.
20 years after l'Auberge Espagnole, the story goes on.
All films as from March 22nd 
on Canal+
Revoir Paris, Alice Winocour,  now.
Tulsa King, Taylor Sheridan
Happy Valley, Sally Wainwright
Rogue agent, Declan Lawn & Adam Patterson, as of March 18th
Minx, Ellen Rapoport, as of March 21 (OCS)
The English, Hugo Blick, as of March 31
Yellowjackets season 2, as of March 24
All films as from March 22nd

on Apple TV
Ted Lasso, season 3, as of March 15
Tetris, Jon S. Baird, as of March 31.
All films as from March 22nd on Disney Plus
The Mandalorian season 3, now.
Unprisoned, Tracy McMillan,
L'étrangleur de Boston, Matt Ruskin,
Prom Pact, Anya Adams, as of March 31
Peter Pan & Wendy, as of April 28th.
The Little Mermaid 2, Rob Marshall, forecast on May 2023.
Guardians of the Galaxy, as of May 3rd