What to see from September 29th: your theatrical releases and your series to see on all platforms: Oslo, Le Sommet des Dieux, Y The Last Man, and Quo Vadis Aïda.
Three movies and a series to see this week
News on movies and series
Netflix launches free in Kenya: Conquering emerging countries and strengthening its content. Netflix is pulling out all the stops this week by launching a free offer in Kenya and buying the license to Roald Dahl's famous stories for several hundred million dollars.
"Tides," a Swiss sci-fi film worthy of Hollywood.
First movie screening in 30 years in Somalia.
Terence Blanchard makes history with the Metropolitan Opera's "Fire Shut Up In My Bones".
Festivals
69th edition of the International Film Festival of San Sebastian.
A degenerate award and two actresses have tied for this prize: the Danish Flora Ofelia Hofmann Lindahl for As in Heaven and the American producer and actress Jessica Chastain for The eyes of Tammy Faye, film in which she plays the role of a televangelist.
The grand prize of the festival, the Golden Concha, was awarded to the film Crai Nou (Blue Moon) by the young Romanian director Alina Grigore.
The French Lucile Hadzihalilovic for Earwig won the Special Jury Prize, and the Russian Lena Lanskih -whose first feature film- won the "New Directors" section with Unwanted, which tells the strong and moving story of a 14-year-old girl, mother of an unwanted baby. (source: RFI).
The Seytou Africa Documentary Festival, whose third edition took place from September 23 to 26.
FESTIVAL DU CINÉMA ISRAÉLIEN DE PARIS :OCTOBER 4 TO 11.
The second edition of Marseille Series Stories, the first festival of series adapted from literary works, will be held from November 18 to 21, 2021.
TRIBUTES
MARIO VAN PEEBLES
ROGER MITCHELL, director of  "Coup de foudre à Notting Hill"
ALL YOU WANT TO KNOW ABOUT CURRENT FILMS & SERIES
IN THEATERS AND AT HOME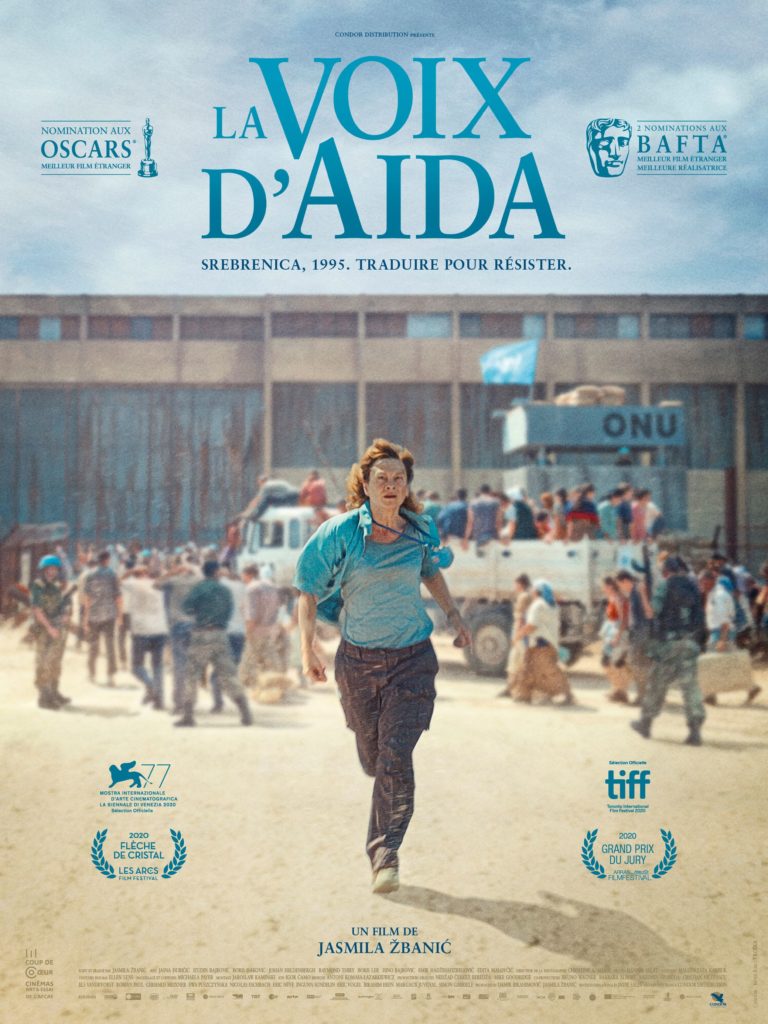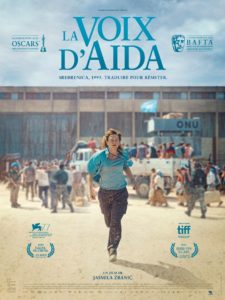 Quo Vadis Aïda, by Jasmila Žbanić
Synopsis
Srebrenica, July 1995. Aida, a modest English teacher, has just been requisitioned to work as an interpreter for the Blue Helmets stationed on the outskirts of the town. Their camp is overflowing: thousands of inhabitants come to seek refuge, terrorized by the imminent arrival of the Serbian army. In charge of translating the instructions and reassuring the crowd, Aida is soon won over by the certainty that the worst is inevitable. She then decides to try everything to save her husband and her two sons, trapped behind the gates of the camp.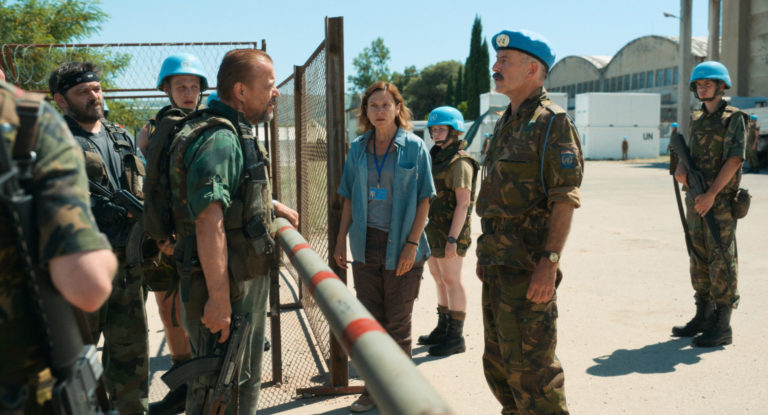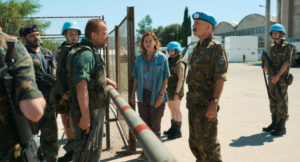 The film
Like Josep, by Aurel, the cinema takes on its full meaning when it deals with the themes of transmission and memory.
Quo Vadis Aida is one of those films that will not leave you unscathed.
For two hours, we follow Aida on the run, (extraordinary Jasna Đuričić), who struggles to bring in her husband and sons and protect them while behind the barriers erected by the UN crowds twenty-five thousand terrorized Bosnians.
As an interpreter, she is forced, livid, to translate the orders of the Dutch UN commander Thom Karremans (played by Johan Heldenbergh) who reassures the Bosnians and tells them to trust the Serbs. These orders, just before handing them over to the Serbs, with words heard in other times before from peace representatives, are terrifying.
The UN commanders had the "mission to protect civilians with their weapons. But they did not fire a single bullet! "said the director.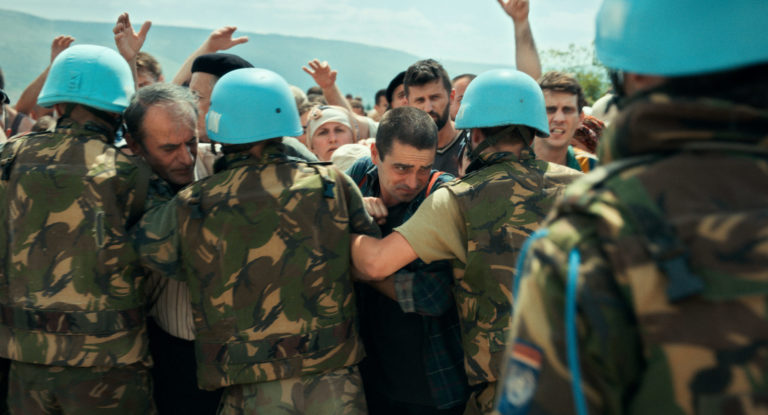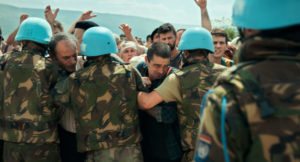 ONE OF THE WORST MASSACRE SINCE WWII
Srebrenica was declared a "safe zone" by the UN, but the Serbs attacked, started to exterminate everyone and nobody intervened.
The Srebrenica massacre was qualified as genocide by the International Tribunal in The Hague. 8,372 Bosnian men and teenagers were exterminated by Serb forces between July 11 and 25, 1995.
The Bosnian director Jasmila Žbanić, born in 1974 and who won a Golden Bear in Berlin in 2006 for Sarajevo, my love, was inspired by a book by Hasan Nuhanovic translator at the time of the facts, with the Dutch UN contingent.
Thom Karremans, the UN camp commander, who is still alive today, was promoted to colonel after the war and despite the complaint filed against him by Hasan Nuhanović, the case was dismissed.
Hasan Nuhanović, a Muslim from Bosnia and Herzegovina, compiled his testimony and that of other survivors of the siege of Srebrenica in a book that has not been published in French, Under The UN Flag. The International Community and the Srebrenica Genocide published by DES Sarajevo, in 2007.
IN THEATERS NOW – ESSENTIAL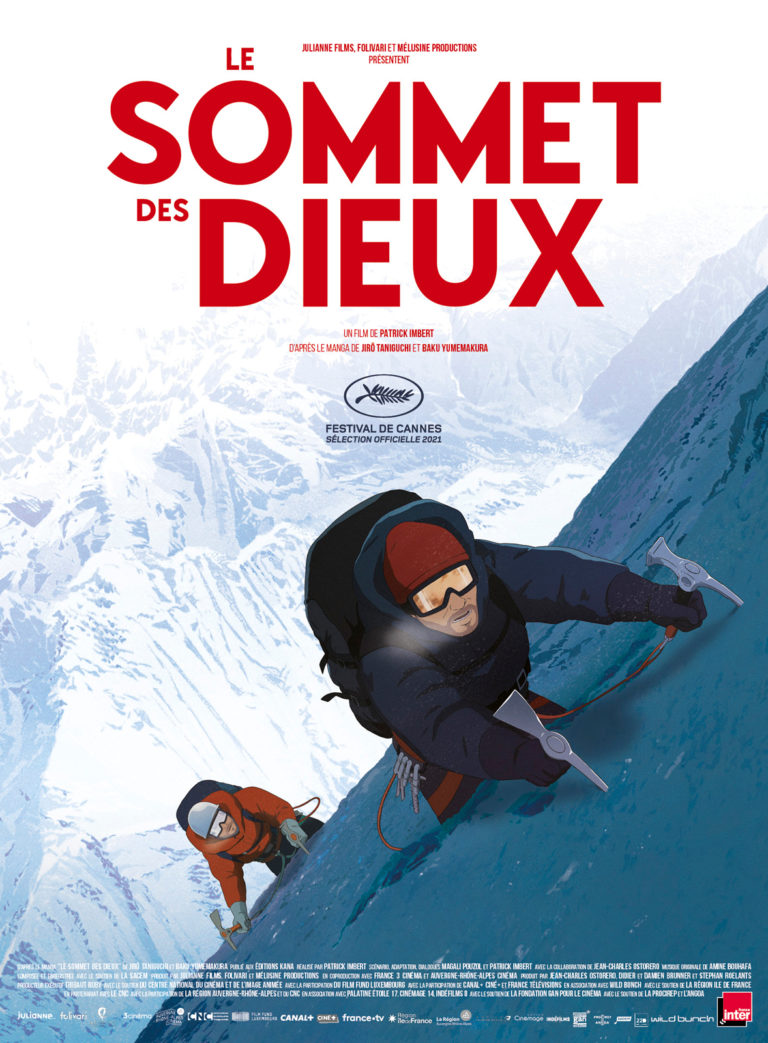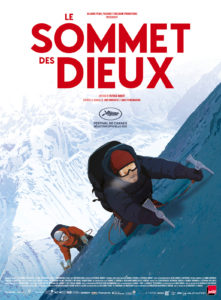 Le Sommet des Dieux, by Patrick Imbert
Synopsis
Based on the manga by Jirô Taniguchi and Baku Yumemakura.
In Kathmandu, the Japanese reporter Fukamachi thinks he recognizes Habu Jôji, the mountaineer who was thought to have disappeared years ago. He seems to hold in his hands a camera that could change the history of mountaineering.
What if George Mallory and Andrew Irvine were the first men to have reached the summit of Everest, on June 8, 1924?
Only the little Kodak Vest Pocket with which they were to photograph themselves on the roof of the world could deliver the truth.
70 years later, in an attempt to solve this mystery, Fukamachi sets out on Habu's trail. He discovers a world of enthusiasts thirsting for impossible conquests and decides to accompany him to the ultimate journey to the summit of the gods.
The cartoon
Vertiginous as much by its landscapes as by the beauty of its drawings, Le Sommet des Dieux holds us in suspense until the end. The suspense is at its peak at times when the climbers are suspended in the void at altitudes and places where ordinary people will never go.
Le Sommet des Dieux makes us discover a whole universe that we are totally unaware of. Men who live only to reach unattainable summits for the love of the mountain, a permanent and inexplicable challenge.
The plot proceeds by flashbacks and tells a story of friendship between a forgotten mountaineer and a passionate photographer reporter and experienced mountaineer, passionate about history in search of adventure and truth.
Fukamachi and Habu Jôji are both driven by the quest for something greater than ourselves, and their passion is beautifully captured on screen.
NOW IN THEATERS.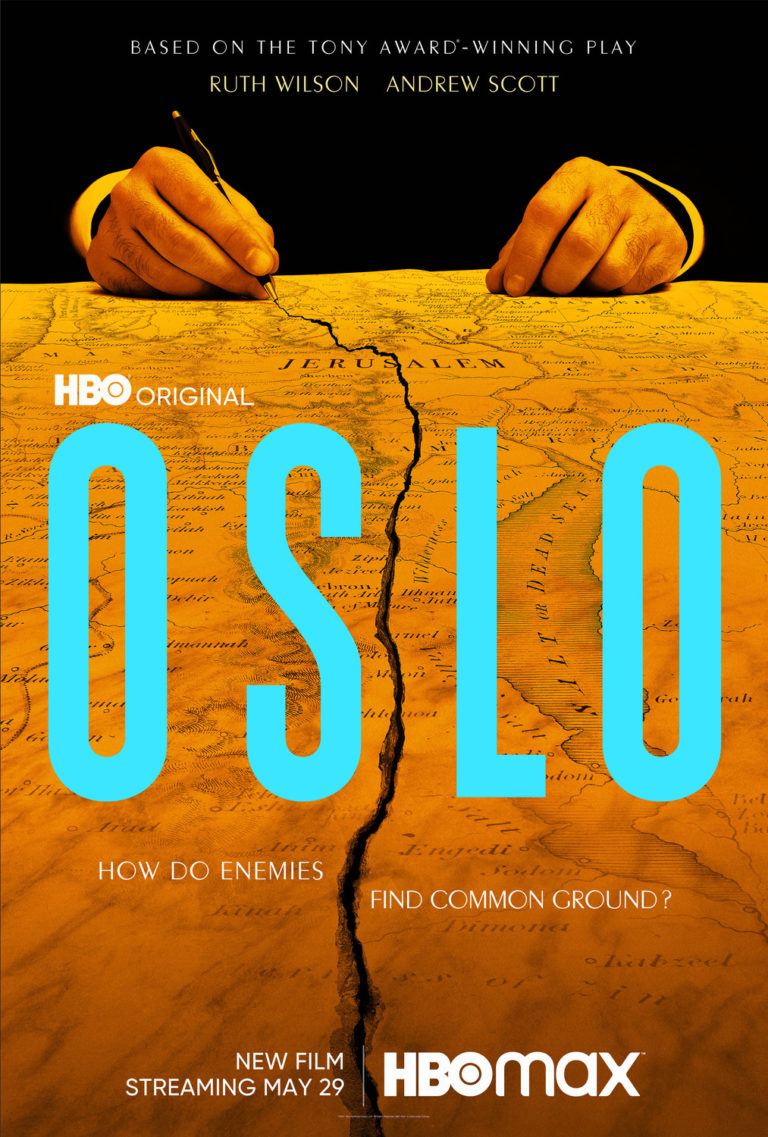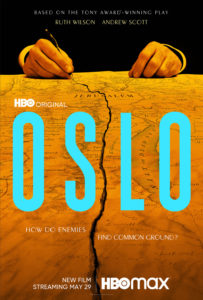 Oslo, by Bartlett Sher
Synopsis
The story of the secret negotiations that took place during the drafting of the Oslo peace accords between Israel and the Palestine Liberation Organization in the early 1990s.
The film
Adapted from the play of the same name directed by Bartlett Sher, Oslo brilliantly tells the story of the negotiations organized by a couple, Mona Juul, played by Ruth Wilson (The Affair...) and Terje Rod-Larsen, Norwegian sociologist and Mona's husband, played by Andrew Scott.
Conducted in secret, no authority, neither Palestinian nor Israeli, was informed at the outset, until the first statements were sufficiently completed.
The negotiations took place in Norway, in a castle where the living room remained the neutral room, and where neither Mona nor Terje intervened when the belligerents met to discuss an at least provisional peace.
The antagonists on both sides are so well rendered that one understands why it was so difficult and why it still is, unfortunately. But what brings them together is, of course, the future and, above all, the courage to give up old assumptions to preserve the lives of future generations.
Almost filmed in camera and very well written, the actors put all their heart into this gripping film where, despite the outcome we know, the suspense and the permanent tension captivate us until the last second.
Oslo is written by playwright J. T. Rogers (the author of the play) and Steven Spielberg is executive producer.
J.T. Rogers is currently writing a series for HBO called Tokyo Vice, starring Ansel Elgort, Ken Watanabe, Rachel Keller, Ella Rumpf and Rinko Kikuchi, also directed by Michael Mann.
With Salim Daw, Waleed Zuaiter, Jeff Wilbusch, Igal Naor, Dov Glickman, (Shtisel), Rotem Keinan, Itzik Cohen (Fauda..), Tobias Zilliacus and Sasson Gabai (The Band's Visit...)
NOW ON  CANAL PLUS.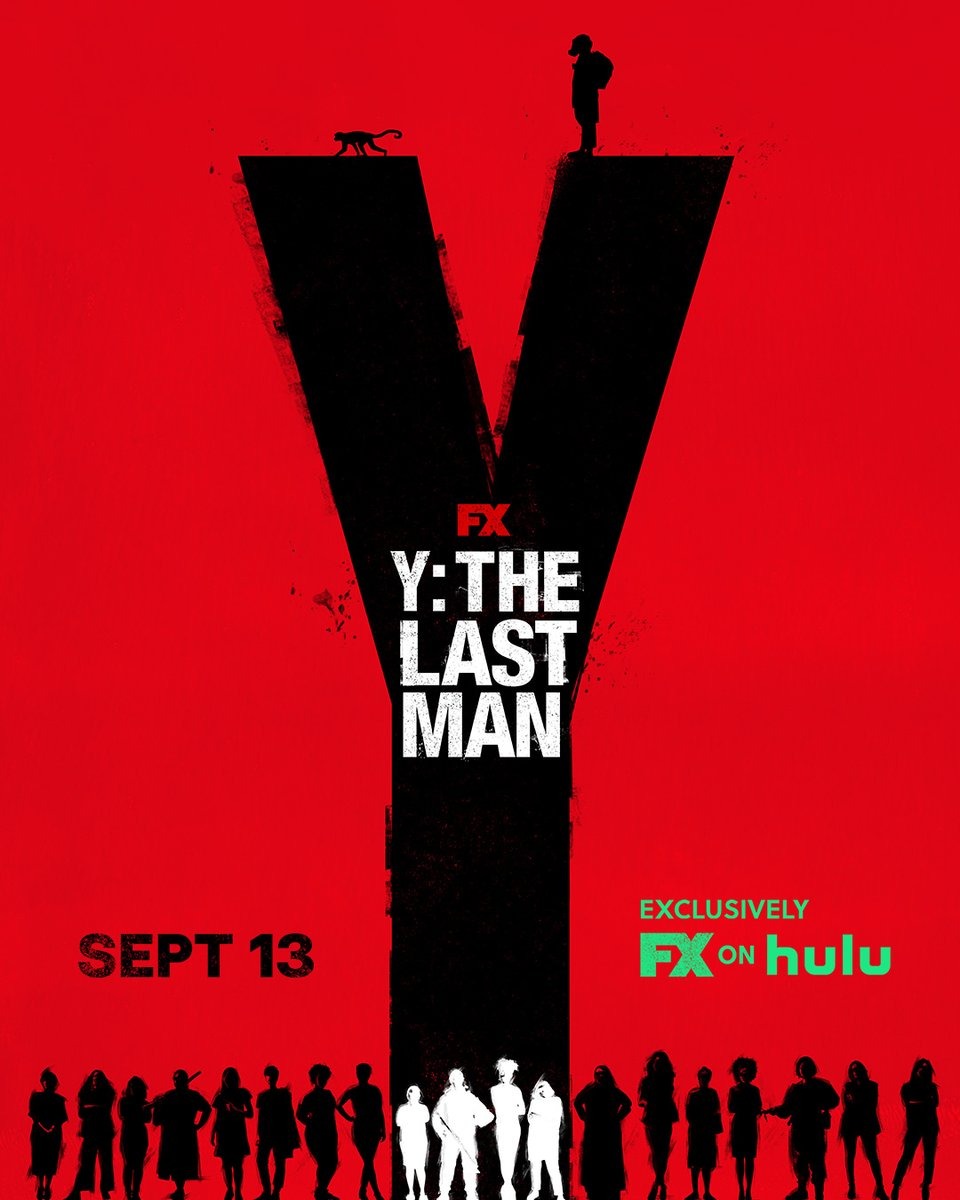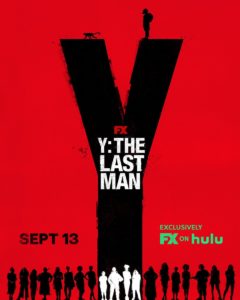 Y, The Last Man, by Eliza Clark
Synopsis
Yorick is a young American escape artist, unemployed, current master of a male capuchin named Esperluette and in love with a beautiful blonde (Beth) who has gone on a university trip to Australia.
On July 17, 2002, when he decides to propose to her over the phone, all the Y chromosome carriers on the planet die, except for Yorick and Esperluette.
They must now survive, looking for an explanation, while the women reorganize themselves to live without men. 
The series
Y, The Last Man is a comic book series created by Brian K. Vaughan (script), and Pia Guerra (drawing). The inking is by Jose Marzan, Jr. and the colors by Pamela Rambo. The series is published in the United States by Vertigo, a label of DC Comics, and ended after its fifth year of publication. Sixty episodes were published.
If it is not the best of the year, this dystopian series is interesting by its starting idea.
The secondary characters pigment the plot and are almost more interesting than the heroes.
Agent 355, played by Ashley Romans is the character that makes me want to continue the series. Who is she? What is her real purpose?
With Diane Lane, Ben Schnetzer, Olivia Thirlby, Ashley Romans, Amber Tamblyn, Marin Ireland, Diana Bang, Elliot Fletcher, Juliana Canfield.
Three episodes every Wednesday.
NOW ON DISNEY PLUS.
2. MY SUGGESTIONS OF FILMS TO SEE
IN YOUR THEATERS
Released on September 29
I am Greta, by Nathan Grossman
La Traversée, by Florence Miailhe
Flag Day, by Sean Penn, avec sa fille, Dylan Penn
Rifkins' festival, by Woody Allen
An American couple goes to the event and falls under the spell of Spain. "Life is like a movie", the trailer reminds us. As a result, the wife will start an affair with a famous French director and the husband will fall in love with a woman from the city.
With Gina Gershon et Wallace Shawn,  Sergi López et Elena Anaya,  Louis Garrel & Christoph Waltz.
After Love, by Alene Khan
Poumon vert et tapis rouge, by Francis Hallé
With the participation of Francis HALLÉ, Nicolas HULOT, Antoine DE MAXIMY, Jacques PERRIN, Claude LELOUCH, Juliette BINOCHE, Thierry FRÉMAUX, Edouard BAER, Jérôme SALLE.
Next week :
James Bond, No Time to Die, by Cary Foji Fukunaga
The Slaughterhouse, by Abbas Amini
Sept jours, by Yuta Murano
Delphine et Carole, insoumuses , by Callisto Mc Nulty.
Later (and we are looking forward to it)
Licorice Pizza,  on November 26, by Paul Thomas Anderson.
In the San Fernando Valley in the 1970s, various characters cross paths: a young successful high school actor (Cooper Hoffman), politician Joel Wachs running for office (Benny Safdie) and an old school producer and filmmaker (Bradley Cooper).
Le dernier duel, by Ridley Scott
Screenplay: Ben Affleck, Matt Damon and Nicole Holofcener, based on the novel The Last Duel: Paris, December 29, 1386 by Eric Jager.
Adaptation of the book Le Dernier Duel : Paris, 29 décembre 1386 by Eric Jager about the Carrouges-Legris duel of 1386, one of the last judicial duels in France.
With Matt Damon, Adam Driver , Jodie Comer, Ben Affleck
WEEKLY TIPS & OPINIONS
FROM 

PROFESSIONALS

 WRITERS, SCREENWRITERS, DIRECTORS, COMPOSERS…
2021 Scene-Writing Challenge. Write some scenes. Win a great prize.  by Scott Myers 
G Décryptage : Comment se crée une bande-annonce ? | CNC
Great Scene: "It's A Wonderful Life"  by Scott Myers
In Taiwan's Mountains, a Director Works to Slow Life Down
The New Yorker Listen to the Essential Terence Blanchard – The New York Times
Only 17 TV shows received a perfect score on Rotten Tomatoes this year (so far). See them all here  by Insider Medium
4. AT HOME ON TV
WHAT TO SEE & STREAM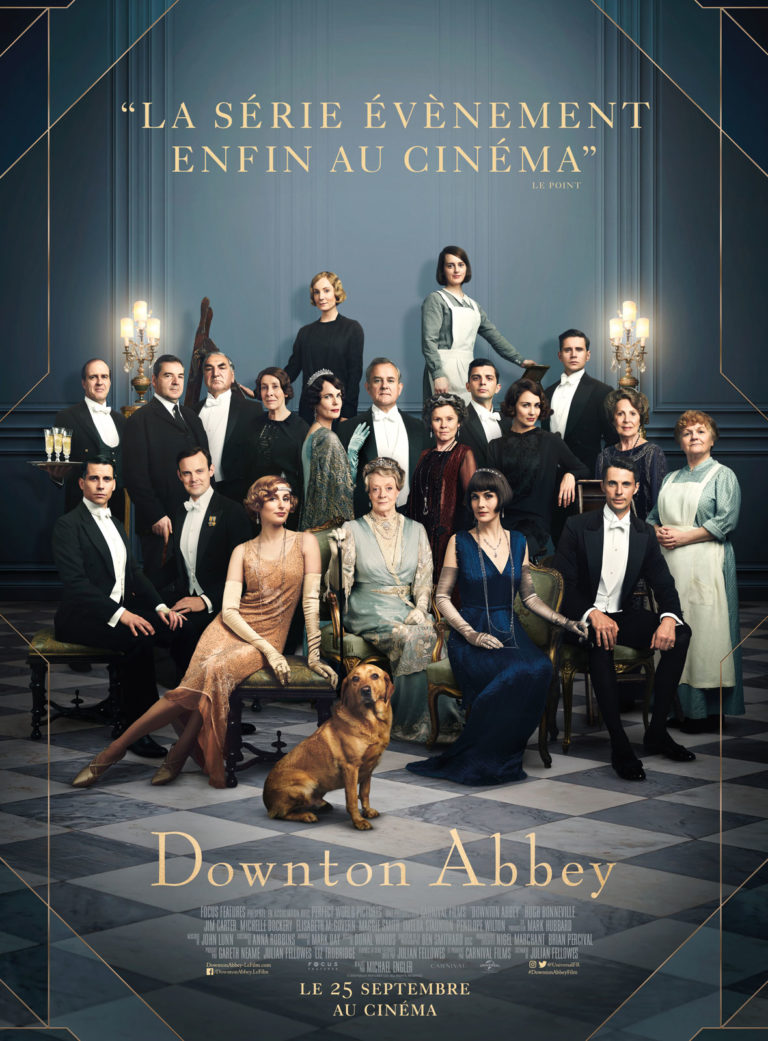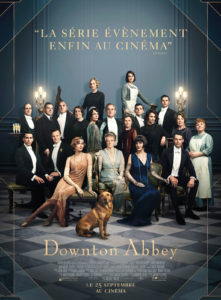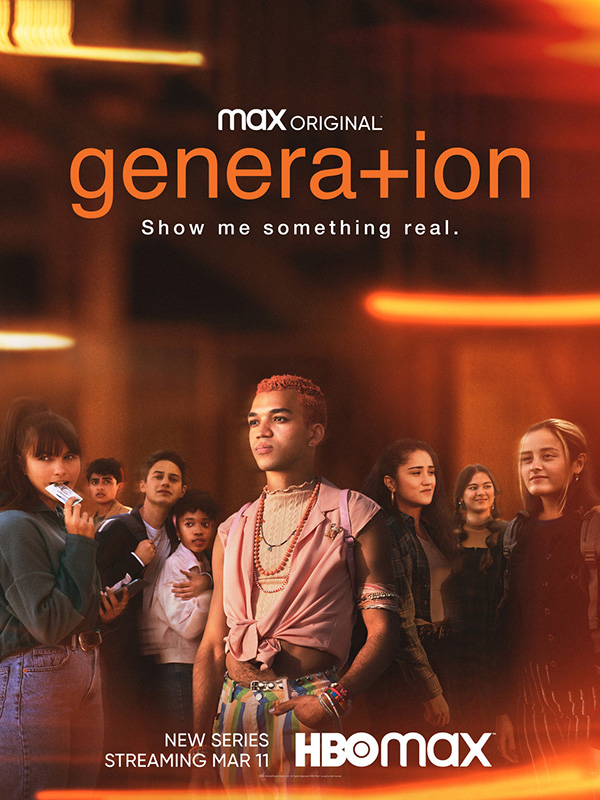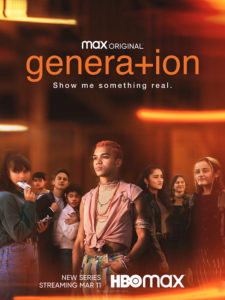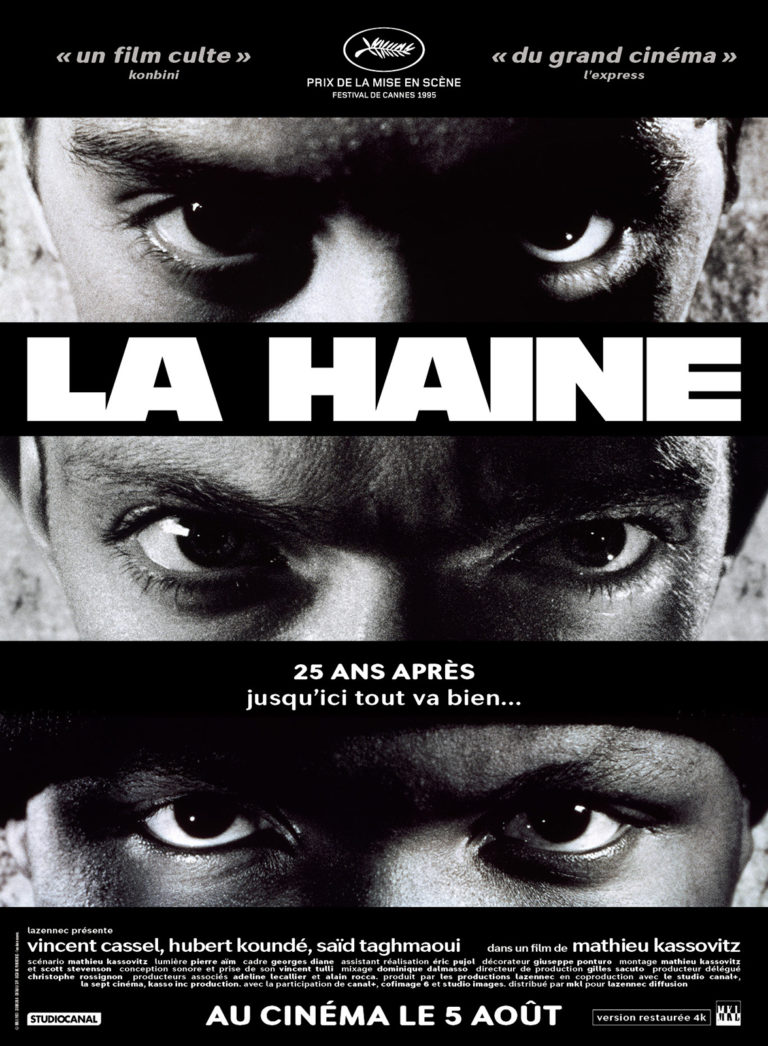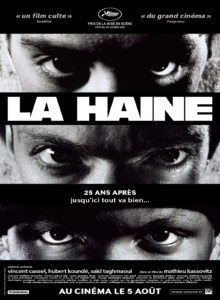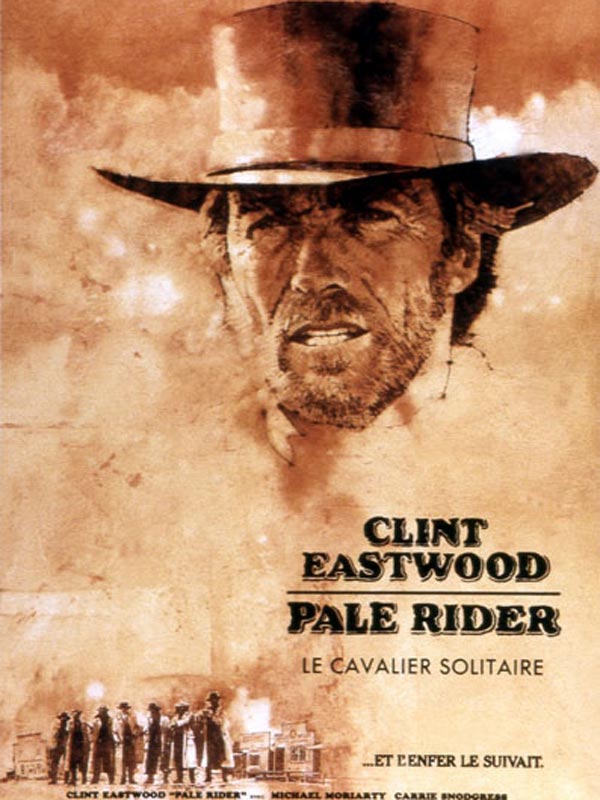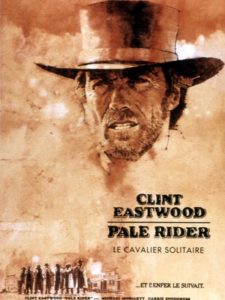 Mercredi- Wednesday
Arte : Madame Bovary, de Claude Chabrol
6Ter : La vérité si je mens
Jeudi – Thursday
Canal Plus: Generat+on
Arte : l-homme-de-la-chambre-301
Twelve years after a tragedy, a seemingly united family is caught up in its past lies… In six episodes, a Finnish series in the form of a thriller, shrouded in a thick halo of mystery. By Mikko Kuparinen.
Vendredi – Friday
France 3 : Pale Rider
Chérie 25: Colette
Samedi – Saturday
Arte : Blériot, l'impossible traversée
Dimanche – Sunday
France 2 : Spectre
Arte : Big eyes, by Tim Burton, with  Danny Huston (Dick Nolan), Christoph Waltz (Walter Keane), Amy Adams (Margaret Keane).
n the 1960s, Walter Keane, a failed painter, poses as the author of his wife's paintings and meets with tremendous success…
Lundi – Monday
C8 : Logan
Arte : Un Condé, de Yves Boisset
Two cops investigate the suspicious death of a nightclub owner… Directed by Yves Boisset, a charge against police violence and elite corruption. With Michel Bouquet, Françoise Fabian, Bernard Fresson and Rufus.
Mardi – Tuesday
Arte : propagande-les-nouveaux-manipulateurs
Canal Plus: Downton Abbey
C8 : Rio Lobo
Mercredi- Wednesday
5.
AT HOME, 

ON YOUR PLATFORMS
WHAT TO SEE & STREAM ON
ARTE
FILM
Sonita-ou-la-valeur-d-une-vie by Rokhsareh Ghaem Maghami
SERIES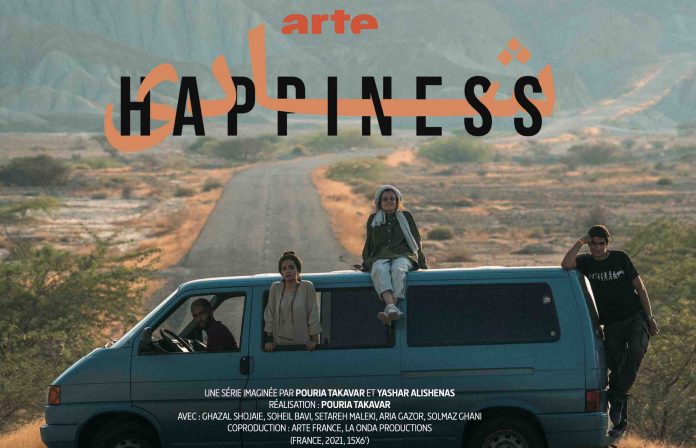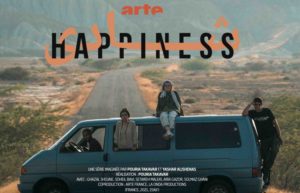 Tehran, today. Shadi is 17 years old. In life, Shadi enjoys listening to music down the block with her best friend Ferial. Except that soon, she has to move to France, far from everything she has ever known. Shadi begins to wonder, is this immigration really what she wants? To find out, she sets out to meet Iran.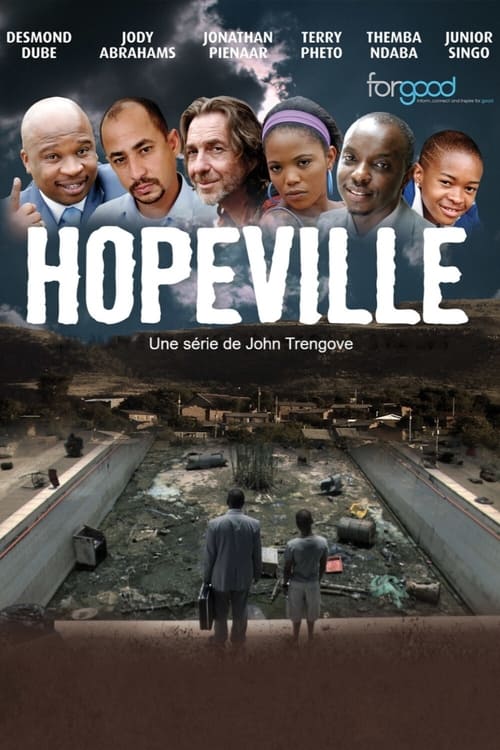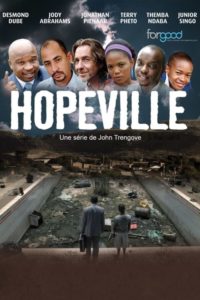 In a small dusty town in South Africa, a man in search of redemption tries to rebuild a relationship with his son, whom he had abandoned, while restoring an abandoned municipal swimming pool. A feel good series with corrosive humor that denounces the ills of South African society as much as it demonstrates its capacity for resistance.
& FROM OCTOBER 23
Inspired by real events, H24 – 24 hours in the life of a woman is a manifesto series that reports on violence against women in everyday life. Based on an original idea by Nathalie Masduraud and Valérie Urrea (Focus Iran – L'audace au premier plan, Pornotropic – Marguerite Duras et l'illusion coloniale…), who are composing their first fiction, the series offers 24 daring short films, based on the texts of 24 European women authors, performed by 24 exceptional actresses. A diversity of voices and talents, in a strong and committed collection. 
WHAT TO WACH : DOCUMENTARY
L'Armée rouge de Michael Prazan.
Georgia O'Keefe, une artiste au Far West
La Cinémathèque Française
 Dino Risi exhibition from September 2 to October 27 
WHAT TO SEE & STREAM ON
NETFLIX
The Chestnut man, by Søren Sveistrup,  creator of «The Killing», on September 29.
Maid, starting October 1, based on Stephanie Land's memoir : Maid: Hard Work, Low Pay, and a Mother's Will to Survive, created by Molly Smith Metzler and starring The Letfovers star Margaret Qualley, Nick Robins and Andie MacDowell.
Operation Hyacinth, by Piotr Domalewski with Tomasz Zietek, Hubert Milkowski. October 13.
The story of a serial killer who preys on homosexuals and a young policeman, Robert, who tries to catch him. While investigating these murders, Robert meets Arek and wants to make him his informant…
You, season 3, by Greg Berlanti, opens October 15.
& News trailers
Ozark,season 4
Stranger Things, season 4
Emily in Paris season 2, in December
Cowboy Bebop, on November 19
Bridgerton saison 2 : 2022
WHAT TO SEE & STREAM ON
 Prime Video
Orelsan, Montre jamais ça à personne, on October 15th
Devious Maids, as from October 5th
The wheel of the time, inspired by the novels of the American writer Robert Jordan.
Created by Rafe Judkins with Rosamund Pike. Starting November 19.
The Wheel of Time follows Moiraine, a member of the powerful female channeling organization called the Aes Sedai, who takes in a group of five young people from a small village following an attack by the forces of the Dark One, a malevolent evil entity that seeks to destroy the Frame (existence).
Of these five, she believes that one may be the reincarnation of the Dragon, an ancient hero and powerful channeler who is prophesied to save the world or destroy it.
The Electrical Life of Louis Wain, on November 5. By Will Sharpe, with story by Simon Stephenson, and screenplay by Stephenson and Sharpe.
It stars Benedict Cumberbatch, Claire Foy, Andrea Riseborough, Sharon Rooney, and Toby Jones.
The film depicts the life of artist Louis Wain.
WHAT TO SEE & STREAM ON
 Canal+
The Spy gone North,  by Yoon Jong-bin (now)
Atlantique, by Matti Diop (now)
Generat+on, on September 30
The story centers on a group of high school students in Orange County, California who explore their sexuality in a modern world. This tests their deeply entrenched beliefs about life, love and the nature of family in their conservative community.
Succession, season 3  on October 17
WHAT TO SEE & STREAM ON
Starzplay
Doctor Death, by  Patrick Macmanus with Joshua Jackson, Alec Baldwin & Christian Slater, on September 22.
BMF, on September 26th.
The great saison 2, from November 19.
WHAT TO SEE & STREAM ON
Apple TV
The Morning Show,  saison 2
Foundation, created by David S. Goyer et Josh Friedman,now.
Invasion, de Simon Kingberg, le 22 octobre
Finch, by Miguel Sapochnik, expected November 5, with Tom Hanks.
The Tragedy of Lady MacBeth, by Joel Coen
WHAT TO SEE & STREAM ON
DISNEY PLUS
Welcome to Earth, by Darren Aronofsky, with Will Smith.