« This is your song ». The voice and the charism of Elton John are sparkling in Rocketman, this beautiful musical biopic with amazing choreographies and wonderful staging.
The troubadour
He is the man of all the superlatives. And he wanted a biopic during his life.
If we compare Rocketman to Bohemian Rhapsody,  this is a total success. The movie is as crazy and original as Elton John is. Taron Egerton is full of emotion.
Written by Lee Hall (screenwriter of Billie Elliot), the movie is about Elton John' life from his childhood till now.
The story emphasizes his unborn genius (he would play a piece of classical music by ear), a cold and absent father, his unwavering friendship with Bernie Taupin (played by Jamie Bell), great songwriter and friend whom he still works with.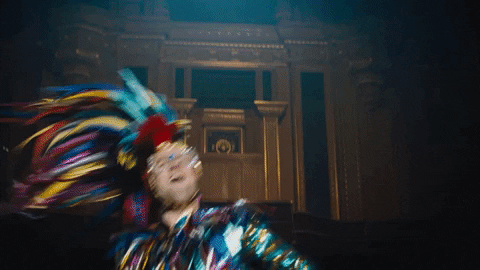 Musical with glitters, dance, costumes (incredible ones !), are moved as are his songs. The emotion of this movie is absolute.
You will have goose bumps, you will surely cry.
Elton John, the director Dexter Fletcher and Lee Hall did a sublime piece of art where Elton John does not spare himself.
What I still feel now is that incredible loneliness and need for love he sings to us in each his songs. This is what I call the art of making movie.