News on the Champs Elysées Film Festival .
"Can you ever forgive me ?"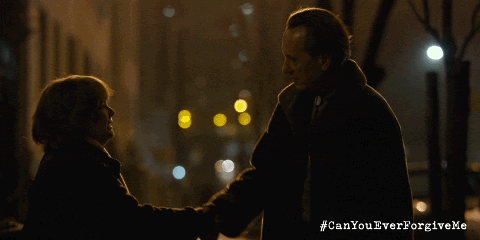 Can you ever forgive me ? or
The art of writing
This movie, adapted from the autobiography eponymous of Lee Israel and directed by Marielle Heller, was the closure film of the Champs Élysées Film Festival.
After  "The diary of a teenage girl" , the director has renewed her interest for the writing.
The pitch : Lee Israel, a former success writer of biographies, hasn't written for nine years and is broke. One day, she finds herself gifted to put herself in the writing style of famous dead writers. It gives her an idea to finally earn money.
This bittersweet comedy is about literary style, and how hard it is to write, and being exposed to criticism.
Played by two great actors, Mélissa McCarthy and Richard E.Grant, both nominated to the Oscars for their part. The script has also being nominated for the Best Adapted Screenplay, cowritten by Nicole Holofcener (who directed this bittersweet romance "All about Albert"), and Jeff Whitty (who won a Tony Award for "Avenue Q").
A must-see movie to see on all good movie theaters as from July 31st and distributed by Condor Distribution.