Your weekly program as from April 26th
All the best films as from April 26th:
CANNES FILM FESTIVAL  2023 : 76th edition
The Master of Ceremonies this year will be Chiara Mastroianni during the festival,  that will be held from May 16 to 27.
Six women directors will be in the running for the Palme d'Or.
The Swedish filmmaker Ruben Östlund, two times winner of the Palme d'Or, will be the president of the jury. He was awarded the Palme d'Or in 2017 for "The Square" and in 2022 for "Unfiltered".
The film "Jeanne du Barry", directed by Maïwenn with Johnny Depp, will be presented at the opening of the Festival.
Several giants of the 7th art are expected.
The legendary adventurer, played by Harrison Ford, will make his return with the film "Indiana Jones and the Dial of Destiny" directed by James Mangold. 
Pedro Almodóvar will present his short film "Strange Way of Life" in the presence of Ethan Hawke and Pedro Pascal!
Trailer here:
Finally, Martin Scorsese will present his new feature film Killers of the Flower Moon.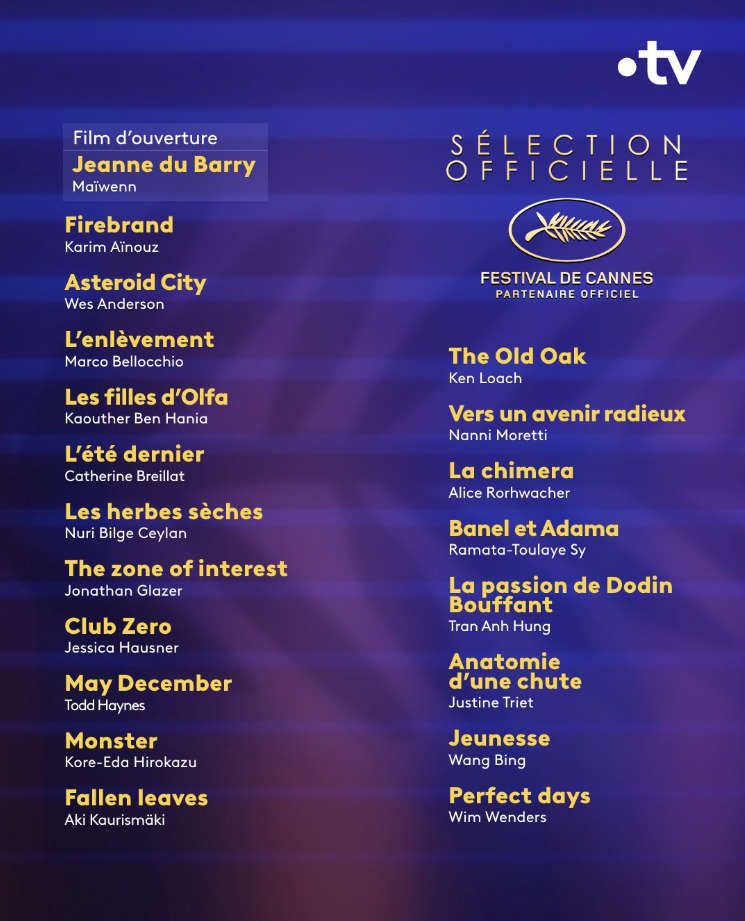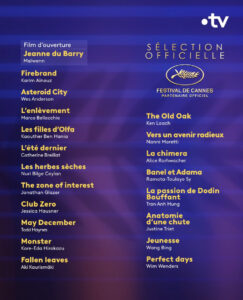 Soon in theaters:
Jodie Foster
She returns in the next season (4) of True Detective, True Detective: Night Country, set in Alaska, alongside Kali Reis. Directed by Issá Lopez. 
Synopsis 
When the long winter night falls in Ennis, Alaska, the eight men who operate the Tsalal Arctic Research Station disappear without a trace. To solve the case, detectives Liz Danvers (Foster) and Evangeline Navarro (Reis) will have to confront the darkness within them and dig into the haunted truths buried beneath the eternal ice.
Barbie, by Greta Gerwig
Asteroid city, Wes Anderson
FESTIVAL
The Forum des images honors one of the most filmed cities in the history of cinema: Los Angeles.
An essential territory of the 7th art, the city of angels feeds multiple imaginations.
A reservoir of dreams and fantasies, between violence and glamour, it is familiar to the moviegoer. But what do we know about the real city?
From April 12 to July 6, 80 films, 9 cinema classes, "pop" screenings and a photo exhibition constitute a temporal and geographical journey to the heart of its myths and the reality of its districts.
Accompanied by numerous guests, including filmmakers David Robert Mitchell and Laura Gabbert (City of Gold), Academy Museum Associate Director K.J. Relth-Miller, storyboarder Sylvain Despretz, and film course instructors, this rich program paints a contrasting and contemporary portrait of Los Angeles, a world city between desert and ocean.
ALL YOU WANT TO KNOW ABOUT  FILMS & SERIES 
IN THEATERS & AT HOME
IN MOVIE THEATERS
All films as from April 26th
Hokusai, Hajime Hashimoto (April 26th)
Japan, 18th century. While the imperial power imposes its censorship on artists, young Shunrô, an apprentice painter, is excluded from his school because of his impetuous temperament and the unconventional style of his prints. No one imagines that he will become Hokusai, the famous author of the Great Wave of Kanagawa.
Beau Is Afraid, Ari Aster
With Joaquin Phoenix, Nathan Lane, Amy Ryan
Beau is desperately trying to reach his mother. But the universe seems to be working against him.
Misanthrope,  Damián Szifron
With Shailene Woodley, Ben Mendelsohn, Jovan Adepo
Eleanor, a young investigator with a dark past, is called to the scene of a terrible mass murder. The police and the FBI launch an unprecedented manhunt, but faced with the killer's constantly unpredictable modus operandi, the investigation stalls.
La Belle ville, Manon Turina, François Marques
Manon and François take you on an inspiring journey to the four corners of the world. They offer you their vision of the beautiful city of tomorrow, through the meeting of ordinary people, with revolutionary initiatives, which reconnect Men, Cities and Nature.
Le Jeune imam, Kim Chapiron
With Abdulah Sissoko, Hady Berthe, Issaka Sawadogo
At 14, Ali is a teenager adrift. His mother, who is raising him alone, finds no other solution than to send him to the village in Mali to finish his education. Ten years later, Ali returns. Despite the doubts of his mother, to whom he is ready to do anything to shine, he becomes the imam of the city.
Adulated by all and pushed by his success, Ali decides to help the faithful to realize the dream of any Muslim: to make the pilgrimage to Mecca.
Dirty Difficult Dangerous, Wissam Charaf
With Clara Couturet, Ziad Jallad, Darina Al Joundi
Ahmed, a Syrian refugee, hopes to find love in Mehdia, an Ethiopian cleaning lady. But in Beirut, this seems impossible… Will this sentimental refugee couple succeed in finding their way to freedom when Ahmed, a survivor of the war in Syria, seems to be plagued by a mysterious illness that is gradually turning his body into metal?
Noémie dit oui, Geneviève Albert
With Kelly Depeault, Denis Larocque, Jeff Lemay
After running away from a youth center, Noémie befriends a group of delinquents and falls in love with a pimp. After being convinced by her new lover that her lifestyle is safe, Noémie finds herself working as a prostitute and faces the consequences of the prostitution industry.
Amel & les fauves, Mehdi Hmili
With Afef Ben Mahmoud, Zeineb Sawen, Iheb Bouyahia
 Amel is a worker in a factory in Tunis. Her boss puts her in touch with a businessman who can allow her son to join the local soccer club. Taking advantage of the situation, the man tries to abuse her. The police catch them, but it is Amel who is finally found guilty of indecent assault and adultery. When she gets out of prison, she goes in search of her son in the underground nights of Tunis, populated by predators and a youth in search of freedom.
Quand tu seras grand, Andréa Bescond, Eric Métayer
With Vincent Macaigne, Aïssa Maïga, Evelyne Istria
 Yannick is a caregiver in a retirement home.
Between permanent pressure and budgetary restrictions, he faces the lack of means with an infectious good mood. But when he is forced to share the dining room with a class of children, the situation becomes complicated.
Their arrival, as well as that of his hostess, Aude, will shake up the daily life of everyone, especially the residents…
BURNING DAYS , Emin Alper
Emre, a determined and inflexible young prosecutor has just been appointed to a small remote town in Turkey. As soon as he arrives, he comes up against the local notables who are determined to defend their privileges by any means, even the most extreme.
Movies to come (and we are looking forward to it):
Showing up, Kelly Reichardt , as of May 3rd
 TIPS ON MOVIE WRITING 
Scott Myers : Go into the story
FILMS PROGRAM ON TV AS FROM APRIL 26th
Mercredi- Wednesday 26
6Ter : Mary à tout prix
Arte : Retour à Cold Mountain : In an America torn apart by the Civil War, a clergyman's daughter, a refined bourgeois, falls in love with a working man of few words… By the director of "The English Patient", a vibrant melodrama set against the backdrop of the Civil War, with Jude Law, Nicole Kidman and Renée Zellweger.
Jeudi – Thursday 27
Arte : Lost luggage (see below)
Canal + : The Morning Show (AppleTV series)
Vendredi – Friday 28
Arte : Vers de nouveaux horizons: After the suspicious death of a young policewoman and a small-time drug dealer, retired police commissioner Grete Öller leads a parallel investigation and reveals dark secrets. A rural thriller between Austria and the Czech Republic
Canal + : Moonfall, and then Nope
France 5 : Et Dieu créa Barbie
Samedi – Saturday 29
Canal + : Buzz l'Éclair
Dimanche – Sunday 30
France 2 : Médecin de campagne
Canal + : Novembre
Arte : La Tour Infernale:
On the evening of the inauguration of a gigantic 138-story building, a fire traps all the guests… Prestigious cast (Paul Newman, Steve McQueen, Faye Dunaway, Fred Astaire…), breathtaking action scenes and real suspense: "the" must-see disaster movie.   
TFX : Jurassic World
Lundi – Monday 1er
Arte : Le trésor de la Sierra Madre:
Three gold seekers struggle against the desert and against themselves before succumbing to the fever of the yellow metal… Carried by a dazzling interpretation of Humphrey Bogart, one of the masterpieces of John Huston, crowned by three Oscars.
W9 : Rocket Man
TMC : Independence day
Canal + : B.R.I (series)
Mardi – Tuesday 2
W9 : Mary Poppins
Mercredi- Wednesday 3
Arte : Elizabeth :
Surrounded by a procession of glamorous supporting actors (Joseph Fiennes, Fanny Ardant, Daniel Craig…), Cate Blanchett plays a luminous and moving Elizabeth I of England, who discovers the trials and tribulations of power, between courting intrigues, political conspiracies and sacrificed love affairs By Shekhar Kapur. 
 FILMS & SERIES ON ARTE AS FROM APRIL 26th
FILMS
Michelangelo (from April 26)
Torn between his clients, the tormented Michelangelo struggles to give substance to his artistic visions… Andrei Konchalovsky composes a feverish portrait of the genius of the Italian Renaissance, in a sumptuous fresco.
Mona Lisa
George, a virtuous mobster, discovers vice when he comes into contact with a beautiful black call girl… Under the guise of a thriller, a sharp and moving moral tale, directed by Neil Jordan ("The Crying Games") and served by remarkable actors, Bob Hoskins in the lead.
My Left Foot
The painful struggle of a man trapped in his body to emancipate himself… Retracing the life of the painter Christy Brown, Jim Sheridan ("In the name of the father") delivers a moving plea in favor of the difference, served by Daniel Day-Lewis, masterly.
Jack
Placed in a foster home, Jack runs away, picks up his little brother and feverishly searches for their mother, who has abandoned them… A poignant child's quest filmed with tremendous vitality by Edward Berger, the director of "Nothing New in the West", which has just won four Oscars
DOC
Pouvons-nous refroidir la planète ?
Are we condemned to cook slowly? Capturing CO2 to recycle it, lightening the clouds to better intercept sunlight, massive reforestation: here is an overview of scientific solutions to fight against global warming that offers a glimpse of hope.leads a team of young elite policemen and will have to find his place within his group while avoiding a gang war between Eric's family and the El Hassani brothers.
Series
Lost Luggage (as of April 20th)
After the 2016 Brussels bombings, a policewoman assigned to airport security is tasked with returning the victims' belongings to the bereaved families. A poignant drama carried by actress and rocker Lara Chedraoui.
State of Happiness: A sentimental drama coupled with a black gold rush. The lives of the inhabitants of a small Norwegian port are turned upside down by the discovery of an oil field…
Manayek, betrayal in the police, by Alon Zingman director of Shtisel (series available on Netflix : listen to the podcast here
Blackport, Gísli Örn Garðarsson et Björn Hlynur Haraldsson
All films as from April 26th

 

on Netflix
Transatlantic, Anna Winger & Daniel Hendler
Florida Man, Donald Todd (Ugly Betty, This Is Us),now.
Firefly Lane, as of April 27th
Fubar,  ARNOLD. IS. BACK. As of May 25
Never Have I ever, final & season 4 as of June 8th.
All films as from 

April 26th

 

on 
Prime Video
The Marvelous Mrs Maisel,  season 5, now!
Salade Grecque, series created by Cédric Klapisch,now.
20 years after l'Auberge Espagnole, the story goes on.
Citadel, David Weil, as of April 28th
All films as from April 26th
on Canal+
The English, Hugo Blick
The Crash series, Michael Leendertse
B.R.I, by Cédric Jimenez
Saïd leads a team of young elite policemen and will have to find his place within his group while avoiding a gang war between Eric's family and the El Hassani brothers.
Moonfall, Roland Emmerich, on April 28th
Buzz l'Eclair, on April 29th
Don't worry darling, Olivia Wilde, as of May 3rd
All films as from April 26th

 

on Apple TV
Les gouttes de Dieu, Tadashi Agi
Tetris, Jon S. Baird.
Ghosted, Dexter Fletcher, Chris Evans & Ana de Armas, as of April 21st
Silo, Graham Yost, as of May 5th
City on Fire, Josh Schwartz & Stephanie Savage, as of May 12th
All films as from April 26th on Disney Plus
The Good Mothers, Stephen Butchard
Peter Pan & Wendy, as of April 28th.
The Little Mermaid 2, Rob Marshall, forecast on May 26.
Guardians of the Galaxy, as of May 3rd, in theaters!
Ashoka, in August 2023