Your weekly program as from April 12th
All the best films as from April 12th:
Soon in theaters:
Barbie, by Greta Gerwig
Asteroid city, Wes Anderson
FESTIVAL
The Forum des images honors one of the most filmed cities in the history of cinema: Los Angeles.
An essential territory of the 7th art, the city of angels feeds multiple imaginations. A reservoir of dreams and fantasies, between violence and glamour, it is familiar to the moviegoer. But what do we know about the real city?
From April 12 to July 6, 80 films, 9 cinema classes, "pop" screenings and a photo exhibition constitute a temporal and geographical journey to the heart of its myths and the reality of its districts.
Accompanied by numerous guests, including filmmakers David Robert Mitchell and Laura Gabbert (City of Gold), Academy Museum Associate Director K.J. Relth-Miller, storyboarder Sylvain Despretz, and film course instructors, this rich program paints a contrasting and contemporary portrait of Los Angeles, a world city between desert and ocean.
ALL YOU WANT TO KNOW ABOUT  FILMS & SERIES 
IN THEATERS & AT HOME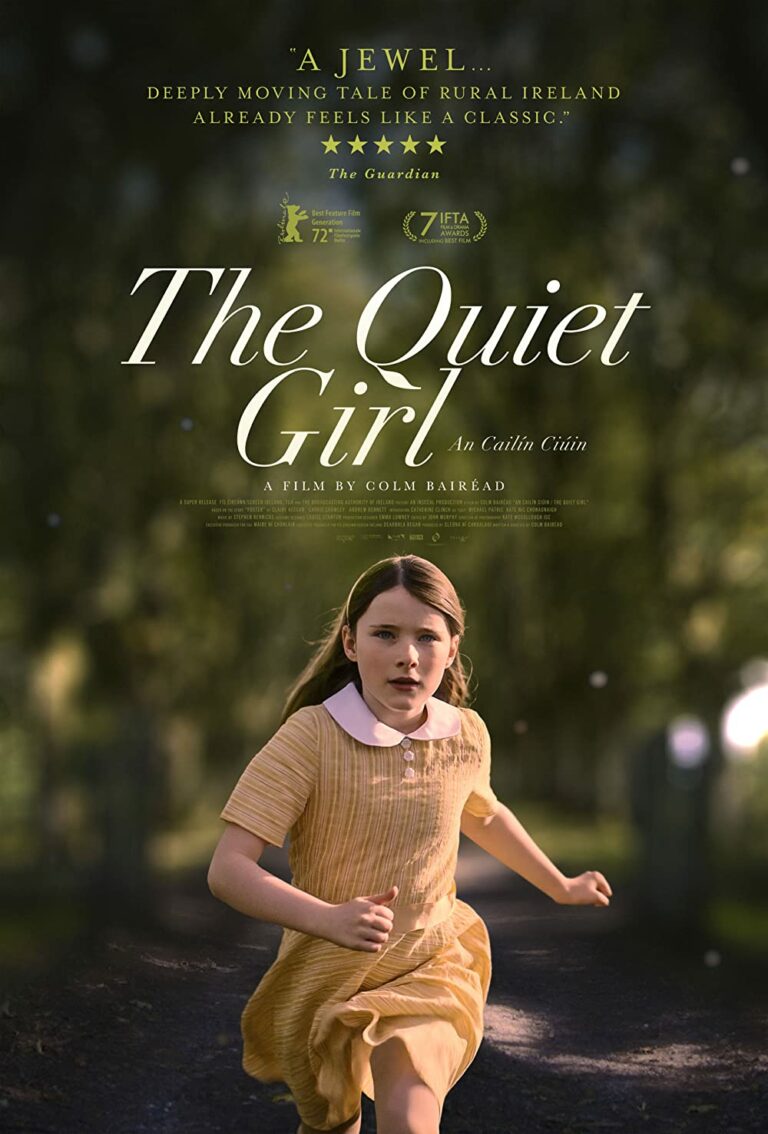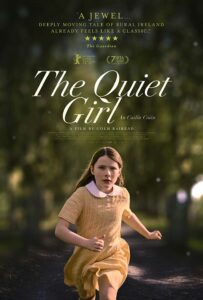 The Quiet girl, Colm Bairéad
With Catherine Clinch, Carrie Crowley, Andrew Bennett
Synopsis
The story takes place in the summer of 1981.
Cáit (Catherine Clinch), nine years old and one of many siblings, lives with her poor and neglectful parents in rural Ireland.
With her mother pregnant again, it is decided to send their quiet daughter to live with a distant middle-aged cousin, Eibhlín Kinsella (Carrie Crowley), and her husband Seán (Andrew Bennett) in Rinn Gaeltacht, County Waterford, for the summer.
The most beautiful film of the year?
A little girl's experience of a father and mother's love. That's the simple story of this film combined with sublime cinematography and beautiful music.
What if the simplest stories make the best movies?
This simple story of a little girl neglected by her parents who receives from a couple the love she never received in her own family is a wonder.
Cáit speaks little, she observes and speaks only when asked questions.
Her silence is her weapon as she grows up in a family where shouting and mocking reign. Cáit, on the other hand, seeks the calm and quiet of nature. Her life resembles the book she is reading, Heidi, the story of the five-year-old girl who is orphaned by both parents and goes to live with her grandfather in the Swiss mountains.
Colm Bairéad pays tribute to the beauty of nature and the rural world: the water from the well, the trees, the cows, the grass, the sky, a butterfly that lands on the window…
But he also films its violence: the poverty of the peasants, the alcoholism, the gambling, the violence of the men and that answers strangely to a novel that I read this week by Marie-Hélène Lafon, The Source.
There is also a bit of Anne with an E in The Quiet Girl, the Canadian series based on the novel Anne of Green Gables by Lucy Maud Montgomery, the adventures of Anne Shirley, an eleven-year-old Canadian orphan in the fictional town of Avonlea, Prince Edward Island.
She is mistakenly sent to live with Matthew and Marilla Cuthbert, an elderly brother and sister who had actually asked for a young boy to work on their farm in Green Gables.
The Quiet Girl is a universal film about childhood, where violence, the desire to grow up, the need for love and secrecy all come together. But it is also about adults, parenthood, mourning and the reconstruction of a family.
The subtlety of the script, the delicacy of the narration and the magnificent images of Kate McCullough make this film a marvel. We are immersed in a magical atmosphere from which we can hardly escape as the credits roll.
The Quiet Girl was inspired by a short story Colm Bairéad read in The New Yorker, called Foster, written in 2010 by Claire Keegan. It was originally titled Fanacht ("Waiting").
This Irish film was nominated for an Oscar this year in the Best Foreign Film category. Filmed in Gaelic, it became the first Irish language film to be made in the United States.
Today in theaters. A must-see.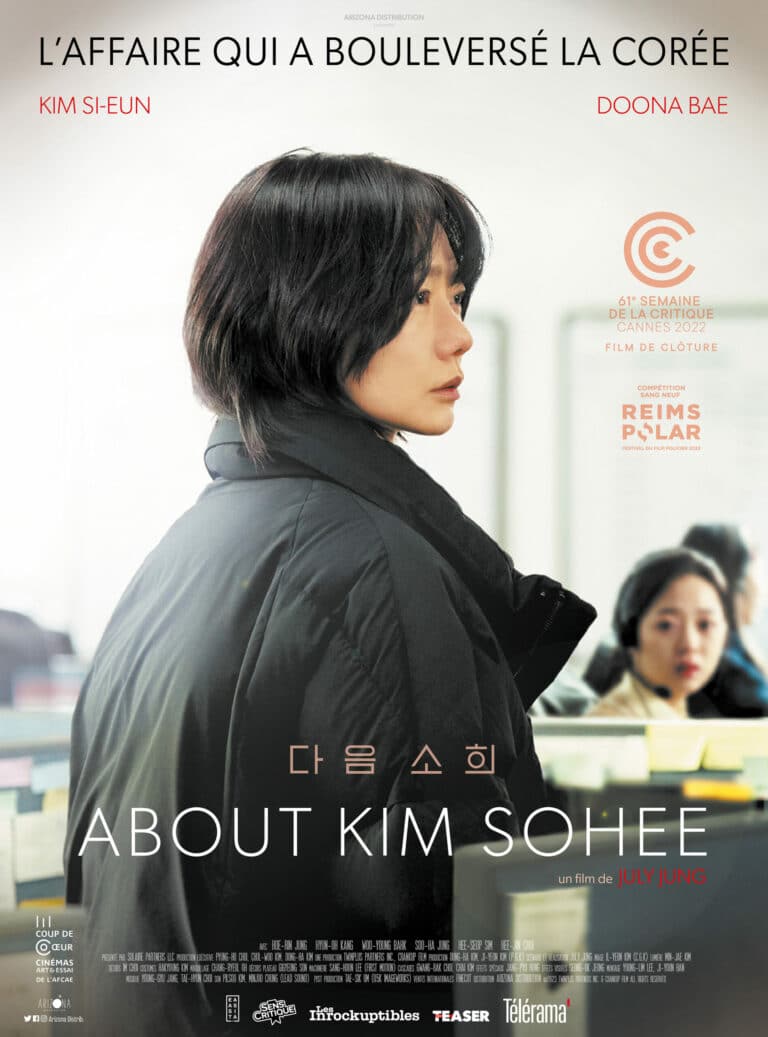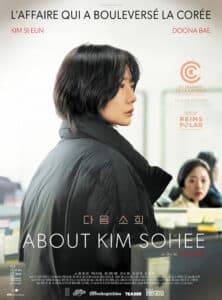 About Kim Sohee, July Jung
Original title :Da-eum-so-hee (Next Sohee)
Synopsis
Kim Sohee is a high school student with a strong character. For her graduation internship, she joins a call center of Korea Telecom. In a few months, her morale declines under the weight of degrading working conditions and increasingly difficult objectives.
A series of suspicious events within the company drew the attention of the local authorities. Detective Yoo-jin, in charge of the investigation, is deeply shaken by what she discovers. Alone, she questions the system.
Grow up or die?
Passionate about dance and K-Pop, Kim Sohee is forced to accept this internship in this company that exploits interns (there are also some companies like this in France) and from the first day, realizes that it will be hell.
Poor, pressurized by the school and her parents, she has no choice but to go back.
The denial, the guilt that everyone, the school, the company rejects, leads to a suicide rate equivalent to the hiring rate each year. In order to earn money, managers make their employees feel guilty and they have no choice but to work, more and more.
The worst part of their daily tasks is having to manipulate other people on the phone to avoid them cancelling their subscriptions, and to exploit people's gullibility.
The young people feel bad about having to do the wrong thing, to lie again and again. And the company clears itself of everything that can happen to them.
Kim Si-eun, whose first major film role is a perfect embodiment of this young girl full of life, energy and rebellion, broken by ruthless managers who do not pay the trainees for their work. There is a kind of horror in this fall that we see coming and that nothing will stop.
The creativity she has in her is nipped in the bud by work, just like that of her friend, forced to work in the factory and humiliated by his colleagues.
The second part of the film is related to justice.
Inspector Yoo-jin, who leads the investigation, is bereaved and finds herself confronted with death once again.
Pugnacious, she gradually puts herself in the shoes of this lively high school girl. She sits at the same table as her and drinks the same thing. Each responsible person she meets blames this child.
Context (from the press kit)
The incident happened at the end of 2016 in a small town in South Korea, in Jeonju. A drama related to the story of a high school student who was undergoing vocational training in a call center for a large telephone company.
Her family and the trade unions claimed that it was an industrial accident. The company in question shirked its responsibilities.
The outrage against this company, whose degrading working conditions were revealed, was very violent, and an apology was offered, with the promise to improve the working conditions.
As a result, the law was changed. The case ended like this. All this took place during the impeachment trial of South Korean President Park Geun-hye, followed by the election of the new president.
Director July Jung:
"I found myself facing a real question. "Why are high school students working in a place like this? How is this possible? All organized by the National Education. I needed to understand it. What is happening to Sohee is a tragedy. I evoked it while showing the appalling nature of the society as a whole, which does not hesitate to sully the victim to clear itself. It is as tragic and heartbreaking as the disappearance itself.
This is what drove me to make this film. My only wish is that all these children who experienced a similar tragedy will not be forgotten, and that they will remain alive through Sohee."
With Doona Bae, Kim Si-eun
Kim Si-eun has starred in several Korean series, including Mental Coach Jegal (2022), Run On (2020) and Chip in (2020).
Bae Doo-na was seen in Sense 8, and worked with Bong Joon-ho, Park Chan-wook, Lana & Lilly Wachowski and Hirokazu Kore-eda.
A must-see!
In theaters now.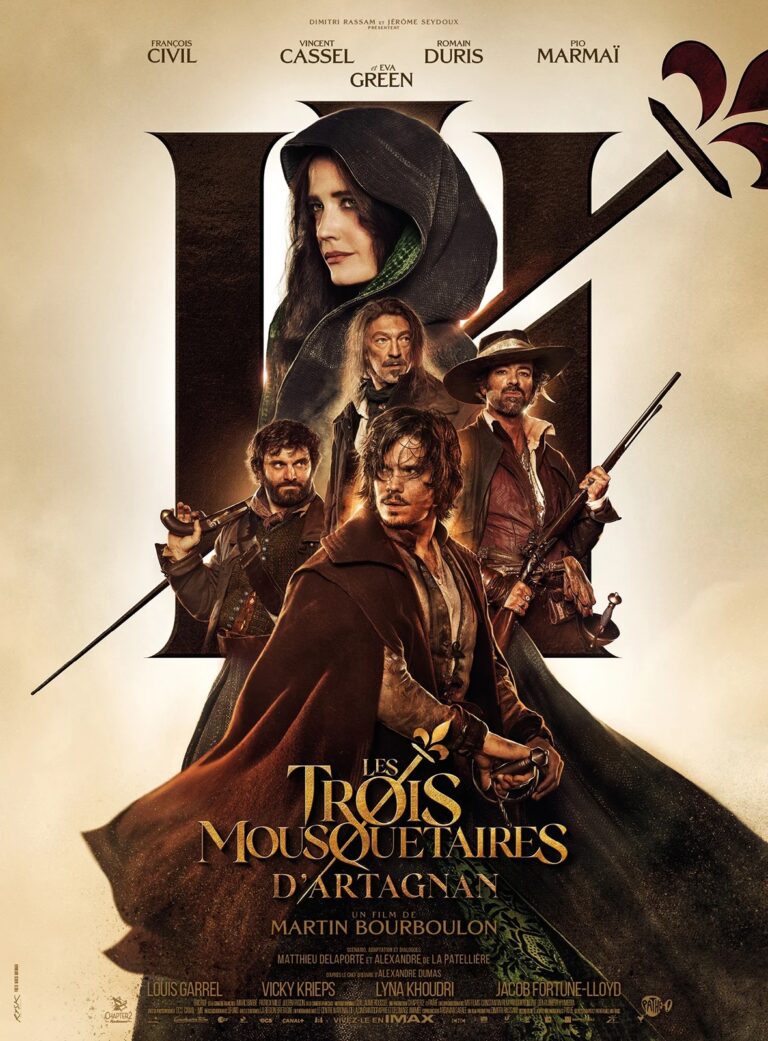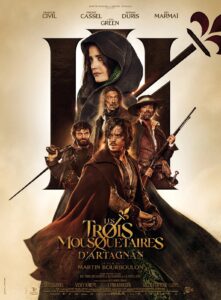 Les Trois Mousquetaires : D'Artagnan, Martin Bourboulon
With François Civil, Vincent Cassel, Romain Duris
Synopsis
From the Louvre to Buckingham Palace, from the underbelly of Paris to the siege of La Rochelle… in a kingdom divided by the Wars of Religion and threatened with invasion by England, a handful of men and women will cross their swords and link their fate to that of France.
So what about this adaptation?
The only one to come out on top is François Civil in the role of D'Artagnan. 
Despite a five star cast, Vincent Cassel, who is as good as ever, Romain Duris (who was filming with him in Eiffel) and Pio Marmaï (bisexual in the film, why, what's the point? ), the film is a series of dark action scenes that we barely see (I have a feeling we'll see a lot more cloak and dagger scenes in the next Peter Pan).
As for the drama, the couple Vicky Krieps (Phantom Thread) and Louis Garrel as Louis XIII, works well. But the play always remains on the surface.
Eva Green and Lyna Khoudri play well but there is a problem with the script in the dialogues which are sometimes very realistic for the time and sometimes anachronistic.
Despite the sense of adventure that reigns in this film, this Three Musketeers lacks a little soul. Martin Bourboulon had directed Eiffel, and if one feels his love for the history of France, the characters are not developed enough  and so is the story.
In theaters now.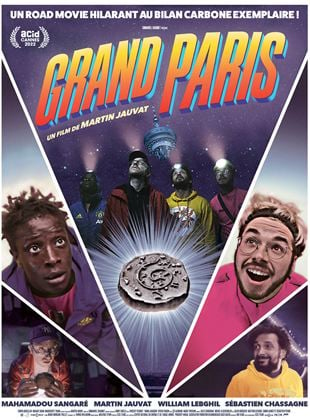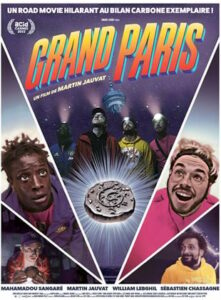 Grand Paris, Martin Jauvat
Synopsis
Synopsis
Leslie and Renard, two young slackers from the Parisian suburbs, find a mysterious object on a construction site of the future Greater Paris subway line.
Is it an artifact, an ancient talisman, or a relic of a vanished civilization?
Convinced they have found the goose that lays the golden eggs, the two friends investigate, with the means at hand, during a crazy night in the four corners of the Île de France.
But as they travel, the Parisian suburbs become the scene of strange phenomena.
A new kind of comedy
Contrary to the films shot on the suburbs, where we see violent men, Grand Paris is a comedy which enhances the good feelings between two buddies. There is no exacerbated virility here, nor good guys on one side and bad guys on the other, but simply young people, like everyone else, who dream of adventure and of leaving the suburbs.
Both tribute to science fiction films and Indiana Jones, Martin Jauvat,  director and actor tells us a story of wandering and friendship, during the Covid, often filmed at night.
The two characters are a bit of losers and the language used in the film is really funny.
And the music (Indian flute at times) composed by Maxence Cyrin is reminiscent of La Chèvre.
All the language is funny and realistic. There are hilarious lines such as "The Yvelines is like the world of Narnia" and a multitude of misused proverbs.
Again, in the end, it's a simple story that hits the nail on the head, totally in line with today's reality that we all want to run away from.
This film is full of promise.
With Mahamadou Sangaré (Le Monde est à toi, La vie Scolaire), William Lebghil (Soda, Première Année, Le sens de la fête, …), Sébastien Chassagne (Coupez!, Le discours, Le Flambeau, …).
A must-see!
In theaters now.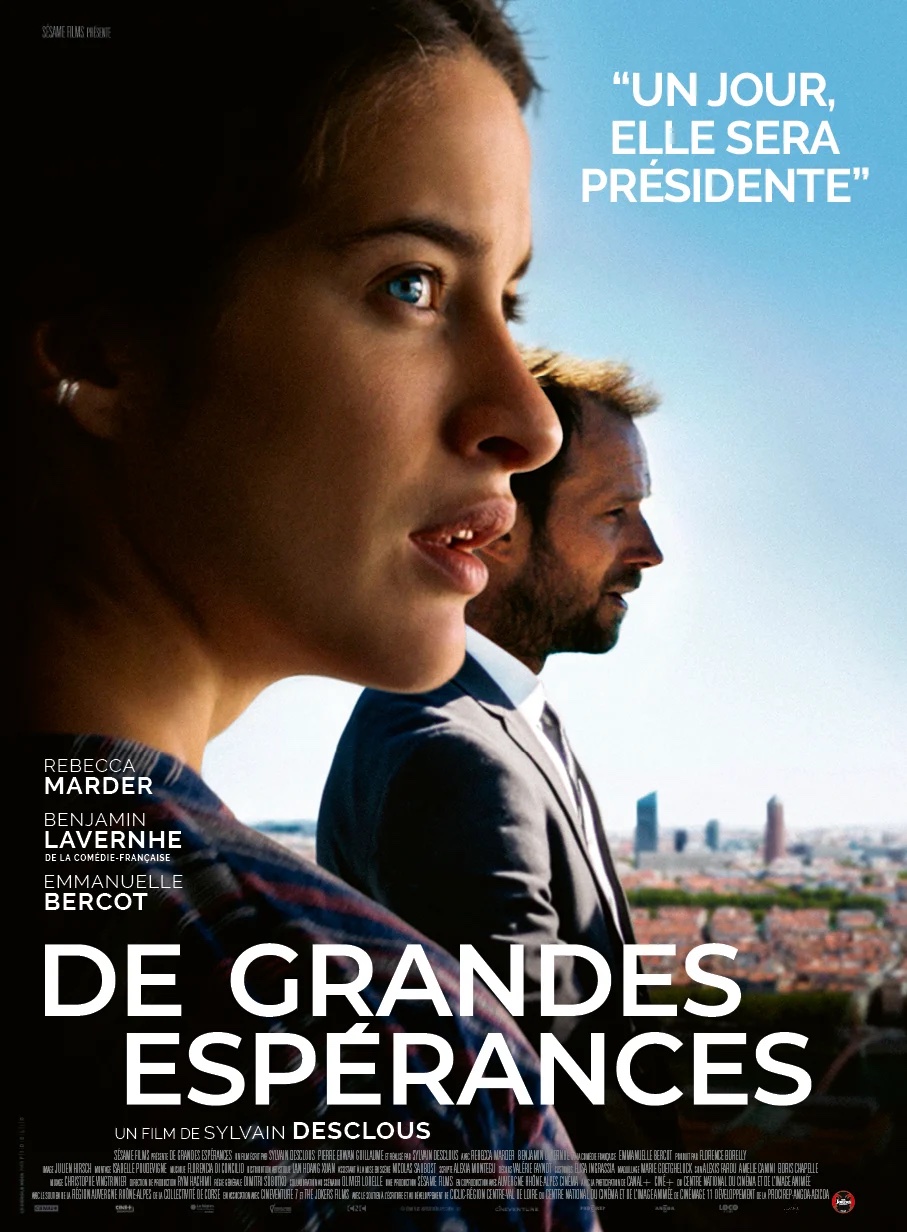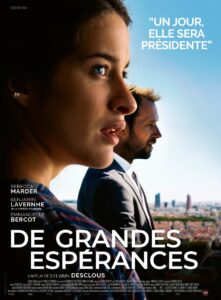 De grandes espérances, Sylvain Desclous
Synopsis
Summer 2019. Just graduated from Sciences Po, Madeleine leaves to prepare for the ENA orals in Corsica with Antoine, her lover with whom she shares very left-wing political convictions. On a small deserted road, an unexpected encounter will seal their destiny.
The strength of women
A political thriller, the camera follows Rebecca Marder from one end of the film to the other.
Her character, Madeleine, is a strong, committed woman who comes from a poor social background and who wants to succeed. The opening scene reminds us of Jaws, but she is the shark and will not let anything happen to her.
Her lover, Antoine, played by Benjamin Lavernhe is rich, arrogant but fragile.
Both dream of being in politics. They don't have the same weapons. And the incident that links them does not generate the same reaction in them.
A mixture of Hitchcock and political realism embodied by Emmanuelle Bercot, De Grandes Espérances (a reference to Dickens) speaks to us of the desire for social ascension and ambition.
The screenplay signed by Sylvain Desclous and Pierre Erwan Guillaume takes us to a denouement whose end we cannot become.
A new part for Rebecca Marder
The director, Sylvain Desclous, had already signed "La campagne de France", a documentary on a municipal election in a village and wanted to shoot a fiction on this theme.
With this film, he tackles the lie, often used in politics for good or bad purposes, and the survival mechanisms of a young woman caught in a system where it is always the same social classes rarely renewed, that we see.
Fascinating, the writing of this role is subtle and Rebecca Marder, as good as Une Jeune Fille qui va bien, has again found a kind of role in which she excels.
A must-see!
In theaters now.
IN MOVIE THEATERS
All films as from April 12th
Les Complices, Cecilia Rouaud
With François Damiens, William Lebghil, Laura Felpin
Max, a ruthless fifty-year-old hitman, discovers he has a problem: he now faints at the slightest drop of blood. With his future in the business in jeopardy, he's going to have to change his career…
Suzume Makoto Shinkai
Starring Eri Fukatsu, Koshiro Matsumoto, Shôta Sometani
In a small, peaceful town in Kyushu, a 17-year-old girl named Suzume meets a man who says he is traveling in search of a door. Deciding to follow him into the mountains, she discovers a single dilapidated gate sitting among the ruins, the only remnant that has survived the passage of time.
Donjons & Dragons : L'Honneur des voleurs Jonathan Goldstein (XII), John Francis Daley
With Chris Pine, Michelle Rodriguez, Regé-Jean Page
A handsome thief and a band of unlikely adventurers embark on an epic heist to recover a lost relic. Things go awry when they incur the wrath of the wrong people.
Les Ames soeurs, André Téchiné
With Benjamin Voisin, Noémie Merlant, Audrey Dana
David, a lieutenant in the French forces engaged in Mali, is seriously injured in an explosion. In the family home in the Pyrenees, between mountains and lakes, Jeanne tries to revive his memory, but David doesn't seem to care about reconciling with the one he used to be.
Le Prix du passage, Thierry Binisti
With Alice Isaaz, Adam Bessa, Ilan Debrabant
Natacha, a 25-year-old single mother, is struggling to raise her 8-year-old son Enzo. Walid, a migrant of Iraqi origin, is waiting to collect enough money to pay his passage to England. Together, they improvise a small-scale smuggling operation.
Alma Viva, Cristèle Alves Meira
With Lua Michel, Ana Padrão, Jacqueline Corado
Like every summer, little Salomé returns to her family's village, nestled in the Portuguese mountains, for the vacations. As the holidays begin in a carefree atmosphere, her beloved grandmother suddenly dies.
Dancing Pina, Florian Heinzen-Ziob
Iphigenia in Tauris / The Rite of Spring. At the Semperoper in Germany and at the École des Sables near Dakar, young dancers, guided by former members of Pina Bausch's Tanztheater, revisit her legendary choreographies.
Une histoire d'amour, Alexis Michalik
With Juliette Delacroix, Marica Soyer, Alexis Michalik
Katia and Justine fall in love. Despite the fear of commitment and the gaze of others, they decide to have a child, leaving it to chance to decide who will carry it. But just as Katia becomes pregnant, Justine suddenly leaves her.
Désordres, Cyril Schäublin
With Clara Gostynski, Alexei Evstratov, Monika Stalder
In a Swiss clock factory where the upheavals brought about by the technological advances of the 19th century are beginning to take shape, Josephine, a young worker, makes the balance wheel. She becomes involved in a local movement of anarchist watchmakers where she meets the Russian adventurer Pierre Kropotkine.
Brighton 4th, Levan Koguashvili
With Levan Tedaishvili, Giorgi Tabidze, Nadia Mikhalkova
A former Georgian wrestling champion moves to Brighton 4th, New York, to try to help his son who is accumulating gambling debts.
Loup & Chien, Claudia Varejão
With Ana Cabral, Ruben Pimenta, Cristiana Branquinho
Born on an island marked by religion and tradition, Ana embarks on a journey that unleashes new desires as she meets the radiant Cloé and befriends the local queer community.
Raging Bull, Martin Scorsese (March 25th 1981)
Replay date April 12, 2023. With Robert De Niro, Cathy Moriarty, Joe Pesci. The dazzling career of boxer Jake La Motta. A rise as meteoric as his fall.
La Colline, Denis Gheerbrant, Lina Tsrimova
A hill in Kyrgyzstan crossed by men, women, some children. Smoke, birds, a garbage dump like a Leviathan. Among them, a traumatized former soldier, a painful and obstinate mother, young people deprived of a future, question their lives.
L'Automne à Pyongyang, un portrait de Claude Lanzmann,  François Margolin
The last great journey of Claude Lanzmann, the famous author of "Shoah", in North Korea. He talks about life and death, communism, Simone de Beauvoir and Jean-Paul Sartre, "Shoah", and himself.
Alegria Séfarade, Suzy Cohen
The country of Equality, France is a dream for my family. Originally from Istanbul, they are not Turkish but Sephardic.
In 1914, Joseph, the eldest of four brothers, decided to leave for France. But it was not until 1924 that he was able to fulfill his dearest wish. A dream that he wants to share with all his family.
Between imagination and reality, they will have to compose. How could they have imagined what was waiting for them "in the land of human rights"?
Movies to come (and we are looking forward to it):
Blue jean, Georgia Oakley
 TIPS ON MOVIES 
Every Screenwriter Will Face a Hollywood Version of the Kobayashi Maru | The Writing Cooperative
FILMS PROGRAM AS FROM APRIL 12TH
Mercredi- Wednesday  12
Arte : Les poupées russes
Jeudi – Thursday 13
Arte : Des gens biens,Matthieu Donck : In the Belgian Ardennes, Tom and Linda Leroy, an over-indebted couple, set up an insurance scam to get out of trouble… By the scriptwriters of "La trêve", a series with a dark humor.
C8: La fureur de vaincre
Vendredi – Friday 14
Arte : Maître Conti : une femme, deux visages : After a media storm that turned her life upside down, a famous Hamburg lawyer defends a young musician accused of infanticide…
A new judicial series carried with panache by the Luxembourg actress Désirée Nosbusch.
France 5 : Notre Dame
Dimanche – Sunday 16
Arte : En pleine tempête :A fishing boat is caught in the nets of the hurricane of the century… Based on a true story, a stunning disaster film, masterfully directed by Wolfgang Petersen, with a tormented George Clooney at the helm.
Lundi – Monday 17
Arte : Inspecteur Lavandin : Inspector Lavardin investigates the death of a Catholic writer in Brittany.
He discovers that the widow of the deceased is none other than one of his childhood sweethearts… A fine cast (Jean Poiret, Jean-Claude Brialy, Bernadette Lafont) and a devious scenario for a Chabrolian bath in the provincial bourgeoisie
Mardi – Tuesday 18 
Canal + : Là où chantent les écrevisses
6Ter : Crazy stupid Love
Mercredi- Wednesday  19
Arte : Casse-tête chinois
 FILMS & SERIES ON ARTE AS FROM APRIL 12TH
FILMS
Mona Lisa
George, a virtuous mobster, discovers vice when he comes into contact with a beautiful black call girl… Under the guise of a thriller, a sharp and moving moral tale, directed by Neil Jordan ("The Crying Games") and served by remarkable actors, Bob Hoskins in the lead.
My Left Foot
The painful struggle of a man trapped in his body to emancipate himself… Retracing the life of the painter Christy Brown, Jim Sheridan ("In the name of the father") delivers a moving plea in favor of the difference, served by Daniel Day-Lewis, masterly.
Jack
Placed in a foster home, Jack runs away, picks up his little brother and feverishly searches for their mother, who has abandoned them… A poignant child's quest filmed with tremendous vitality by Edward Berger, the director of "Nothing New in the West", which has just won four Oscars
DOC
Marimekko & Maija Isola – Finnish design conquers the world
A look back at the atypical career of Maija Isola, a free spirit of Finnish design, intimately linked to the Marimekko brand.
Series
Good people, Matthieu Donck
In the Belgian Ardennes, Tom and Linda Leroy, an over-indebted couple, set up an insurance scam to get out of trouble… By the scriptwriters of "La trêve", a series with a sharp black humor.
Manayek, betrayal in the police, by Alon Zingman director of Shtisel (series available on Netflix : listen to the podcast here
Blackport, Gísli Örn Garðarsson et Björn Hlynur Haraldsson
All films as from April 12th

 

on Netflix
Transatlantic, Anna Winger & Daniel Hendler
Florida Man, Donald Todd (Ugly Betty, This Is Us), on April 14th
Fubar,  ARNOLD. IS. BACK. As of May 25
All films as from 

April 12th

 

on 
Prime Video
The Marvelous Mrs Maisel,  season 5, as of April 14
Salade Grecque, series created by Cédric Klapisch, as of April 14.
20 years after l'Auberge Espagnole, the story goes on.
Citadel, David Weil, as of April 28th
All films as from April 12th
on Canal+
The English, Hugo Blick
Novembre, Cédric Jimenez
The Crash series, Michael Leendertse
All films as from April 12th

 

on Apple TV
Tetris, Jon S. Baird.
Ghosted, Dexter Fletcher, Chris Evans & Ana de Armas, as of April 21st
Silo, Graham Yost, as of May 5th
All films as from April 12th on Disney Plus
The Good Mothers, Stephen Butchard
Peter Pan & Wendy, as of April 28th.
The Little Mermaid 2, Rob Marshall, forecast on May 26.
Guardians of the Galaxy, as of May 3rd, in theaters!
Ashoka, in August 2023